Mix, Match and Transform RSS Feeds with xFruits
I came across xFruits some time ago, and I found it a really interesting concept. It is basically a website dedicated at mixing and transforming information systems. Practically speaking, here are some of things that you can do using their service:
aggregate several RSS feeds into one
transform an RSS feed into a web page
transform an RSS feed into PDF documents
transform an RSS feed into mobile alerts
group several RSS feeds and create an OPML file
send an RSS feed to an email address
transform emails into an RSS feed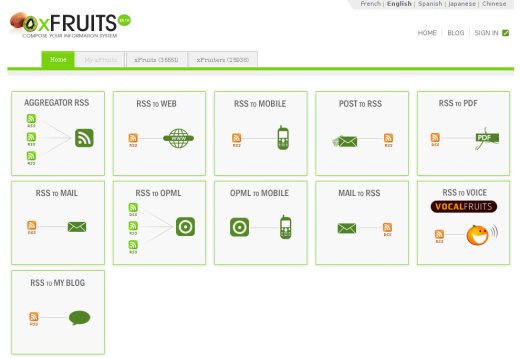 Sounds cool right? You can even transform an RSS feed into an audio file! I bookmarked the website just in case. Sooner or later I am sure we will all need to do something unusual with an RSS feed, and this service could come useful.
Browse all articles on the Web Tools category
22 Responses to "Mix, Match and Transform RSS Feeds with xFruits"
Deborah

I have been using xfruits for a couple of years now. I have aggregated several blogs into one opml feed. It has not been working for a couple of weeks. I sent an email to xfruits, but have heard nothing back. Seems to be no recent activity on that site, and wondering if you have any idea if the site is still active. I found your blog while googling to see if I could get any answers.

medyum

Thank you for sharing this useful tool. I'm definately going to have to check it out and try its features. All the conversion tools sound really helpful.

TJ @ Smartblogtips

This is one great tool. I was searching for a RSS feed aggrerator and this provided much more. Will review the service and post on my blog.

Thanks.
TJ

rudy

Hi Daniel, thanks for sharing. It's really interesting info, since most people including me always referred to FeedBurner. This could an alternative choice.

Btw, i like your wp-theme very much. Simple, clean, and elegant.

Ben Moreno

Interesting concept. I like the idea of transforming an RSS feed into a webpage or PDF.

Justin Razmus

Yes, the RSS feed has come a long way, although too many people still do not make use of them. It can't be too long before something like this helps bring the RSS feeds even more mainstream.

-Justin Razmus

AJ Kumar

Interesting concept….however It seems a bit confusing. Anyone care to simplify?

Make money online with a 17 year old kid

What a great tool. It can be called another invention.
I was wondering of such a tool a few days ago. It will prove to be a very popular tool.
I would like to thank you Daniel for two things.
For getting the word out for us bloggers
And for getting the word out for xFruits 😀

Regards
Laksh

Kurt Avish

I used that to combine some rss feeds into one sometime ago. Really a nice service. Thanks for sharing it though Daniel.

15 Minutes to Riches!

This seems really cool, thanks for making me aware of it! Looks like this would work best for people who have an active blog network on related niches (which is not me), but this may work for me once I start up some future projects. Thanks!

Lisa Lee

This is kind of intimidating. I am just a girl looking for ways to increase my blog traffic. Just started blogging. Can someone share some tips. The stuff is so high-tech for me. Hehe~ 🙂

Mindy

Certainly interesting… not sure how it will come in use though. I don't know. For me, simple is best. 🙂

Engin

Nice service.
and I'm looking for something like web>rss transformation

Four20

What is the difference between this website and yahoo pipes?

Donny Gamble

It seems to complicated for me. I will actually have to check it out and try it first before I can know if it will benefit me or not.

Ness

It never ceases to amaze me the number of 'new' things that pop up in internet marketing!

Bill

I knew about this website but it isn't very practicle at the moment. I cant foresee many uses of this utility.

Smart Boy

It's like cooking with web feeds! 🙂

Thank you for sharing this useful tool. I'm definately going to have to check it out and try its features. All the conversion tools sound really helpful.

Enduring Wanderlust

Very interesting. I can see this taking off. It seems like something new is coming for RSS feeds. Everything else is changing so quickly. New year. New approach.

I came across

Rarst

RSS stuff is always good. 🙂 I am exploring Yahoo Pipes lately but this one seems more like set of specific filters which is good for simplicity.

Ajay

I use xFruits to publish a collective feed of my sites. Not many subscribers, but xFruits is really useful especially if you run a network of sites.

SATISH — Technotip.org

It seems like an all-in-one pack, looks very interesting.
Thanks for sharing Daniel..
Comments are closed.