MetaMagic: WordPress Plugin for Generating Meta Keywords
A couple of months ago I started looking for a plugin that would use my assigned tags as meta keywords on each post. After a brief search I came across MetaMagic, and I have been using it since.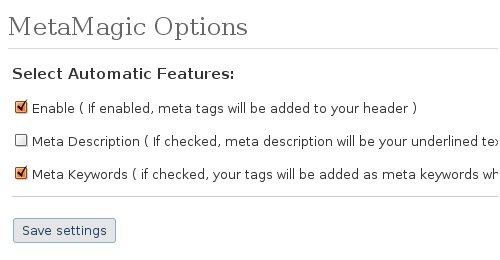 You can also use the plugin to generate meta description tags, but you need to highlight a specific block of text on each post for this feature to work, so I find this part a bit inefficient. The good thing is that on the options page of the plugin you can choose what features to enable, so I just use it as a meta keywords generator.
Ah, if you are looking for a meta description generator, try the Head Meta Description one. Works like a charm.
Browse all articles on the WordPress category
30 Responses to "MetaMagic: WordPress Plugin for Generating Meta Keywords"
trecords

I think Plationium SEO better then all in one and magic.

Narayanan Hariharan

@Sridhar: Thanks!

Sridhar Katakam

Narayanan: No. All in one SEO pack = MetaMagic + more.

tyronebcookin

Sorry posted my question on wrong post!

tyronebcookin

Which one is better for media/traffic and ease of use-

wordpress plugin:

sociable –or– share this!

?

Narayanan Hariharan

Does it make sense to use both All in one SEO Pack and MetaMagic?

RT Cunningham

I'm using HeadSpace 2. It has keywords as tags included in the page modules.

Travis

Great plug-in but All in one seo pack works great

Kok Choon

Just installed it, work nicely! Thanks.

Sridhar Katakam
Daniel Scocco

Sorry for the delay answering guys, but I was travelling this weekend.

@Deblog, I don't use SEO Pack on any of my blogs, and never did, so I really can't say what is the different. For one thing, I don't think All in One SEO pack can grab your tags as and output them as meta keywords.

@Jeremy, I didn't say in the post I started looking 2 months ago and only found the plugin today :). I found it on the same day, only now I am posting about it though. It was buried on my drafts list.

@Sunil, I believe all search engines consider meta keywords, even today. The difference is that they don't put too much value in it. And that is why I started using this plugin, because once installed I don't need to do anything else and it will generate my meta keywords automatically, so I have nothing to lose, and perhaps a bit to win 🙂 .

@Yuen, it is working for me.

@Bill, on Daily Blog Tips I am starting to add tags, and hence keywords, on the posts right now. I was not using them, but now I am trying to do the migration. On my newer blogs I use it though. Check techcult.com

@Dennis, not sure.

instantShift

It's good but "All in One SEO pack" is good enough !!!

Sridhar Katakam

@6: "All-in-One SEO Plugin can't generate meta keywords from tags, it can only do so from categories."

It perfectly does, out of the box, and by default.

All in one SEO plugin superseeds and exceeds MetaMagic in features and functionality.

Dennis Edell

Will this mess with the all in one?

goblogging

I think it similar to headspace2 wp plugin:

Rui Cruz

I was trying to search a plugin to put the 5 most used words on the post. Sicne I dont use tags, nor want to select some text, this plugin is useless for those who have 1001 blogs and can't waste time with that. 🙂

Rui

Bill Stevens

Daniel – Do you even use meta keywords on your posts? Doesn't look like it.

Daniel Gibbons

I use all-in-one SEO pack, too. But, @Rasrst, I don't see an option in the settings to auto-generate keywords from tags.

However, I was under the impression that there was very little value in meta keywords these days. Doesn't Google completely disregard this data now?

Rarst

@Ruchir Chawdhry

>All-in-One SEO Plugin can't generate meta keywords from tags, it can only do so from categories.

It perfectly can, check the facts. 🙂

Yuen

Daniel, please give us a backup of your copy.

Yuen

I got this "404 File not found" error in download plugin link from WordPress

Sunil Pathak

@Ruchir

there are very few search engines who consider meta tag now days
major search engines like Google MSN and yahoo now day crawl and index your site using content.

so what you use in meta tag doesn't matter any more

Ruchir Chawdhry

@ Sunil, Lax, Deblog:

All-in-One SEO Plugin can't generate meta keywords from tags, it can only do so from categories.

Thanks for sharing the plugin Daniel!

Adam Singer

I think the benefit of this is it automatically does the meta-tagging for you so helps speed up the process

Sunil Pathak

I prefer All In One SEO Pack, when it comes to blog seo its all in one solution for all your seo needs

Dividends Anonymous

Great answers as always Daniel!

I tune into these with avid interest although I'm still not hooked onto a wordpress host yet. I guess once you get comfortable with a certain platform you tend to be hesitant to change.

Keep up the great work!

WhyLoo

thats amazing i think

Lax

Yes may it's good.

But whats extra advatage from using "All in One SEO pack".

Jeremy Visser

My goodness. I would not wait a "couple of months" to get a plugin to do what I wanted.

Maybe you could post a suggestion on this blog, and some WordPress hacker might go and write the plugin for you in a couple of days.

Deblog

What's wrong with "All in one SEO pack" ?
Comments are closed.