DBT is research-focused. When you buy through links on our site, we may earn an affiliate commission. Learn more
Have you been struggling to find a quality face wash that won't break the bank?
It's really difficult to find something in a truly reasonable price range that actually has the benefits of more expensive preparations.
Mario Badescu's Enzyme Cleansing Gel definitely meets the price requirement.
Our face is our first impression to the world. Quality products that keep your skin looking and feeling it's best are essential for keeping your skin healthy.
However, keeping those products in your budget can sometimes be overwhelming. I know it is for me.
Let's find out if this is the right product for you in our Mario Badescu Enzyme Cleansing Gel Review.
What is Mario Badescu Enzyme Cleansing Gel?
Mario Badescu Enzyme Cleansing Gel is a refreshing enzymatic facial cleanser. It is lightweight, non-foaming, and generally appropriate for all skin types.
You wash with this twice a day to remove excess oils and surface impurities and formulated with moisturizers and fruit enzymes.
Enzyme cleansing gel is not a makeup remover. Though it will remove some makeup, it may not work as well as a product designed to remove it.
I recommend that you use a makeup remover first and then do your skin care routine.
Key Ingredients
This cleanser is formulated with fruit enzymes and moisturizing agents to help your skin retain moisture and look healthy and vibrant.
You will find these key ingredients in Mario Badescu's enzyme cleansing gel:
Glycerin is a humectant, that's a moisturizer that attracts moisture from the air around you and helps hydrate skin.
This hydration comes from the moisture that is everywhere around you and from deep within your skin, as the glycerin attracts it to hydrate the epidermal (skin) layer.
You can help that process with a few tips on using glycerin products. I'll share a little down the page.
How Much Does it Cost?
Price is the area where you may be most pleasantly surprised--as other cleansers with similar properties and ingredients can cost an awful lot, for shockingly small amounts.
Mario Badescu's enzyme cleansing gel sells in both 8- and 16-ounce bottles, starting at a reasonable $14.99.
The 16-ounce bottle sells for $24.00, not bad at all.
There is also a coupon code that you can use for 25% off your purchase, MB25.
The prices are reasonable, even without a discount, especially when you consider that they also offer a 30-day money-back guarantee.
Your purchase must be made through them to qualify for a refund; purchases made through third-party vendors can't be returned to Mario Badescu.
They do not, however, refund shipping and handling. That means, not only is this product truly affordable, you can also try it basically risk-free for the cost of shipping and handling.
We don't think you'll need to return it, but it's always nice to know you can, just in case.
Shipping and handling for your order are free on all orders over $35.00, to all 50 states, including Hawaii and Alaska.
Their site states that most orders arrive in under a week, some as soon as two days. Their shipping rate for orders below that threshold is low, at $4.95.
They also offer international, and one-, two-, and three-day shipping, those rates are available to you when you are ready to place an order as they require your location to calculate.
How to Use It
If you can wash your face, you can use this product; it's that simple. I'll walk you through the basic steps, and then we'll talk tips and tricks.
How to use it:
Wet your face, to prepare for the cleanser.

Pour some enzyme cleansing gel into one palm and distribute it on both hands, towards your fingertips.

Massage gently onto the skin, using a circular motion.

When finished, rinse thoroughly with warm water.


Pat dry.
Now, for the glycerin tip that I promised. When you pat dry, only remove enough water to stop the dripping.
As you are preparing your toner and moisturizer, that moisture draws into your skin.
When ready to apply those products, either pat completely dry or leave damp as necessary.
FAQ's
Below, we've found the most common questions that people ask about this product and answered them for you.
Yes, we've found many happy customers and reviewers who state that this product works and improves their skin's texture and clarity.
It's glycerine based formula moisturizes, while it cleans and removes impurities.
That said, any time you are using natural enzymes, or any new product, there is a possibility of irritation for some people, so if you notice irritation or redness, stop using it.
This cleansing gel is gentle enough for you to use it twice a day to keep your skin purified, moisturized, and clean.
We recommend doing so in the morning and the evening, after using a makeup remover to clear product from your skin.
Final Thoughts
Mario Badescu Enzyme Cleansing Gel is not just a reliable cleanser for many users, but it's also an affordable one.
It offers moisturizing and enzymatic removal of impurities, using natural fruit extracts, like brands that cost many times what this brand run.
Some may find that they have a hard time with the natural enzymes, but most just see clearer, smoother skin.
It's worth trying, and you should go to their site today to get your own bottle.
You have nothing to lose, but the shipping, and so very much possible to gain.
Lightweight and refreshing gel formula. Removes excess oil and surface impurities.
---
Mario Badescu Cleansing Gel vs. Alternatives
First Aid Beauty Cleanser
---
Mario Badescu Cleansing Gel Reviews
There are no reviews yet. Be the first one to write one.
Mario Badescu Enzyme Cleansing Gel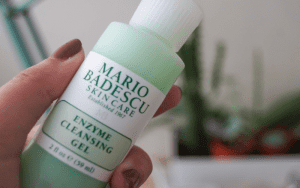 A lightweight, non-foaming enzymatic facial cleanser appropriate for all skin types. It removes surface impurities and excess oils, leaving your skin glowing.
Product Brand: Mario Badescu
Product In-Stock: InStock