Love Wikipedia? Then Help Out
There are several things on the Internet that help us a lot but that we take for granted. One of them is Wikipedia.
Apart from being one of the best examples of why the Internet is changing the world (for the better!), Wikipedia is also one of the most useful websites around. I probably land on it at least once a day, and the information is always accurate. On top of that there are no ads around, and the entity that owns/manages it is a non-profit organization.
Neat huh?
So how does Wikipedia covers its costs? With donations from its users. Once in a while they run low on funds, and they need to display a message on top of the website asking for some help. If you go to the website right now you'll notice such a message.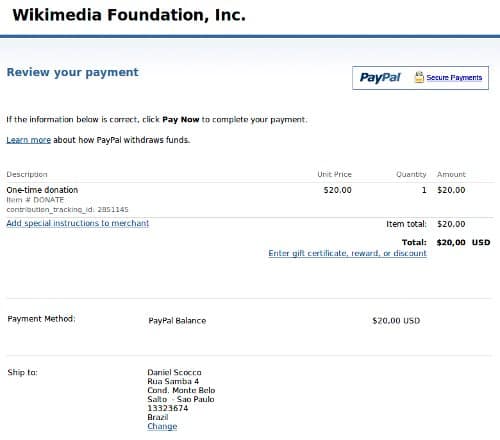 When I saw it yesterday I donated $20 right away, for all the reasons above. You can use Paypal for the donation, so if you have some funds there I would encourage you to support them as well.
If donating is not an option you can always help Wikipedia in other ways. One of them is to write about it on your blog, and another yet is to join as an editor to write and edit articles inside your areas of expertise.
Browse all articles on the General category
23 Responses to "Love Wikipedia? Then Help Out"
jorge jacobo

I always wondered how wikipedia sustained the costs. I am glad I read your article very helpful again.

Christian Guico

I agree with this post. Aside from Google, Wikipedia is the most useful site in terms of researching the best and quality information. I haven't had enough funds to donate but I think I can help by telling other people about this site.

Sheila @ Avaguide

Wow, I never knew that Wikipedia was asking for funds, I thought they always had money for their website. I can't really donate right now, but I will help them by writing about their services. Do you think there are other websites as useful as wiki?

Richard

Couldn't agree more, Wiki is very valuable for research and I'm happy to contribute a little every few months to support such a great resrource.

jason

I'm actually on wikipedia, but I haven't donated yet. Will check it out!

Web Marketing Tips

did not get you that you are on wikipedia.

Samir@Indihow

I wonder why there's been no integration between Facebook and Wiki. Using an FB login system would be so much simpler!

Manuel Ignacio López Quintero

It's amazing how Wikipedia, looking at the number of visits they have, they do not use advertising. I've donated to Wikipedia!

Web Marketing Tips

their main source is google.

Google started knol for this reason only.

Joshu Thomas

Hey Daniel,

Great to see that you are using your blog media for spreading the message – Quality effort dude! I do donate to wikipedia , but its been a long while now – that was a reminder !!

Cheers to wikipedia
Josh

Web Marketing Tips

yes by adding this message at here Daniel himself contributed and three cheers for him.

zaki alakhdar

I prefer to write about it on your blog, and join as an editor to write and edit articles inside your areas of expertise, but being an editor is soo hard to upply its lows.

cmdweb

I think Wikipedia is one of the most valuable sites on the web. I know many want to knock it because of the way its content is written, but it's the de facto first point of reference for everyone nowadays.
I like to get my background there first and then go and corroborate facts from other sources before I write.
Donation on the cards…

Web Marketing Tips

I think credit should also go to the google. Because for almost any keyword you can see wikipedia within first three results.

Nhoe

worth it…

Buzz

Gave Wikipedia a donation as well. I think it's always good to support non-profits especially when they provide an ever-improving service that is for the most part unbiased. A lot of bloggers can also learn SEO from wikipedia with their great interlinking and providing quality content.

Web Marketing Tips

yes quite agree with you. They are certianly an important source for all kind of internet users.

Hans Henrik Appel

Yup – left them a donation this weekend as well!

Web Marketing Tips

yes we are the people who can help them and through this way we can make our internet more useful.

Web Marketing Tips

so nice of you and thanks for informing us.

I am also going to donate there as these are back bone of our internet world.

d3so

Wikipedia is definitely a powerful resource.
In high school, they frown upon using wikipedia as a source for information. I think that's ridiculous.

Ka Damar

Wikipedia is also one of the most useful websites around, Then Help Out

Web Marketing Tips

yes this website got the reference of google as well, so you can also trust 'them as well.

You will be able to get all kind of information from there and from all field.
Comments are closed.