Looking for a WordPress CRM? Check Zero BS CRM!
The best products are born when the creators are looking for a solution that just doesn't exist on the market, so they decide to build it themselves.
That is how the Zero BS WordPress CRM plugin was born. The creators need a CRM for one of their websites, but the available solutions like Salesforce were too expensive and too complicated to install and use. There were some self-hosted solutions available, but they looked obsolete.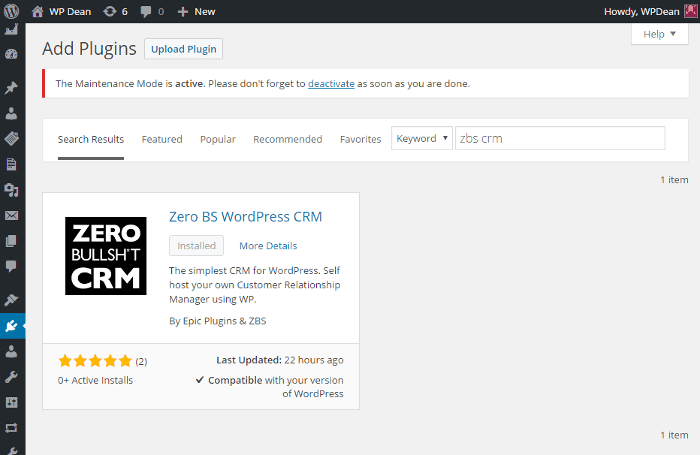 Where the other customer relationship tools have thousands of features, ZBS keeps it seriously simple. After all, it's only by removing all of the feature-creep that you can strip a tool down and see what is really useful. The ZBS team plan to build a CRM from the ground up, making all of the "core CRM" easy to use, and bulletproof. They believe this will make it functionally useful for small business from day one, and by adding "extensions", a user can add-in the features they want, when they understand & need them, rather than paying for them all from day one.
Zero BS CRM aims to be the most simple and functional CRM around, and it's starting with the self-hosted WordPress platform. Here are the main advantages:
-Self-hosted, so you don't need to rely on other companies
-It's free! (With bargain extensions, if you want them)
-Regularly updated with new features
-Works out-of-the-box with any WordPress installation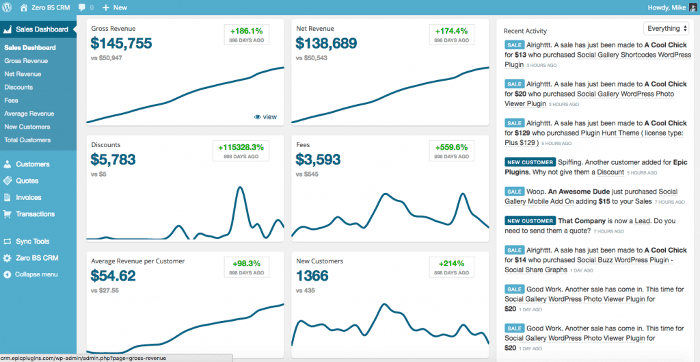 CRM stands for Customer Relationship Management. It's basically a software or platform that allows you to manage all the interactions with your customers from a single place. For instance, Zero BS CRM will allow you to:
-Manage Customers, Quotes, Invoices and Transactions
-Easy to add Tags, custom fields and other data to customers
-Works with our ecommerce setups: PayPal and WooCommerce
-4 minute install. Install WordPress, ZBS and then you're ready!
-Multi-currency
-Optional sections such as "Needs a Quote" (great for local business)
-Optionally disable front end / WordPress takeover (so users can't tell it's -WordPress)
-Add Files to Customers, Quotes, or Invoices
-Add an image to each customer
-Works great on mobile devices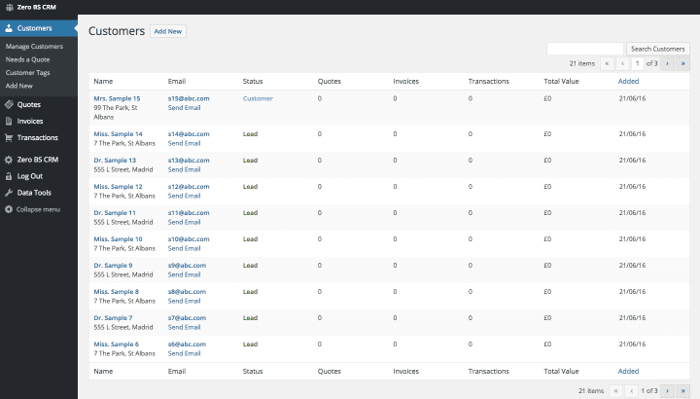 As you will notice quite fast, using Zero BS CRM is much easier than using traditional CRM software, which are usually bloated with useless features and interfaces. Despite the simplicity, if you need any help you can check their documentation page.
If you need extra features, like a CSV Importer or integration with WooCommerce, you can buy extensions created specifically for your needs. The core of ZBS CRM is completely free though. In fact their Pricing page is quite funny: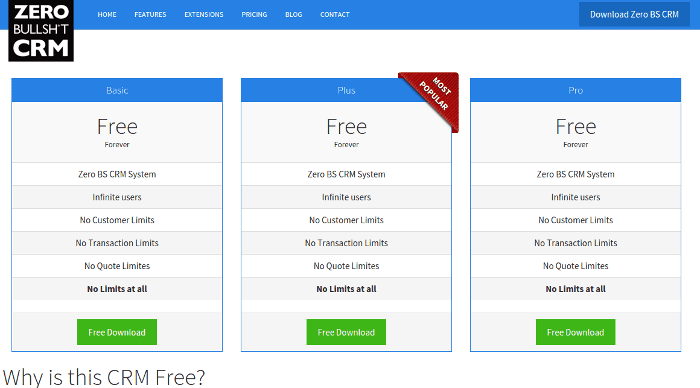 Give it a try. I am sure you will like it!
Browse all articles on the Software category or check the recommended articles for you below:
6 Responses to "Looking for a WordPress CRM? Check Zero BS CRM!"
Joshua Silvia

As a food business consultant looking to help other food business owners with increasing profits these tips will help me take control of my CRM efforts. Thank you very much for the valuable post!

Ciao!

Vikings

Thanks for the short overview! With my website I haven't reached the point yet, where I need a CRM system, but I will definetely keep that in mind!

I especially love that the tool is free, because that's exactly the reason why I use wordpress. There are so many cool free extensions out there, you only have to find the good ones. And this extension seems to be really useful!

Zoya Ali

That's Really Nice plugin for Wocommerce sites.i already install this plugin for my woo commerce site

youngster

Zero BS CRM this plugin is used for only customer interaction ??? tell me please

Lisa

Ok, really like this. I've been looking for a decent crm for quite some time, this looks promising. So far I've only found partially good crm software solutions for WordPress. Let's check this one out. Thanks!

Webx Technology

Thanks for this CRM, I am looking for such a plugin in the WordPress to interactions with all of my customers from a single place and then I find this article to be listed on Google and this story not wastes my time. Thanks for such a great Software / Plugin.
Comments are closed.