Load Time Analyzer for Firefox
This is a very useful Firefox extension for web developers, designers and bloggers. We all know that speed is a key component of usability, and that the loading time of your website will make the difference between people actually navigating it or just skipping it altogether.
Load Time Analyzer is a Firefox extension created by Google that displays the number of events that are processed by a certain website and how long it takes to load them all. The load time displayed will obviously be influenced by your Internet connection, nonetheless it can provide a good indicator of the site speed.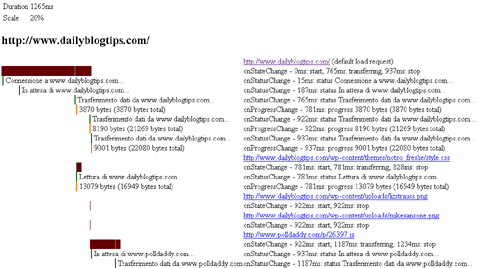 The most interesting part of this extension are the detailed graphs that it outputs for every single site. On the graphs you will be able to see what objects are creating bottlenecks, how many external requests the site has, what plugins or scripts are placing requests and so on.
Update: If you are having problems with this extension try Firebug. It also provides more functionalities.
Browse all articles on the Software category
9 Responses to "Load Time Analyzer for Firefox"
SMS

Sounds interesting!! Will check this one for couple of sites I am optimizing for quick and faster loading.

Ankush Bhargava

Is it only me?
The plugin does not work in my browser. I have v2.0.0.3. It keeps crashing when i start the browser.
So, I ran firefox in safe mode. Disbaled the plug-in, and then my firefox started properly in normal run.

Daniel

Strange that an extension made by Google is crashing you guys, I guess they cant be perfect on everything :).

I will check Firebug, I had heard about it but never played with it.

Anthony

Aylee,
Just load it up in safe mode go into the Add-Ons and uninstall it. That'll solve the problem.

aylee

I just installed it and it crashed my Firefox too. I can't open Firefox anymore unless I use safe mode.

Anthony

Holy Crap! I downloaded the plug-in and it crashed Firefox, no longer allowing it to load.

Leftblank

A nice plugin, but when you're using 'Firebug' (a debugging/code tracking extension) you'll also be able to see that, including parse and delay times, pretty neat and it offers way more useful functions 😉

Daniel

Christian, FasterFox is another great plugin. I also use it. The Load Time analyzer is useful when you need to tweak or analyze the design of your website.

It is a good idea to see how many events you have in comparisson to other sites on the same niche, and try to keep that number as low as possible.

Amanda

Thats a cool plugin. I wouldn't necessarily use it often but i think for someone whose trying to speed up their site connection it will be useful.
Comments are closed.