DBT is research-focused. When you buy through links on our site, we may earn an affiliate commission. Learn more
Our Layla Weighted Blanket review wouldn't be complete without advantages and a few drawbacks.
Do you often find yourself tossing and turning through the night?
Do you wake up in the mornings feeling tired, unrested, and anxious for the day ahead?
Layla Weighted Blankets were made to put an end to those types of negative feelings associated with sleep.
Our Layla Weighted Blanket review will dive into the details that separate this blanket from others.
We'll discuss the scientifically-backed health benefits of the blanket, the variations of the blanket's weight, prices, and more.
What is a Layla Weighted Blanket?
The Layla Weighted Blanket, also known as a stress blanket, is a plush, bead-filled blanket made to help ease anxiety and promote more restful sleep.
This 15-25 pound blanket is made with high-quality cotton, plush polyester, and high-density glass beads.
The beads' weight provides Deep Touch Pressure, which is a type of therapeutic sensation that is proven to help reduce anxiety and insomnia.
The microbeads' pressure feels like a warm hug from all around, which can help lull users into a deeper sleep.
REM sleep, also known as Rapid Eye Movement sleep, is the deepest type of sleep an average person can get most nights and is necessary for healthy growth and rest.
The Layla blanket was made with anxious and insomnia-suffering users in mind.
The fabrics and beads used in the blanket are specifically for the potential health benefits for all users.
Layla Blanket Materials
The Layla blanket has high-quality cotton material on one side of the blanket and a polyester mink-like fur on the other.
Between these two materials, there are countless high-density beads of glass, held in place by a specific stitching technique.
The 300 thread-count 100% cotton material that lines the part of the blanket closest to you is soft, easy to keep clean, and machine washable.
The plush, polyester texture on the outside of the blanket is furry and comfortable and looks very stylish on your bed or couch.
The magical micro-beads sewn between these fabrics were explicitly picked for their ability to be evenly distributed throughout the blanket without making noise with movement.
Layla's signature hexagon stitching keeps the beads in place, no matter the blanket's position.
These tiny beads add up to be up to 25 pounds in the largest blanket. The weight of these evenly distributed beads is what brings health benefits to the user.
The weight, providing a Deep Touch Pressure, ignites the release of serotonin in your body when using the blanket.
Serotonin is a chemical made in our bodies that, when released, can bring relaxation and a sense of calm all over.
The weight of the blanket sparks this release and can help soothe even the most intense anxiety and insomnia.
How Much Does it Cost?
The Layla Weighted Blanket comes in three sizes — King, Queen, and Twin.
The King, priced at $179 and weighing 25 pounds, can cover your entire King-sized bed or wrap around you and your loved ones comfortably.
The Queen, $159 and 20 pounds, the Twin, $129 and 15 pounds, and the King are all eligible for a payment plan that, if approved, can knock your immediate price down to as low as $13 per month.
The Layla blanket is shipped from San Fernando, California, and takes about one to five days to receive once shipped.
All blanket purchases can include a 5-year warranty, so you can have the seams and frays repaired if damaged from natural wear.
Layla also offers a 120-night money-back guarantee. With this offer, you can try your blanket for up to 120 nights before deciding if you would like to keep it.
If not, you simply email the company with information about your purchase, and they'll send you a return label and full refund once the blanket is returned.
FAQ's
Below you will find answers to some of the most frequently asked questions concerning Layla weighted blannket.
Yes, Layla blankets use scientifically-proven methods to provide relief for its users.
The gentle weight of the blanket makes you feel secure (almost as if you are being wrapped up in a big hug) and can help soothe your right to sleep.
Yes, the Deep Touch Pressure (DTP) provided by the blanket's weight is proven to help release serotonin into the body's system.
This release leads to a calming effect that helps soothe stress, anxiety, and other nighttime issues like insomnia or ADHD.
The Layla blanket is designed to promote a night of more restful sleep for anyone using it.
The soft texture and weights of the blanket help foster REM sleep, which leads to blanket users waking up feeling rested and refreshed.
Toss your Layla blanket in the washing machine. The manufacturer recommends a cold water wash and tumble dry on low heat.
Final Thoughts
As noted throughout our Layla Weighted Blanket review, this blanket differs from other stress blankets in many ways.
Specifically, the careful stitching that holds the beads in place is a hard-to-find detail among other blankets of this type.
The soft and machine-washable quality of the fabric is also a huge plus hard to find among other blanket companies.
If you are struggling with a good night's rest because of anxiety or insomnia, we strongly suggest trying out the blanket.
The company's 120-day money-back guarantee offers a helpful safety net in case the product does not work for you.
This hugging blanket gives Deep Touch Pressure (DTP), a gentle pressure across your body that feels like a warm hug.
---
Layla Weighted Blanket vs. Alternatives
---
There are no reviews yet. Be the first one to write one.
Layla Weighted Blanket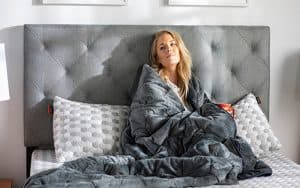 The Layla Weighted Blanket is a comfortable weighted blanket used to help relax and ease you into a deep, restful sleep.
Product Brand: Layla
Product In-Stock: InStock