KeePass Password Manager
Online forums, FTP applications, e-mail accounts, social bookmarking sites, WordPress and the list goes on. All those places require a different user name and password, and keeping track of them all might become a cumbersome task on the long run.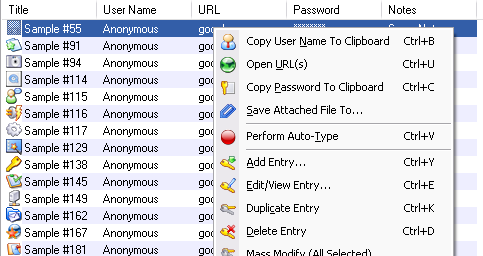 The solution for this problem is a password manager where you can store all your passwords behind encrypted protection. KeePass is probably the best free software that you will find across the Internet. I have been using it for past 6 months and now its just part of my daily activities, every time I create a new account somewhere I drop a new entry there. If you have a growing list of passwords you will probably want to check it out.
Browse all articles on the Software category
21 Responses to "KeePass Password Manager"
Erik Nelson

I started using RoboForm, but noticed the so called "free version" only works after the expiration time for 10 more logons. Then you have to purchase it.

I also noticed it had two options for purchase, $19.99 for the single user with less goodies and no upgrades vs. the everywhere version which was on special for $9.95; or so I thought… Then you get into it and see after selecting the cheaper everywhere one, that it is a subscription and you then have to pay $19.99/year after that. You do get free major and minor upgrades, but then, KeePass is free, well, I will probably donate, of course.

Summed up, I don't like being sucked into hidden subscriptions, so RoboForm is a nogo, er, form…. blech! so I'm not a poet! XP

Alec Mocatta

Been using keepass for a while now and I gotta say it is one awesome app. All I need now is a version for the iPhone to come to the uk. And maybe a free secure online version.
Oh and lol @bilderman

SenhorLampada

It seems bilderman expects it to integrate WITHIN firefox!
No no… it's standalone! 😉

And KeePass is great! I only wonder if it is possible to use auto-type with MMO Games and stuff like that 😀

Gonna try tonight!

Tee Roll

ROFLMAO @bilderman. Funny thing is the SF project page for KeePass is seeing roughly 2000 hits a day based on SF's recent statistics. The 2.06 (beta, mind you) Windows installer has been downloaded 144,000 times. I've personally been using KeePass successfully for several years. Maybe your computer (or perhaps your computer skills?!) is rubbish. 🙂

Bang Kritikus

It is important to defend our blogs from crackers

Steve Bildermann

Keepass is a piece of crap. I installed it and could not get it to even start. I use Firefox but keepass never came up.

Took me about 10 minutes to realize it's a waste of time. Total rubbish.

Erik Nelson

RE: Bilderman…

Um, did you even try reading the directions???

Here is what I think KeePass thinks about you:
"Bilderman is a piece of crap. He installed it and didn't even read the directions. He uses Firefox but Bilderman couldn't figure out it's not a plug-in.

Took me about 10 seconds to figure out Bilderman is a waste of time. Total rubbish."

onrets

I too have KeePass but I limit it to only a websites. I have been using Roboform for years and have about 100 or so passwords stored in it's database. It would be big hassle to transfer them over to KP. I am trying to find a way to convert my RF passcards to CVS format to import into KP.
If anyone here has a solution to converting to CVS, it would be greatly appreciated.
Harry

Daniel

Thanks for sharing it guys, I am definitely checking Roboform.

Erik Lane

I would recommend RoboForm and RoboForm2Go. Been using both for well over 2 years and they just work. I've got a short blurb about it in this post.

Andy Beard

I have been using Roboform for over 2 years which is very similar and integrates will all the browsers I use.

You can also buy a pen-drive version for use on multiple computers.

Daniel

Calisto, I am sure about online solutions, also because I would not be secure about storing my passwords online. I will research about it nonetheless and let you know what I find.

Calisto

Does anyone know of a system such as KeePass that can be used online? I use 3 different computers and one with two different operating systems on a daily basis and the Google Toolbar has been a great life-saver for storing bookmarks and accessing my emails across all of them. Unfortunately I cannot find anything as cross-compatible for managing passwords. Any suggestions?

Matthew Jabs

Hey Daniel!

It looks like we blog about a lot of the same things! See my post about KeePass here.

jamjammo

I mentioned KeePass to a friend recently, who has a totally different method of creating and storing passwords.
He actually carries a laminated index card in his wallet containing a short list of some of his frequently used passwords.
He explained and it sorta goes like this:

for example:
*he arrives at a site (example.com) that requires user registration/login. at the moment he is eating a Peanut Butter and Jelly sandwich at about 4pm.
the password he creates is PBJ4elmpaxe
*He also often uses songs: The Itsy Bitsy Spider Climbed Up The Water Spout = TIBS9cutws

He showed me other unorthodox methods, but I just recall them two.
Truly an off way to come up with passwords.

StatMan

Wow. Thanks for the helpful tip. I just created a new password today for a new account, and I know I'll forget it because I won't use this account a lot. This new site wouldn't allow the password I've been using. I now realize I shouldn't use the same one anyway. So thanks for the timely advice.

jamjammo

To ensure safe-keeping of my passwords, I've exported my KeePass file as a .txt file, and I carry it with me on my smartphone. If I happen to use another computer (library, a friends house, etc.), I'm not left clueless to my 12-20 character alphanumeric password. lol.
My smartphone itself is password protected.

Daniel

jammo, you are right, keeping the same password for all the applications is not a good idea, despite being a tempting one :).

Another practice that I use is to store passwords on Firefox, and I am not sure how safe this can actually be.

jamjammo

I've been using this amazing application for over a year now.
I learned the hardway.

I had previously used a 10 character password with uppercase and lowercase letters, PLUS a few numbers thrown in for good measure.
Problem is, I used this set password for EVERYTHING!!!

big mistake … somehow, my password was exploited, my FTP server was compromised, my yahoo email was empty, and i was fearful for my banking account.

I made the switch from MS XP Pro, to Ubuntu Edgy 6.10 (actually a dual boot). Imagine my delight when I found KeePass available for Linux as well?!?!
So my old KeePass file in Windows is readable by Linux as well.
Sadly they don't offer a version for my SmartPhone.

Lars-Christian

This definitely looks like it could be a useful tool, and it seems they even have a Mac version for it, so I will probably take a look at it 🙂

It might actually help me solve the problems I hate with switching browsers from time to time, because not being automatically logged in can be a real hassle, but it shouldn't be with this program!

Cristi

Seems like a nice piece of software.

Having a fingerprint device attached to your computer (my Toshiba laptop has one built-in) saves you a lot of time too. But I have to always keep my fingers with me 😛
Comments are closed.