John Chow Is Coming Up With a Print Book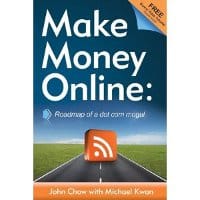 Whether you like his style or not, you can't deny that John Chow is one of the most influential blogs on the Internet marketing niche. I follow his stuff because I think he is pretty creative and upfront when it comes to monetizing sites and making money online.
Anyway I was browsing through my RSS feeds and I discovered that he is coming up with a print book, appropriately titled "Make Money Online." You can already pre-order it on Amazon.
The cover price is going to be $14, but Amazon is offering a discount for pre-orders, selling it by $10.85. It should be an interesting read, so it is going on my Amazon wish list.
By the way, the Amazon link above is NOT an affiliate one in the case you are wondering. Sometimes I do use my affiliate id when linking to books, but more often than not I forget or get lazy about it. All the money I make from the Amazon Associates program is also re-invested in more books, so I really don't recommend or talk about books in the hope of earning affiliate commissions from them.
Browse all articles on the General category
7 Responses to "John Chow Is Coming Up With a Print Book"
Arijit Das

I read the Darren's Book "ProBlogger Book — Secrets for Blogging Your Way to a Six-Figure Income", it was awesomely written and too gave me the basic to advance idea of becoming the problogger.

I too e-read the book of JohnChow, but discovered that they both have same concepts but the style of explaining is different. I really appreciate John's language style but Darren's one was most effective to me!

But still, i'm a book collector of the Bloggers and mainly Probloggers.. so, i will have one issue to add it in my blogging book collection. 😀 Thanks a lot Daniel, for sharing about it!

V.C

Everybody here would read John Chow's free ebook "Make money online". First time I read his ebook, I was really into it. Regarding this new book, I think it may be an interesting one to read and study. I will buy it for sure.

Lady Hawk

Let me begin by saying that I have not read John Chow's book, and it may be informative. However, what I have come to find is that much of the information that I've come across can be found for free.

I always recommend people go through Ed Dale's 30 Day Challenge which teaches how to take an existing business to the web or find a niche of your own to develop. The challenge gives you all the tools to do this for FREE!

Also Tiffany Dow provides some great ways to make money from Squidoo lenses. In addition, she provides numerous PDF's (free) which are jammed packed with detailed info.

It just seems as though there is a lot of redundancy and fluff out there that can be avoided easily.

Chester

All worth it for the price of $10.85. Definitely grabbing his book! Thanks for sharing Daniel.

Kumar

Hopefully someone, may be you Dan will write a review. I look forward for your review on this book. I will buy based on the reviews… 🙂

Keith Davis

Thanks for the tip off.
Think I'll order this one.
I need to start thinking about making something… anything out of my blog.

DotCom Note

All his articles are stuffed with affiliate links. Not that anything is wrong there but there is no originality. He promotes questionable products like wiki pages, claiming them to be the greatest invention since the slice bread. People we follow his instructions hardly make money but he definitely makes a tons of money.

I bet his book will be also of same quality. Full of marketing stuff that will benefit him but not his readers.
Comments are closed.