It's A WordPress World
If some years ago the battle for the leading CMS online was still open (we had WordPress, Drupal, Joomla, TypePad, MovableType, to name the main ones), today we have a clear winner. As you guessed, it's WordPress.
The guys from Royal Pingdom did a small research and found out that almost 50% of the top 100 blogs in the world are using the platform. Three years ago this number was "just" 27%. You can read the full article here: WordPress completely dominates top 100 blogs.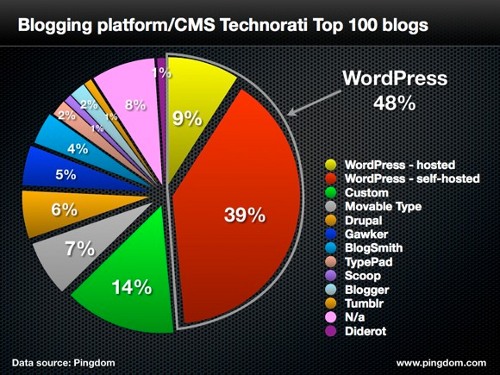 The interesting thing is that even mainstream news organizations are using the platform. For instance, the Bits blog of the New York Times uses it, as does the CNN Political Ticker.
Obviously such popularity has drawbacks too. The main one is that WordPress is probably the most targeted platform of hacks and malware. That being said it has been a while since we saw a major breach on the code that enabled many sites to get attacked.
Overall I think the project is becoming mature, and I like the fact that they are not bloating it with too many unnecessary features as people tend to do with iterations of popular products.
In other words, I think the usage of WordPress as a CMS will only increase in the coming years, and I don't seen any other platform threatening its position. Do you?
Browse all articles on the WordPress category
18 Responses to "It's A WordPress World"
Ozio Media

The reason that WordPress is so popular is that it is so easy to use and can create a huge variety of pages. The constant stream of new themes and plug-ins has meant that it is constantly possible to create new kinds of pages and sites that can't be matched by most of its competitors.

Feng Yin

You are right. WordPress is a winner. But I also like Joomla and Typecho. Typecho is very samll.

Paul Odtaa

I agree that WordPress is growing in influence not only for blogs, but content management systems and even some static sites.

The other systems will not grow, but will peak and then gradually their numbers of users will decline.

I would like to defend systems such as Drupal and Joomla – they have blogging modules, but they were set up to do more complex tasks – such as having lots of linking databases.

Although you can find WordPress plugins to do most things there comes a point where a package like Drupal does things better.

One word of warning. WordPress is safe at the moment but don't be surprised if some thing comes out as a challenger – something like a new Facebook. India, or China or someone working in a garage may come up with something new that just takes off.

If you look at recent history – two years after it was set up MySpace looked like dominating the internet world – it was wiped clean by Facebook and Rupert Murdoch lost half a billion dollars buying it.

Facebook has also changed the blogging world. Most small blogs written just for a small group of friends are now on Facebook.

The good thing is that for most serious bloggers Facebbok is a useful promotion tool.

It'll be interesting to see how things are in 5, 10 or 20 years. I suspect that WordPress will still be around in an interesting form, as some of the world's best developers are happy giving free support, which I think is WP's greatest strength.

eezytrade

I've been using wordpress now for over seven years, looked at and tried out joomla, but it was just too clunky.

Flirted with moveable type, but again it was just too hard to even install!

I'm a wordpress fan all the way, it just works and gets better/easier to use on every new release, which is also regular.

Melvin

WordPress makes normal people like us look experts. It also enables 'non-techy' folks to start business online regardless of the technical knowledge.

I'm definitely a proud WordPress user!

Ivan

Exactly what does "leading" mean? Best selling? Most advanced? Best designed? The one with the messiest code? Most hacked?

I see you've used "clear winner" when talking about sales or installations, in most cases but I'm not use what your main point is.

If you're trying to suggest that it will continue to be the popular platform for cybercriminals to spread malware, I agree.

Ishan

Agreed. I remember when I started using WordPress in 2008. It was much better than blogger which I had used before and once I learned how I could make websites with it, I never looked back.

WordPress is one of the major reasons I am into freelancing!

Tim

hmm.. no joomla on the list!

Kristoffer

I would say it depends, actually. While WordPress is certainly good for blogging, it's not so good for a shopping cart or maybe a membership website.

Yes, there are plugins that let you archive this. And yes, it's easy to get started with, etc., etc.

But there are a major overhead combined with WordPress.

I think there are one platform ultimately winning over WordPress in everything except for cost/time/knowledge required and popularity.

And that's a website you make yourself.

This way, you can make your website EXACTLY as you want it. I can, however, see how it's great for people new to all of these things, and don't know much about programming.

Margaret Adams

Yes, I'm a WordPress fan.

What's really good about WordPress is that it makes it possible for people who are not technical to get started online.

Once you're up and running you can learn as you go and at your own pace. That's what I have done. I'm not a "techie" yet, but I can manage my own sites.

Three cheers for WordPress.

Rashmi Sinha @ TechInitio

WordPress is getting more popular every second. I am not really worried about security issues because such a large company fortifies itself.
The rest is up to the users to protect themselves. Now WordPress is getting bigger and bigger and i am sure it will rule one part of the internet world soon!

Ron

Interesting to see that results. Actually I always thought it might be like that, but seeing the numbers now is still quite impressive.

As you said there are some downswings to, but the community of wordpress, themes, skins and plugins around it is just great!

Thanks for this article and your great service of DailyBlogsTips!

Dave in Belize

I built my first website on WordPress way back in mid 2007 (using "Revolution" theme/framework) because I saw Google liked WordPress in terms of SEO.

I believe Revolution was one of the first, if not the first theme/platform which allowed users to create an actual "website" instead of just a "blog".

Undoubtedly one of the BEST decisions I've ever made regarding online business management!!!

Michael Robinson

The perfect time for a disruptive competitor to appear is when the top software gains too much market share. Automattic is run by smart people, so I don't think they want to get complacent and let WP stagnate. But it's easy to do and not realize.

Shyam @ScorpionGod Lair

Yeah. I also agree that WordPress is the best blogging platform. I love it very much. After some years on Blogger, I started my WordPress Blog on 21st of March. Now I'm running it well. I learned almost everything from Daniel DBT. I love this blog very much.

Most beginner bloggers always start first on Blogger platform, So they say WordPress is more complicated. But It's not. I joined OnlineProfits course of Daniel. Before joining it I thought WP installation is very hard thing. But Now I don't feel like that. Thanks to daniel's brain 😉

Thank You!
Shyam

suraj

No Doubt, WordPress is best blogging platform. WordPress is a first destination for webmaster.

Lee Ka Hoong

Agree with you, WordPress will keep leading! I believe that it's because of the friendly usage and it's free to use, we just need a hosting and domain to get it worked. No doubt, I use wordpress for all my websites and will keep using for years or forever. 😀

Richard Ng

WordPress is definitely the most popular CMS platform now but do watch out for Tumblr which is increasingly gaining its popularity now.
Comments are closed.