Is Your Blog Twitter Ready?
Twitter emerged as a micro-blogging and messaging service, but it already stands for much more than that. One of the most popular uses for the Twitter platform, in fact, is content syndication. That is, web publishers are using it to deliver content (in the form of short descriptions and a link) to subscribers, much like they do with RSS.
I don't think that RSS is going away or that Twitter will replace it (as some people are arguing around the web), but I do believe that in someways Twitter will complement RSS. There are Internet visitors, for example, who prefer to consume all their news and links via Twitter. What should we bloggers do, ignore those folks and focus exclusively on RSS lovers? I don't think so, especially because it is very easy to accommodate everyone.
If you want to make your blog Twitter ready, therefore, just make sure that your content will be syndicated on Twitter, too. The easiest way to do this is to create a Twitter account for the blog (or use your personal one) and manually tweet about your new posts. You can also automate the process with a WordPress plugin like Tweetly Updater.
Recently I implemented this change on my three "daily" blogs. Here is how my subscription corner looked before the change: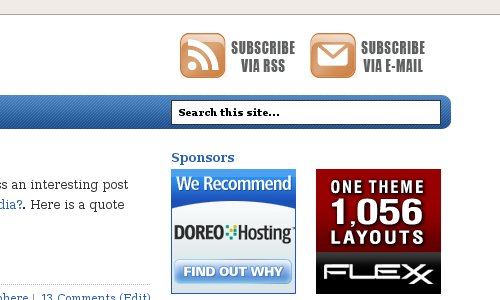 And after: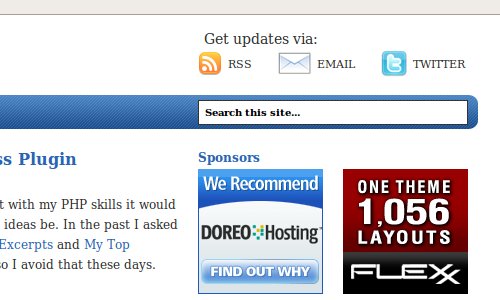 Finally, you can also implement a widget or plugin like the Tweetmeme button to facilitate the sharing of your content on Twitter by your readers.
Do you have other tips to make a blog Twitter ready?
Browse all articles on the Promotion category
29 Responses to "Is Your Blog Twitter Ready?"
Vivek

I use the 'Twitter Tools' plugin for WordPress. It gives me an option to post a tweet everytime I publish a new post.

China mobile phones

It's one another way to do this is using FriendFeed

Ajay

I prefer taking the load off my blog that a plugin adds and instead just let Twitterfeed "feed" my twitter account from my blog.

Tech @ InkAPoint

Dani,

One another way to do this is using FriendFeed. FriendFeed has an option to automate this process when new posts have been there in our blog.

I am using that and it works very fast.

Greg Froning

I have been using twitter on my site for a while now. I have people that both visit my rss feed and also my twitter account. Really just depends on the people!

George Serradinho

Twitter has grown and no one could have imagined this. I agree that it will never replace RSS, but it's giving it a run for it's money.

I just have a Twitter link as I'm not that active.

Ching Ya

For myself, I've implemented both Twitter acc/brief updates, plus a tweetmeme button after the WP migration. I find those are reasonably effective, at least I don't have to create a manual-tweet like I used to. I tend to not overdoing it, so far so good.

As for my latest post, I prefer to tweet it manually. Perhaps once the frequency shoots up, may consider the Updater you suggested. Thanks Daniel.

@wchingya
Social/Blogging Tracker

justbloglah

I use twitter button, tweetmeme button & twitter badge to show off the latest tweets.

BloggerDaily

Yeah. The best thing is to optimize Twitter for our blogs! =D

Alex

Daniel, Thank you for the tip, I'm going to implement it on my Blog.

Tom Bradshaw

We have a twitter account but as yet no actually blog – I know, I know! We already have over 100 followers – if you post useful links and info then you will soon build up your followers!

Danne

Hi,

I'm using a WP-plugin from SU found at http://su.pr/developers/Supr:WordPress_Plugin/ that does the trick for me.

It delivers my new posts to twitter, facebook and SU itself.

Works like a charm, and wont cost you a penny 🙂

Surender Sharma

Twitter icon should be place on right site on top page.
Never replace feed icon with twitter.

Chester

I've to consider this also though I'm quite used to rss feeds. Will try twitter one of these days.

Tom

I have a quite a few a link a Twitter badge on my blog that allows Twitter users to connect directly to my Twitter profile. Pretty cool!

Aidil Sharizaq

i didnt add tweetmeme yet.considering on doing that.Thanks for sharing.

Gaby

I don't link to my blog's twitter page with my RSS/email subscribe links, but I do provide a retweet button on each article. I wasn't satisfied with Tweetmeme though because I wanted to use my site's domain for the short url, so I use the "le petite url" plugin and some custom php. No one else has used it yet, but then my blog is quite new. But when it (eventually) picks up speed the retweet function is there ready. 😀

excITingIP.com

We have a twitter feed for our official site, and you could follow relevant (in my case vendor companies) people on twitter. It is quite surprising to see how many big companies already have huge followings in twitter! And yes, people do click from twitter and come to our site, but it is quite less right now. Twitter would be useful for a niche specific blog, as there is sometimes no time to check all the RSS feeds.

excITingIP.com

ithemesdotnet

This is a very good topic that people should pay attention to. I offer both an RSS feed and use twitterfeed to update my twitter account when I add new themes.

You are right, some people may prefer RSS and some my prefer Twitter. With a small amount of work, you can please both types of people. 🙂

Michael Johnston
Daniel Scocco

@Jeremy, true, I had forgotten about that service.

Jeremy McKay

No need for a plug in you can use http://www.twitterfeed.com to feed your blog to your twitter account. In fact you can use it to feed any content with an RSS to twitter. Then add the twitter plug-in to your facebook account and you got a little trifecta of content publishing everytime you blog something worthy.

Paul Lear

I've just recently installed the tweetmeme plugin on my blog, it integrates into the post nicely, & doesn't look out of place.

I would recommend it to any blogger.

Paul.

InternethowBlog

I am not too sure, if I should make my blog ready or my twitter account ready? I think I need to create a new twitter account and control my followers strictly.

Igor Helps You Succeed

The tweetmeme button is a superve plugin.
Increase the potential viral traffic flow like nothing else.

Although Twitter is quite amazing – don't get over pumped.
You can spread your message infront of thousands but there
is a tiny possibility the majority will click on the link(if any).

Before you get your blog all Twitterized, make sure to social proof
your followers – so your efforts don't go to waste.

~Igor

Boerne Search

Twitter is my blog. I do agree that twitter complements RSS feeds.

Kane

Adam Baird

@ Stefan,

Twitter Won't replace RSS, and it shouldn't. They are completely different mediums and should be used accordingly.

My thought as far as making your blog twitter ready is very similar to making it RSS ready. You need to make links to your twitter account prominent in your blog design. You should have an icon above the fold somewhere in your design asking visitors to follow you. You should have an icon or a link at the end of each post (or at least those having to do with twitter).

I also like the idea of having your latest tweets displayed somewhere. Its just an easy way of making your twitter presence known and allowing your readers to keep up with you. In my opinion increased exposure is very rarely a bad thing.

Stefan

Twitter will never replace RSS since it's so convenient. It's difficult to keep track of all comments on Twitter and I actually think the service would benefit from removing RSS to be autopublished.

Ellie

I added a Twitter button to the footer of my blog.

I am not sure how I feel about linking to my Twitter account because I post more than just links about my blog or "niche".
Comments are closed.