Interview with Jeremy Wright from b5media
Sometime ago Jeremy Wright, the founder of the b5media blog network, participated on the Bloggers Face-Off series (he had a hard time against Nandini from Instablogs, but then again we still have to see a man winning against a woman here…).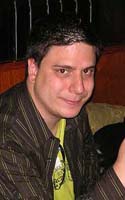 The Face-Off only required short answers, but Jeremy was kind enough to provide a complete interview. He knows what he is talking about when it comes down to blogging and blog networks, so check it out:
1. How long have you been blogging?
Pshewww… Ensight started June 2003, but I'd muddled with blogging before that, so it's been four glorious, heartbreaking, wonderful, fun-filled, tear-jerking years 😉
2. How many blogs does your network have?
We're at about 200 now, give or take.
3. What is the main advantage of joining a blog network?
Most bloggers start blogging because they just want to write. A percentage of those (between 10-30%) realize they can make money. But between AdSense and whatever else they stumble upon, they rarely make more than a buck a day (even after months of trying). During that time, they need to keep software up to date, worry about design issues and all in all they get distracted by things that have nothing to do with actually blogging.
To me, as a blogger, the biggest benefit is that you just get to blog. Sure you get more traffic, better ad deals and get to join a community… But it takes most of the stress of blogging away. Which, to me, is like money in the bank.
4. How much money does the average blogger on the network make?
With our new pay system, most of our bloggers will earn 150-250$/month doing 4-5 hours work a week. That works out to about 10$/hour which isn't bad. Our target is about 20$/hour this year, though. We have a fair number of bloggers who blog for us full-time. Most bloggers prefer to earn "play money" and to get paid to do something they'd do anyways, and that's something we're very happy to oblige with. For those that want to move to full-time it's rarely an easy transition, as you tend to work full-time hours for a few months without full-time pay, but most get there.
We have the best bloggers imaginable, and we try and support them every and any way we can.
5. What is your favorite social bookmarking site?
To be honest, I don't use any social bookmarking sites. I find what I need when I need it with or without them.
6. What is the main revenue source for the network?

Banner advertising through premier partners, without question. We've signed several exclusive deals this year that have nearly doubled our revenue, all for banner ads. When we got funded, most of the network was on AdSense with some TextLinkAds. Around December, we stated very clearly that we wanted to raise the quality of our banner campaigns, and we're pretty confident we've delivered on that with dozens of campaigns from major brands.
We still have a lot of work to do on the advertising front, but I'm confident that the next 6 months will be as big of a shift for us in advertising as the last 6 months have been.
7. Do you think AdSense units make a blog look unprofessional?
I hate AdSense. I understand it's purpose. And I understand why many bloggers and blog networks turn to it first: it's fast, easy and actually pays out consistently. But at the end of the day, bloggers deserve to earn more than 2-3c for a perfectly targeted ad on a perfectly targeted site for a perfectly targeted visitor. It also annoys me that Google still refuses to disclose revenue share %'s.
Bloggers deserve to earn more. Bloggers deserve to have their work more appreciated than Google ever will.
Does it make your blog look unprofessional? It depends. But even the "most professional" AdSense unit will rarely pay as much as a low-end remnant inventory banner (50c-1$).
8. Does the network invest money into promotion?
We invest back into our bloggers. We have 2 people full time (Shai and Darren) who's jobs it is to invest into our bloggers with training materials, contests, incentive programs, community stuff, etc. We look at this as far more valuable than running ads, because it has a long-term reward.
That said, we do some marketing stuff, including shwag. We're also sponsoring Gnomedex (www.gnomedex.com) this year, and we continue to sponsor community events like WordCamp, the Philippine Blog Awards and other events around the world.
We believe, quite fiercely, that's it's thanks to the community (inside and outside b5) that we've managed to succeed as much as we have, and that any way we can give back is totally worth looking at.
9. How many RSS feeds do you read daily?
Probably 40-50. But I spend a lot of time on TechMeme, on some back-channel community chats, etc, so I stay pretty up-to-date on what's going on, even though I read 10% of the feeds I used to read. I believe in reading fewer high quality feeds vs lots of ones that might turn up something useful one day!
10. If you could give one advice for a novice blogger, what would it be?
Find your passion and never lose it. No matter what anyone says, if you're having fun and expressing yourself, that's what matters. Don't let anyone take that away from you.
11. What is your favorite blog on the Internet?
No question, it's Savage Chickens. It's a daily comic that I found ages ago through my yearly "help me find new feeds" contest. It was one of the winners, and not only has it been consistently fantastic, but I don't think he's missed a day in the 2+ years I've been reading.
12. What is the secret of your success, expressed in one word?
Community.
Every bit of magic that happens at b5 is thanks to our community. I do my best to empower them and get out of the way. Sometimes I mess up, but if it wasn't for our community we wouldn't have anything.
Browse all articles on the Blogosphere category
12 Responses to "Interview with Jeremy Wright from b5media"
Bang Kritikus

Adsense make a blog profesional

George

Being a supporter of Adsense, I just want to say that I don't think Adsense is the best way to monetize a site. However, it is an effective way and is best used along with other methods. Many of the better known companies that use Adsense like (MySpace, Digg, About.com, HowStuffWorks, etc.) don't rely on Google alone to monetize their site.

It was a really good interview. Are you going to do extended interviews with the rest of the bloggers from your face-offs?

Melt du Plooy

I love the advice for novice bloggers – Find your passion and never lose it.

Not only does it apply to blogging, it applies to life as well.

Excellent interview Daniel.

Daniel

Hmm just saw your post about the Adsense CPM. I agree with you about the value of Adsense, but there a lot of die-harders out there.

By the way if you want to read the post we are talking about check it is here:

getsheila

I am so happy to see Jeremy's expanded answer to #8. It conveys a different message than the condensed version on the original post. Thanks for clearing that up!

Jeremy Wright

Glad the interview went over well 😉 Also glad that I can't lose to myself in a popularity contest 😀

Also nice to hear that folk like that we value community, since I'm getting slammed by AdSense folk today at Ensight for just that point 😉

Community Building Blog

A great interview – I particularly like Jeremy's recognition of the value of communities.

– Martin Reed

Daniel

Well I guess I will need to check the Savage Chickens blog again hehe, everyone loves it.

Anita

Go SAVAGE CHICKENS! I agree completely. The rest of the interview was great too. 😉

Daniel

Thanks Armen. Yeah Jeremy is a pretty nice and down-to-earth guy. His blog network is also doing pretty good so.

Armen

Excellent review Daniel, from a pretty cool guy too.
Comments are closed.