Interview with Andreas Kam, Online Profits Student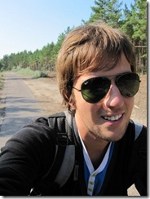 There are many Online Profits students who have crossed the $1,000 per month mark already, so I figured it would be interesting to interview some of them, trying to understand how they did it.
Andreas Kam joined training program in January of 2010, and he made an impressive progress over the past months. His case is particularly interesting because he managed to grow a profitable blog inside a very narrow niche, as you'll find below.
1. When did you started building your first blog or website, and why?
My blog, London Cyclist, came to life 3 years ago. When I moved to London I realised cycling would be the best to move around, but I knew little about it so I decided to look for good information online. When I found out it didn't exist, I started a blog about it. I taught myself everything while I shared the knowledge with others.
2. How did it work out initially?
Initially I didn't have any business interest in the blog. I would just post something online when I discover something that interested me or that I thought other people would find interesting. That was for the first two years. Once leaving university I put my full time into the blog but for the first 6 months profits were very slow so I used up a lot of my savings and my parents started to worry.
3. Do you remember some of the numbers (e.g., visitors, subscribers, revenues)
Yes. Early in 2010 the blog was getting around 22,000 visits per month, with around 300 RSS/email subscribers. As for revenues, it was not making any significant money.
4. How did you come across Online Profits, and why did you decide to join?
I was following Darren Rowses blog and if I remember correctly I saw an interview with you there. It arrived at exactly the right time when I was thinking about going professional with my blog.
5. What do you think of the training material and resources you found there?
It was fantastic to finally have all these materials together in one place in an easy to follow format. In the first few lessons I learned abou a huge number of errors I was making. I was pleased everything was in text and audio format so I could follow it in a way suitable to me. I personally find I digest text far more quickly. It was also good to have a forum for support questions. It really answered a ton of questions immediately that I had for ages and also helped me discover so much more about blogging. It was really the kick start I needed.
6. In what ways did you implement what you learned on your own blog?
I quickly realised that Adsense was not a strategy for me moving forward. There were far better ways to monetize my blog. That is why I started working on my own product: an eBook with 30 London Cycling Routes).
At the same time I launched a design competition to create a blog logo – something that would make me look far more professional and also create a brand identity. I felt so happy to say goodbye to ugly Google Adsense, and in the same month I got my first cheque from Google for £60 (92 USD) I also signed an advertiser for £140 (251 USD) for one month.
The eBook has been a huge success and I wouldn't have thought to create it without the course. I've had interest from people wanting to publish it and it continues to bring in a steady income that pays my rent.
I also started an Aweber newsletter. This helped me connect with my audience and have their permission to keep in contact regularly. As of today I have over 2,000 subscribers on my list.
7. What kind of results did you get?
My traffic grew a lot (I am receiving over 70,000 visits per month now) and I practically went from $0 to $1000 monthly in revenues.

The money I made with the blog paid for two weeks in Brazil enjoying Rio De Janeiro. Since then things have continued to grow and so many opportunities have arisen, such as collaborating on an iPhone application and interviewing the Mayor of London. I'm sure without this strong start to my blogging career I would be in a 9-5 job now.
8. What tips would you give to someone who is getting started online and wants to make some money eventually?
First of all I would recommend the person to create his own product. If you just use advertising on your blog or website, you'll never know how much money you could actually be making.
Second, start building an email list as soon as possible. I used Daniel's advice and created a freebie to entice people to subscribe, and in the end the list contributed a lot to my eBook's success.
Third, make sure to be active in your niche and to build a relationship with fellow bloggers. One way I did that was to create a list with the Top 50 Cycling Blogs. Over 80% of them linked back to me, and it enabled me to get in touch with all these bloggers.
Come join us: If you want to join or learn more about the training program, simply visit OnlineProfits.com. It's virtually free now (you'll just need to sign-up for a hosting account with my partner), and you'll get access to the same material Andreas used to build his site.
Browse all articles on the General category
23 Responses to "Interview with Andreas Kam, Online Profits Student"
Conversational Agent

Great post! I wish I were as successful as him when I was in college. Are there any other services like adsense because what if google disables adsense on the blog?

Glucose Testing

Andreas its nice success..btw have u tried google adsense on your blog as well?
The best of luck
Dave

Andreas

Adsense worked horribly and would recommend against it.

Web Marketing Tips

Andreas your blog is simply awesome …

I think now you should cover other city as well. Because now you know the recipe very well and now you can make such dish in large volume as well.

So go ahead my friend … other city is simply waiting for you.

Andreas

It's true that the formula can be replicated but right now my priority is to keep having plenty of free time courtesy of my blog. Perhaps in future when I'm interested in making higher profits I'll expand

Web Marketing Tips

In fact I would suggest you to start working on the second city.

If you do not have the time than hire people, you can more if you implement more working hands in your business.

So my suggestion is start working on another city and draw an outline.

1skyliner

It sounds really good and I'm looking further to join 🙂 Thanks for the article.

Christian Guico

Cool interview. Thanks for sharing. Congratulations on your success, I'll be sure to check out the course you mentioned here.

Christian Guico

just a follow up, is joining the course is really free once you sign up for a the hosting account at hostnine? thanks.

Daniel Scocco

Yes, there are no catches.

Wendy

Great blog Andreas – informative, intuitive / simple design, and a good niche.

Rahul @ MazaKaro

Nice interview but seems like you are doin publicity of Online Profits.

MediaGrow

Amazing story very inspiring, its good to see great people and their successful stories, keep up the good work,

Marios

thebloggingrobot

Very cool information, from which I think that I can learn a lot. I also like the graphics as well. I like when you write about other entrepreneurs out there, as you always do a good job with these types of stories.

suraj

Really amazing cycling as well as only for London. I am so impressed, this concentrated blog can grow up to 70000 visitors! Great!

Alex Dumitru

It sounds really good and I'm looking further to join 🙂

Web Marketing Tips

Yes this one is inspirational.

If you want to be similar like him than do not waste time and act now.

Basant

Highly Inspirational! Never knew a narrow niche like cycling can gain so much money & traffic. The e-Book idea kicked off well.

Good Luck Andreas…

Josh Garcia

This is a great interview. Congrats Andreas! Looks like everything took off when you created that eBook.

Chat with you later…
Josh

Andreas

Thanks Josh – yeah the eBook was a turning point as was the top 50 cycling blogs list. Would highly recommend doing both!

Samuel

Awesome! it's all about passion! i love your niche Andreas, keep the good work up.

Web Marketing Tips

He was giving his 100% earlier as well but not in right direction.

That's why this kind of program is important which teach you the correct direction.

Andreas

Thanks Samuel! Always happy to be writing about a niche I love and making money online in an honest way!
Comments are closed.