Internet Statistics
Ever wondered what is the most used screen resolution around the Internet? What about operating systems and web browsers? W3Counter is a web analytics company that collects and releases this data. The reports are released every 10 days, below you will find the numbers from latest one.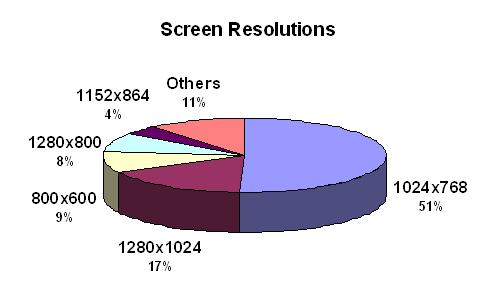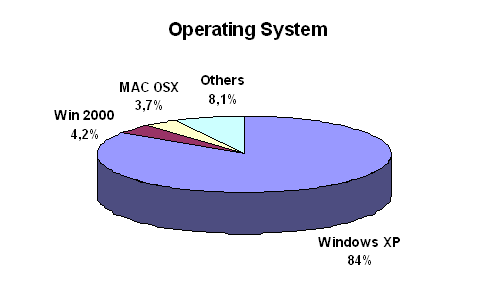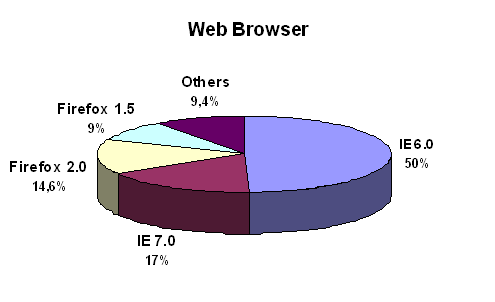 Browse all articles on the Web Tools category
27 Responses to "Internet Statistics"
Bang Kritikus

In 2009 firefox is winner

moltar

Here are the stats that maybe don't look that nice, but they have a MUCH larger data set (over 55 million).

Missy

Another interesting note is that in my stats programs, it shows a heavy concentration of users whose visit length is very short, less than 5 seconds. This could easily have been because of the IE script problem i had on my blog, since a large percentage of my visitors use IE.

Mike Panic

I'm proud to say that the readers of both the blogs I run are slightly over 40% Firefox users!

Ramkarthik

Daniel, thanks for telling that. I actually wanted to know about how Safari 3.0 would result. It already has 1 million downloads. But the thing is that not everyone is still using it.

Melt du Plooy

Daniel, yes, one month comparison is too small. I did mention that I would love to know what the old reports showed for 6 months before or even a year.

As you've said it could show interesting results to compare these numbers with those published 3 months from now.

joel badinas

I still think Firefox is the best web browser out there.

Daniel

Melt, I think the time frame you used for the comparison (1 month) is too small.

Perhaps if we manage to compare these numbers with a report that will be published some 3 months from now we will get a better insight from what is changing.

Also, the sites counted are always the same I think.

Daniel

Ramkarthik, Safari 2.0 is within "Others". Bear in mind it has a very low market penetration, somewhere around 1,8%.

This is interesting cause it means only half of the MAC users actually use Safari.

Daniel

Well, instead of lobbying people to update to IE7 lets make them use Firefox! I know IE7 would be at least less evil than IE6, but still! 🙂

Melt du Plooy

Daniel, interesting stats. I did a quick comparison in terms of Web browser use comparing the stats for IE6, IE7 and FF2. The average percentages are the same when you look at 06/10/2007 compared to 05/10/2007. This does not show much of an increase for any of the three over a one month period.

The same goes for OS and Screen Resolutions. They say at the bottom of the report that they base their research on the last 28,941,571 unique visits to 4,711 websites.

Do they track the same sites every time or do these sites change?

I would really love to compare the latest report to one done 6 months ago or even a year ago.

Myo Kyaw Htun

According to stats of web browsers, Adsense publisher can still refer their visitors to use Firefox. Am I right ? 😉

Missy

I recently deleted a script running on my blog, that was causing pages not to load for folks who use IE, and my traffic has increased alot in a few days. It was dumb of me not to fix this sooner. It is important to check that ones site or blog is accessible for all, but as your charts prove, many people use IE, so it is vital to check that this (specific browser) can get access to ones blog, or you might lose out on alot of visitors. (like i did)

Ramkarthik

Daniel, good collection of data man. In the next update of these stats, where will Safari 3 be? Will it occupy a special part or will it fall under others?

Daniel

Jorge, yeah I did not like the charts myself :), but it was the most clear way to express the data.

GoddessCarlie

I can't believe so many people are still using IE6. I mean, wouldn't you upgrade for a multitude of reasons? (or of course choose fire fox, but if you're not going to do that, at least up grade to ie7!)

Cory Miller

I see that 50% are still using IE6 and I want to throw up.

It does parallel many of the stats I've seen personally, but I'm grieved that so many are still using such a terrible browser.

Can we start a campaign to get people to at least upgrade to IE7?

Jorge Camoes

I don't know if you can trust these stats. Well, not before someone explains me why Latvia is in 4th place.

(and, Daniel, I am sorry to say, your blog tips are much better than your charts…)

Daniel

Genevieve, it is about 24% if you count all the versions though.

Genevieve Netz

I am shocked that the number of people using Firefox, my favorite, is not greater! I would have guessed it for more than 24%.

Daniel

Another interesting thing is the very low usage of 800×600 resolutions. When Brian was designing this site I used to bother him to make it work under the 800×600 resolution, but 8% of the market does not justify it.

Even more if you consider that the number is probably shrinking as I write this.

egon

I didn't realize so many people use Windows 2000 still. So we really need to get all those people away from IE 6. Really bad.

60 in 3

When I first started blogging I kept being told that my header image was showing up incorrectly. However, no matter how much I checked, I couldn't an issue. Then someone told me to try it in IE instead of FF. Issue was obvious and easily fixed.

That's how I learned that it's really important to check your site on all possible permutations. Looking at this graph reminds me of that. I haven't been checking layout changes on IE6 lately, but it looks like I should go back and make sure everything works. 50% of potential readers are still using it.

Gal
Comments are closed.