Internet Marketing 101: Facilitate Comparison of Price and Features
Two friends of mine are working on a project where they sell a study guide for an important exam here in Brazil. They have basically two product options available: a digital version and a print one. The price of the digital version is about half of the printed one. Which one do you think is selling more?
On most markets the cheaper version of a product will always outsell the most expensive one, but with some clever marketing they managed to make the print version outsell the cheaper digital one almost two to one.
The strategy: Price your products so that the most profitable one will also be most valuable one to your customer. After that make sure that your pricing and marketing strategy make it dead easy for the customer to spot the best option and to understand what a great deal the offer is.
How to do it: They priced the digital version at $49, the print version at $94, and the promotional combo of the digital+print versions at $99. In other words, by adding only $5 to the cost of the print version the customer can get the digital version too, which alone would cost $49.
The goal is to make it very easy for the customer to spot and understand that the combo option is by far the best value, and that it's a good deal in general. This strategy will not only direct customers toward your most profitable product, but it will also increase your overall conversion rate, because more customers will like the deal and purchase it.
The two basic aspects you can use/highlight to facilitate comparison and help your customer identify your product as the best deal are the pricing and the features, and notice that you can make the comparison internally, using the different versions of your own products, or externally, using the price and features of your competitors.
For instance, most web hosting companies use this strategy to show the value of their hosting packages: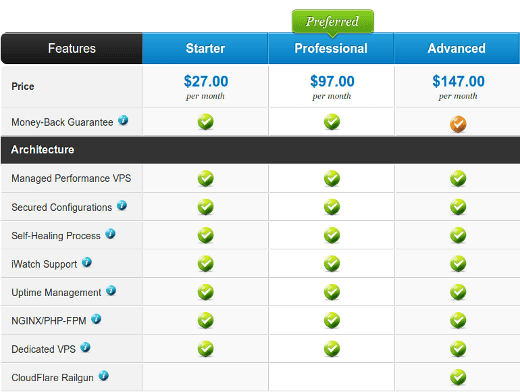 As you can see on the image above some companies will even explicitly highlight which plan/product they believe is the best value or the most popular choice according to other users.
Bottom line: structure your pricing and marketing strategies in such a way that customers will quickly and easily understand what is the best option, and why your product/service is a great deal.
20 Responses to "Internet Marketing 101: Facilitate Comparison of Price and Features"
Brian Dean

Great post, Daniel.

You'll notice that most of the time they'll select the middle-of-the-road price option at "The Best".

This is brilliant marketing.

It pushes the people who would order the bare bones version to buy a pricier product.

And the enterprise/API/pro clients (like big brands) usually need the product with the most bells and whistles. So the "recommendation" for the middle-range price won't affect them.

Samuel Williams

Thank you for all these tips! By the way, my problem with this is making up the right price for the specific combo. Anyway, I still learned a lot from this post and I will be applying this to my next project. Thanks so much, Daniel!

Ferb

Yeah a lot of companies using this feature now to really show which best for customers and to let them know what they really want and get it. Customers can really decide which to purchase so quickly by having that comparison table.

Danny

I have seen a number of companies highlighting things this way….usually using the term " Our most popular package" or something similar…

I have noticed that the " mid priced option" get's a fair amount of attention.

Ricky Mettra

Very interesting Daniel, Really appreciative graphics explaining about products and features that you want to sell or market.

Mark Nicholas

Wonderful,

such a great post to read and understand the strategy. really like it.

keep posting such a good article with us….

Rebecca Miller

I think cheaper the product lower the quality. But not all the time. These days of course digital product will do well because of easy access and affordability.

Joe

Sometimes such marketing traps steadily prospective buyers. although sometimes feels forced but all were part of a complete marketing strategy. and most importantly, their goals, and we achieved the benefits.

Joel

Hi Daniel,
Nice Marketing Tip.I am an avid reader and subscriber of your blog and apply your tips to my blog morningtadka.com

Thanks and regards,
Joel

kurt harris

Hi Daniel. Thanks for the tip. hope to see more information from your side.

Randall

The idea of pricing your products so that the most profitable one will also be most valuable one to your customer, is a great strategy and sales psychology. Providing comparisons helps your customers choose the best value for themselves, among the items on your sales page.

Karthik

Excellent selling tips. But im not selling anything at present 🙂

Rinkesh

Great selling art. I'm just surprised o see how they managed to sell both digital and printable version at the price they wanted. Hats off to them.

Christoph Trappe

Is the online version a PDF or optimized for the web? I have paid more for print products that are just offered as PDF versions online.

Christoph

Ankit Kaul M.

Great Tip Daniel. Its amazing that these people have managed to make the costlier version outsell the cheaper version!
And I also agree with what Richard has said in the above comment, that the most challenging part in this task is to come up with the right price.

Alojamiento

Wow! That's a good strategy. Maybe I will apply that to my next project

SAM NICHOLS

Everymonth i get your email, that have nice info.

Thank for your sharing,

Richard Ng

Hi Daniel,

Cool tip! But I guess the challenging part is to come out the "right amounts" in the various plans' pricing so that they are making sense and have the said psychological effect.

Thanks for sharing…

Doug

Interesting observations. I'm preparing a few books for publication on the Amazon platforms – kindle for ebook, createspace.com for print. There are currently more kindle ebooks sold on the planet than all print books in all publishing houses on the planet combined. So I think distribution potentials are factors in pricing. From the author's standpoint royalty rates are too, and may differ greatly between ebook and print book. I agree with your central message that a pricing combination for both is the best path. Thank you for this informative article.

Suraj tandon

Good idea to sale stuffs, These type of planing forced to buyer think twice. I am also going to website related exam stuffs. I will try these marketing ideas.
Comments are closed.