DBT is research-focused. When you buy through links on our site, we may earn an affiliate commission. Learn more
While Instapage has lots to like, there are also a few areas where it's lacking. At this point in the Instapage review, let's take a look at its pros and cons.
No matter what product you sell, or service you provide, your webpage will make or break your business.
Every element on your site's landing page should make it easy for visitors to find solutions to their problems and make a purchase.
Not even ten years ago, optimizing a landing page was a specialized skill best left to a web developer.
Unfortunately, hiring a professional is often time-consuming and expensive. Isn't there a better way?
Fortunately, there is. User-friendly tools help you create and optimize unique and effective landing pages – even if you don't have a background in web design.
One of the most popular landing page builders available is Instapage.
It allows you to quickly create fully-optimized landing pages with integrated PPC campaigns, contests, and more.
Is Instapage the right choice for your site?
Is it an easy-to-use and effective way to create your landing page and optimize your site for success?
My hands-on, impartial Instapage review includes everything you need to know. Let's get started!
What is Instapage?
Instapage is a cloud-based tool that allows you to build landing pages, which are destination pages on your company's website connected to other links.
With a simple, intuitive user interface, Instapage requires no coding or technical know-how.
It allows you to quickly create custom landing pages that merge seamlessly with your marketing efforts to connect with your desired target audience.
After you've created a landing page, Instapage also lets you track its conversion rate and other important metrics using a variety of built-in tools.
Instapage Features
Let's take a closer look at the key feature of Instapage:
Drag-and-Drop Design
The main feature is the intuitive and user-friendly interface. It has true drag-and-drop functionality. You can move the design elements wherever you want on the page.
If you're not super-familiar with web design programs, you're probably wondering why drag-and-drop is a major feature.
It's because WordPress uses the far clunkier grid system. If you've had difficulty designing landing pages with WordPress, you'll likely love Instapage's far easier approach.
Lots of Templates
Instapage has over 200 templates to choose from. They're organized by both industry and use. No matter what your business or organization does, you'll likely find plenty of options.
Plus, the templates are customizable. You can change colors, move elements around, and otherwise personalize the look of the template to suit your brand.
Instapage also lets you include any of the 33 million Bigstock stock images (although you do have to buy each image separately).
Built-in Analytics
A landing page isn't static. You'll want to refine the design to increase your conversion rate.
Subtle changes to your design can increase the likelihood visitors will take the desired action or make a purchase.
Instapage's analytics lets you make informed and effective decisions.
Tools include heatmaps, Google Tag Manager, A/B testing, and other features to help you compare visitor activity across multiple landing page variations.
Easy-to-Install Widgets
Instapage allows you to easily insert a variety of useful widgets such as countdown timers, a call-to-action button, and more.
You can also create multi-step forms with several automatic functions such as lead magnets.
Don't worry if you're not familiar with these terms. Instapage provides clear instructions about what these widgets are and when you want to use them.
Instablocks
Instablocks allow you to easily alter multiple landing pages without needing to recreate them from scratch.
It's a handy way to tweak these pages for purposes of A/B testing.
Instapage Pricing
Is Instapage a good value for your business? They have two pricing options:
The Business plan costs $149 annually if you pay for the entire year upfront, or $199 if you want to pay for the year in monthly installments.
Most small to medium-sized businesses will find everything they need in the Business plan. It includes a full range of page building and analytic tools.
With the business plan, you do have some usage limits, although they're generous. You're allowed to have up to:
Their other plan is their Enterprise option. It's a custom plan that offers more advanced features and custom support from the Instapage team.
This plan option doesn't have a set price. Instead, costs are determined by your specific needs.
Who Should Use Instapage?
If you're already using WordPress to create your sites, you might wonder why adding a second program is necessary.
For most people, Instapage is worth the (usually minimal) amount of time it takes to learn.
Instapage is ideal if you're looking to increase your conversion rate.
If your site currently gets a lot of visitors, but many of them aren't purchasing your products or services, Instapage can help.
Additionally, Instapage works well for practically any type of business or organization.
FAQ's
Here are the answers to the most common questions about Instapage:
Instapage is legit. Founded in 2012, they've firmly established themselves as an industry leader in increasing website conversion rates.
Plus, they're committed to making their service simple and welcoming for all of their users, even folks with a non-technical background and no experience in website design.
Instapage allows you to create unique landing pages for your website. You can easily make numerous pages and then track their conversation rates using built-in analytic tools.
It's a funnel builder, a term that refers to the process of guiding your visitor through a journey of product awareness through product purchase.
Final Verdict
Ultimately, the most important function of your website is to increase sales.
Instapage is a powerful tool that allows you to create custom landing pages and then compare their effectiveness. Plus, it's extremely easy to use.
Many businesses, in all types of industries, see a significant increase in conversation rates with Instapage.
If you've read my Instapage review and it sounds like an intriguing tool, click here to learn more about how it can help you.
Turn your ad clicks into conversions with the only landing page platform designed to create, personalize, & optimize post-click experiences at scale.
---
Instapage vs. Alternatives
---
There are no reviews yet. Be the first one to write one.
Instapage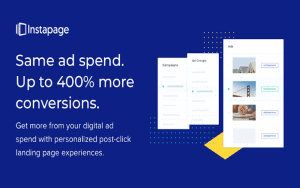 Instapage is a landing page creation tool that includes a variety of analytics to help increase visitor conversion rates
Product Brand: Instapage
Product In-Stock: InStock