I'll Be Speaking At Blog World 2010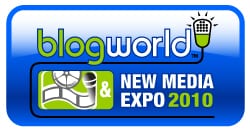 A couple of weeks ago I mentioned that I was definitely going to Blog World Expo this year. At that time I was only planning to attend the conference.
Then I heard they were welcoming speaking proposals, so I decided to send one. Long story short I got approved, and I'll be speaking at the "New Media 101" module. The title of my presentation is "Google AdSense Optimization."
I am really looking to flying to Vegas in October. First of all the keynotes, presentations and panels are looking great. Here are some topics that will be covered:
How to Get Media Coverage for Your Blog
How to Keep Your Blog from Being Hacked, Stolen or Otherwise Violated
5 Strategies Bloggers Should Learn from Online Marketers
How to Sell Your Blog
How to Run a Successful Webinar Business from Your Blog
Second, I'll finally be able to meet many friends and business contacts I only talked with online so far. People like Darren Rowse, John Chow, David Risley, Leo Babauta, Jonathan Fields, Yaro Starak and so on.
Many blog readers already emailed me saying they'll be going too, so I'll try to organize a DBT meet-up or something like that. If you are going, I hope you manage to attend my presentation too!
As we get closer to the event I'll post more updates, so stay tuned.
Browse all articles on the Blogosphere category
26 Responses to "I'll Be Speaking At Blog World 2010"
Christian Guico

Wow! I'm really amazed with this events. Looking forward to see any videos or any interviews with this event. Good Luck also to you. 😀

Julius

Awesome, looking forward to your thoughts on the event in a few months. I hope they also host events like this in our corner of the world.

kevinxiao

Just like to check is there any video that we can access after the Blog World Expo regarding your talk

Roshan Ahmed

I really think that you deserves it. You've been posting us with some great information which are really helpful for us. I hope that you'll have some 'killer' points in your presentation.

Say hi to Darren Rowse, Chow, Yaro etc. :))

Dean Saliba

Another reason I'm sad that I live in the UK. Wish we had events like this here. 🙁

carolee Sperry

Congratulations! What an honor!

Mani Viswanathan

Kudos for being Accepted..will watch the event if someone publishes the video

Ali Hale – Aliventures

Awesome stuff, and congrats on the speaking gig! 🙂 I'll be there, hope to get the chance to say hi!

Ali

Daniel Scocco

Didn't know you would be there, so yeah let's definitely touch base!

Melvin

wow glad to see you coming. Brazil is far from US right?

maybe someday I could attend the expo too.

Daniel Scocco

Yes I'll be flying there from Brazil.

gokul|MyBlogTip

I am sure it will be rocking

Nobody

Don't forget to take you gf with you and make a vacation out of the trip. 😀

Keith Davis

Congratulations Daniel
Sounds interesting and I'm sure you will be fantastic.
Long way from the UK but I look forward to reading about the highlights.
Break a leg. LOL

jason

The opportunity to give a speech and time in Las Vegas. Sounds like congratulations are in order. Very cool.

Dinesh

Can somebody post the video of it?

Good luck Daniel, Thats great.

Nabeel | Create Your First Website

Hi Daniel,

Congratulations on being accepted!!

I wish you all the best for the Blog World expo!

Kindest,
Nabeel

Josh Garcia

Daniel,

First let me say, That is awesome! You took action and now you are going to reap the reward. Something everyone needs to pay attention too.

Have an awesome weekend…
Josh

Sally

That's fabulous Daniel, you must be elated!

Wish I could come see you, but hopefully there is some video footage you can maybe sneak into one of your blog posts for us.

Sally 🙂

Daniel Scocco

If there is a video footage I'll definitely share it on the blog.

Amy

Daniel! First, thanks so much for sharing the spotlight! I really appreciate your mentioning my session (How to get media coverage of your blog!). My only concern about BlogWorld is that it just won't be long enough!!! So many people to meet…so much to learn. Cannot wait. Congrats on your speaking gig. I'm sure it will be super fabulous and informative. I will see you there!

And I am really looking forward to it!

Daniel Scocco

Hi Amy,

Looking forward to your sessions and to meeting you too!

Lye Kuek Hin

Hi Daniel, thats really great. Just like to check is there any video that we can access after the Blog World Expo regarding your talk. I think it will benefit us who are unable to make it there.

Kamal Hasa

I am happy for you Daniel 🙂

Wish I could be there too but it's like the other side of the world from where I stay lol 😛

Happy Speaking at the event!

Onibalusi Bamidele

Wow Daniel,

Congratulations on being accepted.

This is really great 🙂

Thanks a lot,
-Onibalusi

Daniel Scocco

Yeah it will probably be the largest audience I have spoken to.
Comments are closed.