iDevAffiliate Review
I am working on a big new project, and one of the key areas is the affiliate management system. As you probably know affiliate marketing is a strong component of most promotional strategies these days, and making sure that you pick the right solution for your needs is vital.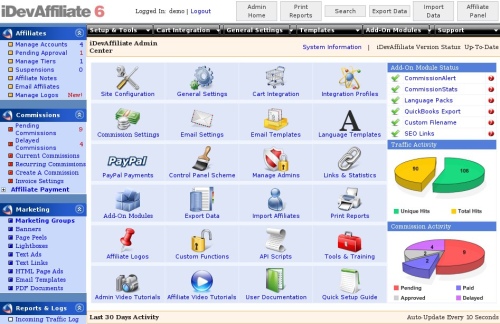 After some an extensive online research comparing the bits and bytes of the available solutions, I decided to go with iDevAffiliate, and here is why:

1. Hosted software: There are hosted solutions out there that will handle your affiliate programs on their website. I used some in the past, and I they work fine if you are looking for a simple affiliate management system. When you want to have full control of the affiliate program, however, using a software that you can host on your own server is the best choice. It is liking hosting your own site versus using a free hosted service.

2. SEO Links: When you use a third party affiliate program, the links of your affiliates will point to that site, and you will not reap any SEO benefits. With iDevAffiliate you have an SEO module (requires the Platinum edition) that will make the links of your affiliates point to your website in a search engine friendly way. This was a big motivator for me.

3. Advanced features. The software is probably the most complete on the market. You will have the options to create several commission levels, customize the commission alerts, used second tier commissions and so on.

4. Integration capabilities. Your affiliate management system will inevitably need to be integrated to some other scripts or payment gateways like Paypal, so choosing one that is easy to be integrated will save you time and money. iDevAffiliate comes with an Integration Cart Wizard which pretty much does the job automatically if you are going to use a popular payment system.

I have been using the software for a couple of weeks, and I am pretty happy with it so far. Truth be told you will need to spend some time learning how to navigate the Admin control panel and how to configure all the different options and settings, but that is normal when you have a software with so many features.

The basic edition costs $99, and it gets the job done. If you need advanced features like Language Packs or Quickbooks integration, you will need the Platinum edition which costs $299.

Do I think it is worth it? Definitely, I will probably be using it for all my projects where I will have affiliate marketing involved. You can check all the details about the software at iDevDirect.com (the official site).
Browse all articles on the Software category
20 Responses to "iDevAffiliate Review"
Nick T.

Well after reading these posts it seems that product support is an issue with many of the Affiliate Marketing programs on the market.

Despite being in the AM business for a number of years as an affiliate primarily using the big networks, I now find myself looking for a solution for our own site. I am still researching which solution will best suit our needs but for me despite the whistles and bells being influential, the single most important issue is product support because unresolved hassles can cost you your business.

Sadly I am seeing negative comments on most sites about most of the products available. Back to scratching the head I think!

Affiliate Marketing News

iDev Affiliates is not recommended. Don't use it. It is very basic and you can't do many many things that affiliate networks provide as standard.

I agree with the comments above: support is very weak. I have been in affiliate marketing since 1997 and have seldom come across a company with such poor customer support. My emails are usually not responded to and so I have to keep chasing up. If they are eventually replied to, it is a two sentence reply which does not help resolve the issue. There is no telephone support, and they make you feel extremely guilty for 'bothering' them. Therefore you are often left stuck if there are issues, of which they are many.

Elizabeth

I'm very interested in purchasing idevAffiliate a for my company and wondered if we purchased the standard or gold edition, is it then an easy process to upgrade at a later date?

Portland Web Design + SEO

I have been researching different affiliate program software for about 6 months and have decided to use Idev for 5 main reasons:

1. First and the most important is I have spoke directly with over 10 people that have used Idev from both sides and have only had 1 complaint, which I believe was due more to a lack of their understanding.

2. SEO friendly links is a must for any affiliate program.

3. I wasn't interested in a hosted solution I have to keep paying for for over and over and with Idev I can install directly on my server.

4. Having it synchronize with my accounting software is HUGE!

5. Simple integration with Magento, Joomla, BigCommerce and numerous other eCommerce platforms.

Dean Wilson

I'm in the process of starting my own affiliate program. I too am leaning toward getting Idev Affiliate software. However I have a couple of concerns.

1. Does this software generate tracking pixels. This is vital when a publisher and or advertiser wants to place a pixel

2. Are there certain requirements or things that you have to install in your computer in order to have the software perform to it's maximum potential?

3. Is there anything that your publishers and advertisers are going to need in order to create compatibility with the software?

4. How compatible is it to other Affiliate tracking systems like linktrust or direct track?

If anyone can provide a legitimant response to any of my concerns I will really appreciate it.

Jack

Seb,
I'm the guy the created the 39 (soon to be 40) training videos that work seamlessly in the iDev system. Obviously I agree with you that these videos are fantastic.

What hasn't been announced, but soon will be, is that we're going to be doing a live training event in Feb or March that is invite only for the folks subscribed to that service. The first one will be a teletraining event and if that's a success, I'll probably do a webinar at a later date, and come out with a schedule of training.

This is a surprise bonus… it's never mentioned presales and no one knows about it… yet.

You asked if there are any other affiliate solutions that offer training for affiliates.

Actually, there is. If you follow the link in my comment you'll reach a web based service where I have a suite of tools and videos you can plug into almost any affiliate platform.

If any of you have any questions about the video service addon for iDevAffiliate then ask away. I'd be glad to answer.

Seb

Great thread! I have been looking at several affiliate solutions recently. I am very close to hitting the Buy Now button on iDev6 – The main thing that sells it to me is the training videos for affiliates.. this is a great feature. They actually teach your affiliates how to be most effective on and offline!

Question: Do you guys know of any other affiliate solutions that offer some kind of training for affiliates?

Thanks Seb

Kate

I may have to eat my words.

iDev, is great where you work with one commission rate only, but it looks like it gets a tad complicated with different commission rates. Which is what I need to start working with now. I think I was able to do that in PAP.

Internet Marketing Agency – you may find that a stumbling block; as I'm not sure that you can easily assign different commission rates to sales from different websites. It looks as though you have to manually adjust the php coding in the shopping carts.

I have a number of different websites and was looking to add them in to the iDev Marketing Groups. I have done that, but I just can't see how to set different commission rates based on the website or the product. It seems that you have to set the commission rate to the affiliate. That has been fine for me so far, but won't be in the future.

There may well be a solution, but I just haven't found it yet.

I guess it depends what you want to do, and no out of the box system can second guess an individual's quirky requirements. I'm going to have to revisit PAP (which looks improved with the latest release).

Oh well, back to comparing the two products again. Oh, and if anyone has a solution within iDev, please post it because I really don't want to change systems unless I really have to.

Kate

Peter (4th December) recommends Post Affiliate Pro over iDev. I have to say that I disagree.

I found the user manual for PAP very hard going. And the support forum, extremely lacking – although to be fair they do try hard. I don't think English is their native language and I think that leads to some difficulties in translation.

I much prefer iDev.

Internet Advertising Agency

Thanks for the great article I am seriously considering using idevaffiliate for one of my clients it is very interesting Daniel that you say you can use this for unlimited websites that sounds very attractive to me. Being an agency it would mean having one set-up that all my clients can use.

Does anyone think that this would cause a problem running iDevaffiliate in this way?

Daniel Scocco

@Ian Fernando, actually you can use multiple sites, here is a quote from an email I got from their support:

"You can connect unlimited websites to one installation of iDevAffiliate through the use of Marketing Groups. Create a marketing group for each website and set each marketing group to have it's own defined incoming traffic page. Now upload marketing materials to each group. When affiliates login to get banners, links, etc., they will choose which marketing group to get the banner, link, etc. from. Traffic they deliver will be routed according to the incoming traffic page defined for that marketing group.

If this is not how you want to setup your program, you will need a seperate installation of iDevAffiliate for each of your websites and you will need to manage these websites independently from each other. ie. Each installation will have it's own admin center."

Peter

I agree, that idev has many features, but from my experiences it is not best buy for that money. Take a look e.g. on Post Affiliate Pro (they have new version PAP4 now)
With Starter edition for $49 you can make a lot of "affiliate music".

Specially gadgets in multi window mode I like in PAP4, because I don't need to use netvibes or igoogle anymore – I have all my gadgets on my PAP4 desktop.

Daniel Scocco

@Ian Fernando, that is correct you would need one license for each website, or you could handle all your product purchases from a single website, even if you would promote them on other sites and channels.

George

I liked using clickbank because of the fact they take care of some of the money management issues and tax issues. However, I have used idevaffiliate as an affiliate and like it much better as an affiliate. Idevaffiliate is the software I would choose to run an affiliate program if I needed more functionality than clickbank provides.

Ian Fernando

hmmm I was undecided with either idev or jrox jam and went with jrox jam – I really like jrox a lot – but i dont think idev can support multiple domains or am I wrong?

Darren Alff – Bicycle Touring Pro

I use iDev to promote my bicycle touring store (

Daniel Scocco

@JB, yeah you can check all the stuff online, there is no need to download anything on your PC, just on your server.

Hajib

This is cool.. great affiliate stuff..

Product Reviews

I have purchased and used many different types of programs and online services over the years. I have spent a ton of money through out the years on IT and the setup of these programs. Often the amount of support you receive post-sale has NO direct relationship to the purchase price of the program. You guys have a rock solid, well thought out program! The support and response time is the best I have received.

JB

You should join their Affiliate Program. I may sign up with their service and I will purchase the link through you. I do have a question since you use it and the Live Chat is unavailable. Can the users check their stats without the downloaded Windows program and what about Macs?
Comments are closed.