I am working on a big new project, and one of the key areas is the affiliate management system. As you probably know affiliate marketing is a strong component of most promotional strategies these days, and making sure that you pick the right solution for your needs is vital.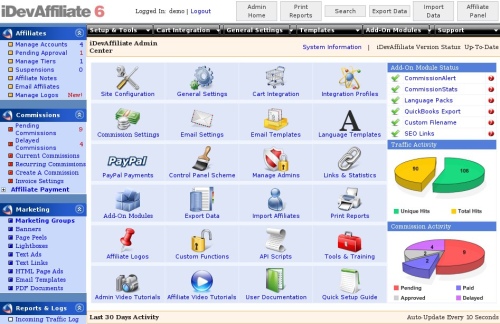 After some an extensive online research comparing the bits and bytes of the available solutions, I decided to go with iDevAffiliate, and here is why:
1. Hosted software: There are hosted solutions out there that will handle your affiliate programs on their website. I used some in the past, and I they work fine if you are looking for a simple affiliate management system. When you want to have full control of the affiliate program, however, using a software that you can host on your own server is the best choice. It is liking hosting your own site versus using a free hosted service.
2. SEO Links: When you use a third party affiliate program, the links of your affiliates will point to that site, and you will not reap any SEO benefits. With iDevAffiliate you have an SEO module (requires the Platinum edition) that will make the links of your affiliates point to your website in a search engine friendly way. This was a big motivator for me.
3. Advanced features. The software is probably the most complete on the market. You will have the options to create several commission levels, customize the commission alerts, used second tier commissions and so on.
4. Integration capabilities. Your affiliate management system will inevitably need to be integrated to some other scripts or payment gateways like Paypal, so choosing one that is easy to be integrated will save you time and money. iDevAffiliate comes with an Integration Cart Wizard which pretty much does the job automatically if you are going to use a popular payment system.
I have been using the software for a couple of weeks, and I am pretty happy with it so far. Truth be told you will need to spend some time learning how to navigate the Admin control panel and how to configure all the different options and settings, but that is normal when you have a software with so many features.
The basic edition costs $99, and it gets the job done. If you need advanced features like Language Packs or Quickbooks integration, you will need the Platinum edition which costs $299.
Do I think it is worth it? Definitely, I will probably be using it for all my projects where I will have affiliate marketing involved.
Over to the readers: Have you tried any affiliate software or hosted solution in the past? How did it work out?