I am Willing to Try Bing, But So Far It Sucks
As you probably know Microsoft launched its newest search engine a couple of weeks ago, called Bing. Some blogs and newspapers reported that the search engine quickly gained market share, and that on some days it was ranking in the second position, above Yahoo!.
If nothing else I also think that we should give Microsoft the benefit of the doubt and try Bing out. Competition is healthy in any market, and Google is not far from having a monopoly in search (thanks to the quality of its service, it is true, but still).
One good move from Microsoft was to opt for a clean homepage. I can't stand Yahoo! exactly because in order to search there I need to go across all the clutter that they put on the front page.
The problem are the search results. They might need some time to tweak the algorithm, but so far it has not impressed me at all. Here are some examples that I gathered in five minutes before writing this post:
1. Searched for "blog tips"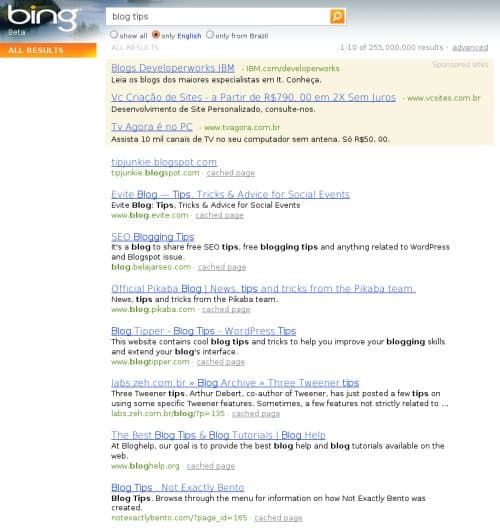 Daily Blog Tips is number one on Google and Yahoo! for that term, but on Bing it was no where to be found. Problogger should be there too, but I couldn't find it either.
2. Searched for "john chow"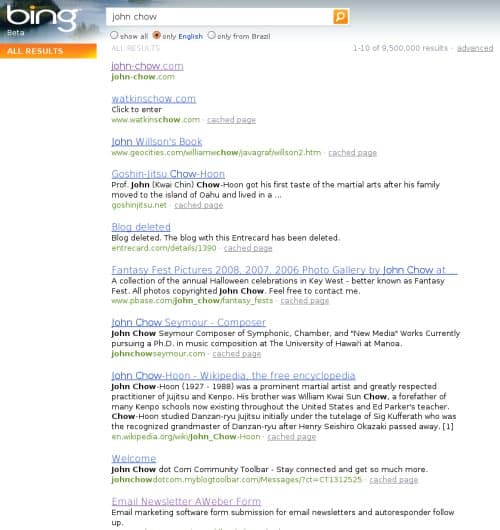 The original John Chow was not there, and instead the first result pointed to a squatter domain (www.john-chow.com) that just has some ads….
3. Searched for "stuntdubl"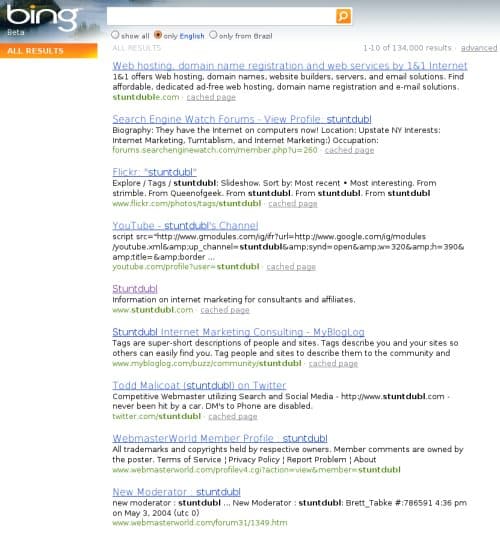 I wanted to give Bing a nudge, so I searched for the exact name of Todd Malicoat's blog (he is a top SEO guy, and the blog is pretty famous too). Still Bing displayed Todd's blog only in the fifth position.
For now, therefore, I am sticking with good old Google.
What about you, have you tried Bing? What kind of results did you get?
Update: It looks like the results are not that bad if you are US or Canada based. The curious thing is that I did use the "English results only" option before searching, so I don't know how come my location is affecting the results page.
Browse all articles on the SEO category
64 Responses to "I am Willing to Try Bing, But So Far It Sucks"
Jared – Online Marketing Rules

Giving the stand point that I hate everything Microsoft does lately I haven't even given second thought to giving Bing a try. Why waste your time with something you know your not going to use? We all know that we will revert back to Google and stick with Google for the bulk of our searches. I think Bing got a little bit of shares because of the marketing they did interested people and I think people where actually interested and hoping Microsoft could do something worth while, but as we can see this will fail as well. Once Google launches Chrome OS I think Microsoft will see a huge dip and it will take more than Yahoo to fix them.

Jared

radyo dinle

Maybe it's a location thing, but for 'stuntdubl' I'm seeing it as 3rd, just behind his twitter page.

Blog Ebooks – Claus D Jensen

Hmm, what I thought it would be like…

I think I'll pass on Bing!

Thank you for sharing!

Greetings,
Blog Ebooks – Claus D Jensen

Ganesh

Looks like Google still rules.Just started my own blog.You have great content.I will subscribe to your feed.

Harson

Yes it will show completely different results when you search for similar keywords in both Google and Bing.

the only thing i like about the existence of Bing is so far it comes out as an alternative.

it's entertaining though to have the so-called big search engines to give different in giving results, and prompting further investigations.

Internet Strategist @GrowMap

I wonder if they aren't carefully monitoring their brand and fixed the specific results you used in your blog post. Bing just isn't doing anything for me yet but I REALLY like DuckDuckGo so far. You might want to try it out.

Besides DuckDuckGo I consistently us Zuula – especially their blog search because it sorts by recency and relevancy – making it much faster to find related posts when researching.

Hypotheek

Will this be the 3rd time Microsoft can't find the nail there trying to hit?

Changing a name will not help! The results of the serp`s are pour up until now.

I keep saying sh..t when I accidently search with Bing. Where are my sites?

What is this se looking for on the sites shown? Most results aren't very relevant too the word's I typed. Maybe it will get better after some time.

Joel

I've noticed that in general I'm posted far higher on google than other search sites in general. If you look only at organic traffic to my site in the past 30 days (approx 9,000 views, PR4, technorati authority hovers around 20), over 95% stems from google searches, significantly more than their reported market share. In common search terms for my blog, I frequently will be on the front page of google but terribly deep into the likes of yahoo, msn (not really tested bing out yet), and others.

I opted to stake my chances on a fully google platform for blogging (i.e. using blogger, adsense, analytics, feedburner, and basically google products whenever I get the chance). Despite solid traffic in my niche, I haven't been able to crack into DMOZ, but had manually submitted my site to yahoo and the like.

I'm curious to hear any thoughts on why this is occurring and ways to find a more symmetrical balance of search engine results. Does the fact that I'm using google products make my site appear more favorably on their search engine (suggesting I'm getting an unfair bump) or is it that I'm being poorly indexed by the other engines (i.e. google is right and everyone else is wrong).

Thanks!

ignacio

I'm in Uruguay and did the same searches with far better results. Anyways, I don't like it either, for now at least.

Tom Bradshaw

I would have to agree bing seems to have a way to go to perform as well as google. What is worrying is that people using it today won't care about this. I don't think it will overtake google just yet – though having it on msn, hotmail etc. is going to be a big advantage.

If result aren't that bad for US and Canada – means it will probably take a little more time for UK and rest of the world to catch up (inevitably)

Ivy

Well, just looks fine for me, i have tried to look for my favorite testivar.com and as expected it is no.1. Though some of my inquries have glitches results! Anyway, i hope they can still improve it.

Vikas

Microsoft should try to build a new search engine from scratch keeping in mind that the search results should satisfy readers.

Giving a new look and new name won't solve problem.. Microsoft guys are you sleeping or dumb??

First day Bing even displayed the win xp serials key when typed .. "Win Xp serial"

it showed porn on its first page when typed .. "sex"

Then need to do a lot of work it to catch yahoo.. leave google ….

Chester

There's a lot of more issues concerning bing. But nice try though.

dive

yupp tried Bing and I feel it needs more improvement. I tried searching some images and I wasn't very happy with the results. Well hope it'll turn out fine someday.. Till then cheers to GOOGLE..!!

Hooshmand Moslemi

Yeah, I have checked it out several times and I must say that the results are not that brilliant. I agree about competition in any market and I am also against monopoly. However, I guess nobody has been able to beat Google yet.

Simplicity and relevancy are the advantages of Google. Other search engines must always take them into account if they want to be more popular.

I think Bing does not have a comprehensive index yet and they need to improve and upgrade it. And of course, copying other search engine's results is not the solution. They have to run their own algorithm.

All the Best!

Hooshmand

Bengt

You write "I can't stand Yahoo! exactly because in order to search there I need to go across all the clutter that they put on the front page."

I go directly to

Tommy Kirt

Bing bites like Live Search bites! Seriously, what was the point of all of this? Maybe they thought a new name might fool some people into forgetting that MS is the worst SE out there? Fail.

James

There are always pros and cons about Microsoft's products. But this time they are really giving a shock therapy to Google Execs. I have tried Bing, the search result is sucks but they are fast event somehow faster than Google. They probably need sometimes to tuning their algorithm or database, but this is good step from Microsoft..

Stock Traders Blog

I feel Bing will be easily forgot just Cuil

adis

May be bing don't like blog 🙂

Boerne Search

I can't stand Bing, tryed it and didn't like it from day one. I will stick with Google thank you very much.

Bing just sucks @ss. IMO

Kane

Bayu Aditya

I tried some searches also and I don't want to try it again now!

Richael | Domain Marvelous

Haven't people realized by now that Bing is nothing more than the old Live Search with a fresh coat of paint?

Harry

I have not looked at BING yet but I will now.

Thanks for the good info.

Jim Cronin

I have found that the results for Real Estate searches have been so far off base it's ridiculous.

I can only hope for Microsoft's sake that they get their act together soon.

You can only make a first impression once, and mine was poor.

excITingIP.com

I wanted to submit my website in Bing and I tried asking it, the relevant answer was no where in the first 10 results, but on Google it was the first or second. It gave me a website article that gave the steps to register your site in Bing! That's Google!!

excITingIP.com

BloggerDaily

I also had tried searching some popular sites through Bing but the result is nowhere although I tried used related keywords. Maybe it's because it's still new.

Kae Kohl

Just tried Bing for "Internet Marketing" in our local area. Bing brought up a Laserdome and a marriage facility of some sort in the top 10 map related results. So ..no. Not impressed so far.

Stop Dreaming Start Action

we are waiting results of one year, what will happen

Mr. I

Microsoft oh Microsoft! Did they ever hear that focusing on one thing is better. They are building trying to beat everyone and are succeeding nowhere!

Better that they pay attention to the only thing that they do well: "Creating OS"
Comments are closed.