How to Write Faster Blog Posts (Every Time)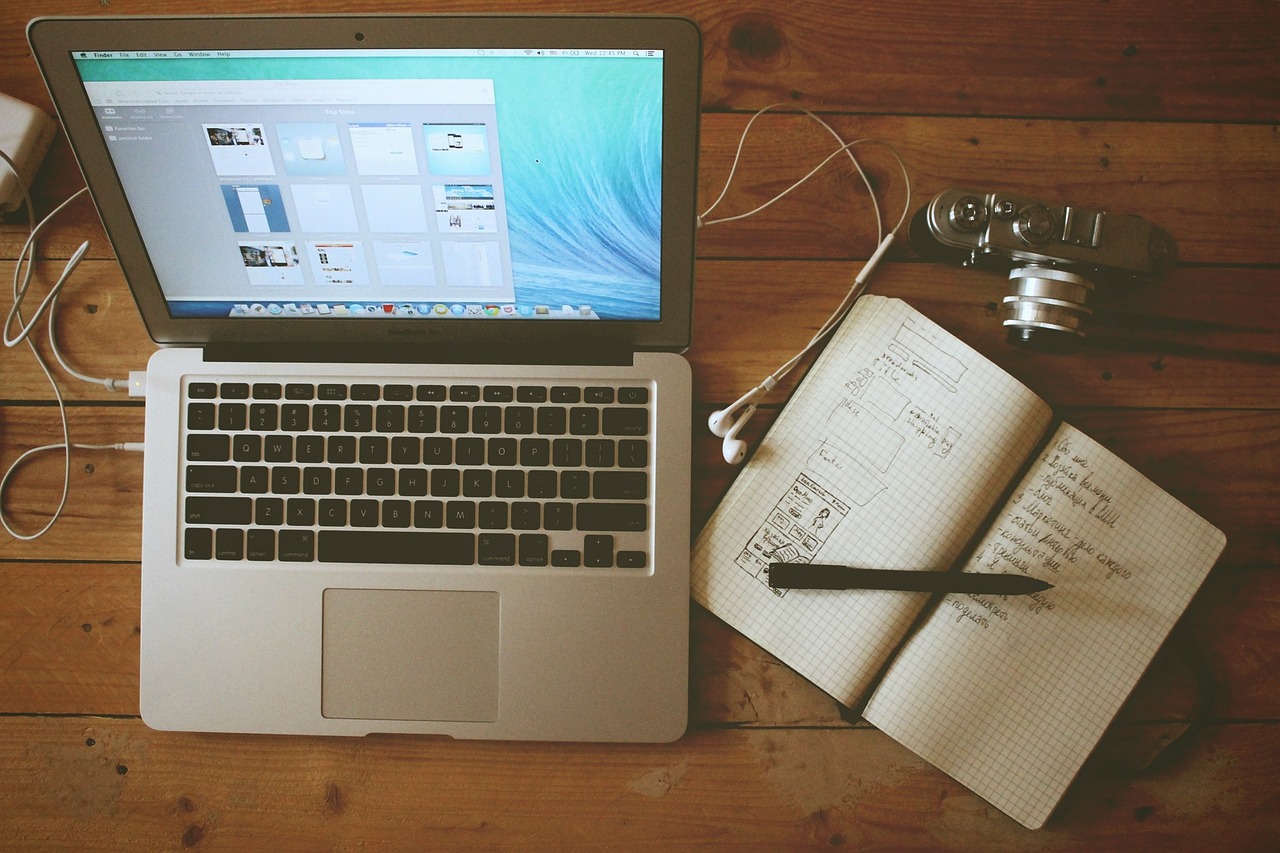 Last week, we looked at why great content is so important. But one of the biggest problems that bloggers face is finding enough time to write.
If you're spending hours on every blog post, then read on! These tips will all help you improve your writing speed … without sacrificing quality.
#1: Keep a List of Ideas
Do you ever sit down and stare at a blank document on the screen, wondering what to write about? Lots of bloggers do, but there's an easy way to fix this.
Create a list of ideas (this can be on paper, in an online tool, or on your computer — whatever's quick and easy to access). Every time an idea occurs to you, jot it down. To begin with, you might want to set aside 10 minutes each day to stock up your idea list. Pretty soon, you'll never be short of ideas again.
#2: Plan Before You Write
If you find yourself deleting paragraphs or starting your whole post over again, then the problem isn't with your writing — it's with your planning.
Before you begin any post, write down:
Your topic (or title)
"Introduction"
Several key points that you want to cover: these could be list items (this post started off as 5 bullet points) or individual paragraphs in your post.
"Conclusion" and "Call to action"
It's much easier to stay on track when you've got this framework in place.
#3: Close Down Distractions
Twitter, Facebook, Google+, Skype, Gmail … they're all great tools, but also great distractions. Close them down when you're writing.
If you're spending several hours working on every post, be honest with yourself: are you writing for the whole time, or are you mostly checking emails or hanging out on Twitter? (If you're genuinely unsure, try Rescue Time to find out where your time is really going.)
#4: Write, Don't Edit
Many writers try to combine two separate steps: writing and editing. They'll type a sentence or two, then immediately delete and rewrite them.
Writing is a creative process, and your focus should be on getting the raw material onto the page. Editing while you're writing can kill your creativity and your flow. While you write the first draft of your post, focus on getting from the start to the end of your plan. You can fix small grammatical errors, or tweak sentences, later.
#5: Leave a Gap if Necessary
Sometimes, you'll be mid-way through writing a post and you'll realize that you need to look up a fact or a link. It's tempting to just go ahead and do that … but this can break your concentration.
When you don't have a particular piece of information to hand, just leave a gap. Put "XXX" or similar in the text and highlight it yellow (so it's easy to come back to when you edit). That way, you can do all your fact-checking or link-finding in one batch — much more efficient.
If you implemented every tip on this list, you could easily double your writing speed. Even following just one or two of them will help. Which could you try today?
And if you're already a speedy writer — let us know how you do it in the comments!
Ali Luke is a freelance writer and coach, offering a wide range of courses and services on Aliventures.com. She writers a weekly column about online content creation for DailyBlogTips.
Browse all articles on the Writing Content category
17 Responses to "How to Write Faster Blog Posts (Every Time)"
Matthew Shelton

Great stuff, Ali. The outline thing is an absolute must for fast writing.

And keeping a list of ideas, especially if you refer to it often, also has another effect

– those ideas are percolating in the subconscious and come out more fully formed when the actual writing time comes.

Mohamed Shajid

Nice Share mate , I truly agree with you , now i should try with your ideas. how ever i already writing some posts in word doc. and after that only i adding to the blog. very informative mate 😀

Web Marketing Tips

For ideas I always keep some note book with me or use my mobile voice recorder.

Both are quite useful.

Ardorm

All of the tips are important and I guess there's no way you can write a good post without following all the steps.

I would also recommend reading a dictionary, like a page per day. I, personally, get angry really fast if my article consists of the same words and I can't find new ones with the similar meaning. And the angriness causes me to quit writing, which is totally not desired. 🙂

Bill

Great article on planning when you write and how to write, frame of mind to be in, etc. Very useful tips whether you've been writing for a long time or starting out.

It reminds me of a video I think Glen Allsopp over at ViperChill made on how he created a 1,000 words article in 25 minutes. I can't find the link at the moment but it was interesting to me anyway.

Ali Luke

Thanks, everyone! Glad you found this one helpful. 🙂

Leif, 25k words in a DAY? Wow! That's insane!

Darren, good point about not thinking about the end result too much (I think that's a useful thing to do when you edit, but not when you write).

Irene

You hit right on the spot. Great advice. Reasonable and straight forward, that is the kind of advice I personally need. Thank you.

Credo Infotech

Good post. I do agree with your points.

Also including to the above points I would also like to maintain the below hierarchy:

1) First Draft:- With your outline as your guide and your research facts handy, just start writing. If you need to fill in facts and figures that you don't already have then highlight them in some way to come back to them later. The idea is to keep the flow going on this first draft.

2) Type It:- If you have your first draft in longhand. This will also be your first edit.

3) Print It:- Some may not like this option because it is not environmentally friendly. If you can edit on the computer screen, then go for it. I need to read from paper for editing. I just find that I can concentrate, find mistakes, and fill in gaps better when I read from paper

4) Editing:- Read Out Loud. It may seem funny, but this is a good practice. Read your draft out loud as you are editing. You'll be more likely to find errors and parts that need to be re-written.

5) Final Draft:- Type in your edits and then do one more final read through before publishing or sending it off to be published.

6) Quiet:- All of the above steps will work best if you can work in a quiet, distraction free environment. Turn off and remove everything but the essentials when writing. If you do have noise in your environment on a regular basis, try to find a solution such as a new location or noise cancelling headphones.

These steps may seem longer when you read through them, but they truly will make your writing better, and your ideas will flow faster and easier.

Alorye (www.vivaciouschic.com)

For me I blunder on all the examples given. I do have a long, amazing and unique list of topic that might last me a lifetime of writing but I never seem to get much work done day by day because I don't plan my work properly as highlighted above, I'm ever so distracted from social media, checking out links and related stories, editing while I write, searching for appropriate pics to use on my posts, checking out the design of my website (cos its still a bit new) all at the same time while trying to write.

I've learnt a lot from this post and can't wait to experiment.

Kerry Heaney (@eatdrinkbekerry)

I use all these techniques and when all else fails – start in the middle or with the most important thing you want to say. Sometimes spilling that out cleanses and lets you get onto the stuff that has to go in as well.

Also leave a space between writing and the final edit if possible as clarity is greater from a distance.

Daniel

Some good advice, Ali.

For me I think having a few solid ideas in mind, prior to writing, makes it a much easier.

Not getting distracted(It can be difficult in some environments) is also very important. Sometimes you may be getting a decent amount of post writing achieved(everything is flowing nicely) then someone or something comes along and " Boom"! You can lose your train of thought. So it's important to keep the main gist(what you are writing about) even written down, or strong enough in your minds eye, as to not lose your way.

Pratik Chourdia

Yea i am facing the same problem and when i read your blog then got to know that you are 100% coz i always use to write while using the fb and other social network, so now i will write blog with concentration 🙂

Regards,
Pratik

Darren

Great points. I think it's important to try and forget about the end result while you're working. It might make you feel more pressured than you need to.

Darren

Mark Aylward

Nice post.
I think the biggest one that helps me is the idea of just writing without editing. It's quite tempting to stop and "fix" stuff, but if you just press and do a brain dump, going back after and editing speeds things up tremendously
Thanks
Mark

Linda Ryan

Really great advice~Thank you! Now if only I wasn't reading it while in the midst of writing my post for today. As I was struggling to finish my post, I saw this float by on Twitter and thought "I need to read that!" So I'm glad I did…. and very glad I won't do that again! 🙂

Leif G.S. Notae

This is a great article Ali, I have to admit I didn't think of some of these things.

I know I use the timer method. I put in 25 minutes to the timer and write as much as I can and then take another timer with 5 minutes on it for my break. If I have to do more than a thousand words, it can be a lifesaver. This is how I wrote 25K words in one day for the NaNoWriMo challenge.

These tips are great for anyone, including fiction writers like myself. Thanks for sharing this information, much appreciated!

Web Marketing Tips

One more thing which I woild love to add is write today and edit it tomorrow … Believe me this can wonder to your writing skill.
Comments are closed.