How To Optimize Your Site for Local Search
This is a guest post by Jaydip Parikh. If you want to guest post on this blog, check out the guidelines here.
Some website owners might not want visitors to come from all over globe but rather from a specific country, city or region. This could be the case with local bloggers or offline business owners, for example. In those occasions it would be a good idea to optimize the site for local search, and here are some tricks that you can use for the purpose.
1. Add Your Site to Google Maps
Visit local.google.com and click on "Put your business on Google Maps." You will need to login to a Google account, and after that you will need to fill some forms.
After that you will need to locate your location on the map and describe the category that better describes your business or website. Set your office timing along with you contact numbers and preferred payment option. You can also submit photos or videos.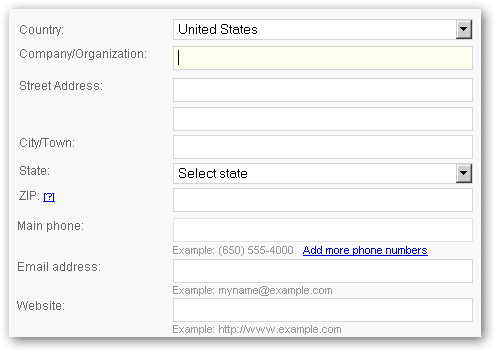 Once you are done you will need to verify your insertion, and this can be done via SMS, phone or postcard. After the verification is complete your website will start appearing on local search queries.
If you want you can also submit your website to Yahoo! Local and Bing Local.
2. Use Geo Tags
Geotagging, according to Wikipedia, is the process of adding geographical identification metadata to various media such as photographs, video, websites, or RSS feeds. These data usually consist of latitude and longitude coordinates, though they can also include altitude, bearing, accuracy data, and place names.
Geotags help search engine to locate you on the map and this may help on local search queries. Classic geotags are a combination of Latitude and Longitude for your city. To find Latitude and Longitude of you city you many visit mygeoposition.com.
Applying geotags is not hard. Here is an example for Ahmedabad, Gujarat, India. You just need to add the code below to the Head section of your site or blog (modifying it accordingly):
<meta name="geo.position" content="23.039574;-72.566020">
<meta name="geo.placename" content="Ahmedabad, Gujarat, India">
<meta name=""geo.region" content="Gujarat-IN">
3. Use Google Webmaster Tools
Another way to let Google know about your geographical location is via the Google Webmaster Tools. Once you are logged go to Settings (If you are managing multiple website then select the target website first). There you will find one option called "Geographic target." Specify your location and save.
4. Local Web Directories and Yellow Pages
Submitting your site to local web directories and yellow pages will help you in two ways. First of all it will drive local traffic to your site. Secondly, it will also give you some relevant backlinks and improve your search engine authority for local search queries.
Remember that directories and sites with your country level extensions (e.g., .co.uk, .in and so on) will work better than sites with normal top level extensions.
Jaydip blogs about Internet Marketing, SEO and Blogging on Jaydip.info.
Browse all articles on the Promotion category
21 Responses to "How To Optimize Your Site for Local Search"
Will

I too never heard of Geo tags. If I specify Google that my targeted location is some xxxx then what will be the impact on search results for 'products xxxx' from some location yyyy

affiliate income opportunity

You really have nice finds to promote website/s for local visitors. I know only google maps and I think you can signup for only one account i.e. only for one website. Do they allow for more than one also and how??
Thanks for your valuable article on local search.
Ravi

Boerne Search

That's a great idea. And as said above. Really simple, yet really effective.

Kane

Fatin Pauzi

Wow! Great information. This is the first time I heard about how to make sure our visitor from a targeted country. Thanks for the information.

Cyndi

"Radius marketing" is so important to so many businesses. I have clients (like Pilates studios, health clubs, car dealers) who all benefit from the above local marketing techniques. I hadn't known about the GeoTags! Guess what I'll be up to today?? Thank you for this post.
🙂 Cyndi

Daniel Scocco

@Armen and Chester, I don't have first hand data on that, as I have never optimized a site for local search. All my projects are global-level.

That being said, I think optimizing for a specific region might reduce your overall traffic, yes.

This happens because Google might stop considering your site relevant for some queries. For example, if you have a website about art and you tell Google you are interested in traffic from the U.S., Google will figure that your site might not be completely relevant for someone searching for "art in England."

BloggerDaily

Wow. That's a nice step. Never realized about this and I'm gonna do it now! Thanks a lot, pal!

Chester

If I get to optmize my site locally, would there be effect globally?

Armen

I've always wondered, Daniel, if targeting for local search impacts global rankings negatively.

Do you know?

Daniel Scocco

@Blake, combined the tips above do can increase your local search rankings.

@Sharma, I don't have any website targeting a specific geographic region. All my stuff is global.

@Jamal, you might.

Melvin

Wow Im surprised I don't know all of those things, so this one is valuable to me..

Jamal

one question if i place this geo tracking to find local visitors may i lose international visitors

Surender Sharma

I never heard Geo tags.
Did you implemented on any site or blog?

Blake @ Props Blog

I've heard about targeting traffic geographically for ads, but I didn't realize that you could do that within the search engine itself.

Does doing this increase your search ranking for people in your targeted geographic region, or does it just place you lower/remove you from searchers not in your region?

Daniel Scocco

V.C., I don't target traffic from a specific location, that is why I don't use geotags. The tips mentioned on this post are for people who want to receive traffic from one specific country or city, for example a lawyer who has a website to attract customers from his city.

Laura Christianson

Jaydip,

Thanks so much for providing this info. I own a social media marketing business, and am constantly helping my clients add their location to Google Maps (and better yet, to create a Google Profile that includes the maps function). It's incredibly easy and quick to do, and it literally puts your business on the map.

Google offers a vast array of free and very helpful Web site/blog tools; I recommend that people take an hour to explore them.

Computer tips

but i think geo targeting in webmaster tool can reduce traffic from outside the country..
correct me if i am wrong

Jaan Kanellis

The best way is through consistent citations from other website:

This website is an awesome resource on local search ranking factors:

V.C

I like the idea of using Geo Tags.
But why don't you use it for your blog???

Keith Davis

Never heard of geotags, but if it's as easy as adding a bit of code to your head section… I'll give it a go.

Using the .co.uk etc directories is another useful tip.

LetUpdate

Really simple but useful tips. I always wonder how to optimize one site in local search engine, and now, i already had the answer. 😀
Comments are closed.