How To Get Google Sitelinks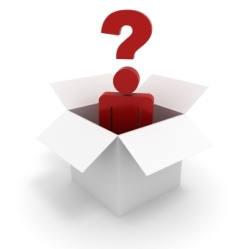 This post is part of the Friday Q&A section. Just use the contact form if you want to submit a question.
Kang Yudiono asks:
I am very happy because my blog got Google Sitelinks. For your information, the blog is 5 months old and written in Indonesian laguage.

My question: what is the benefits of sitelinks for a blog?
First things first, what are the Google sitelinks? They are those links that appear below the first result when you search for the name of a website or blog. Google implemented the sitelinks to help users find the information or section inside a particular website more easily. That is what the links only appear when you search for the exact name of a website, because those are considered "navigational queries." Here is a screenshot of the sitelinks for Daily Blog Tips: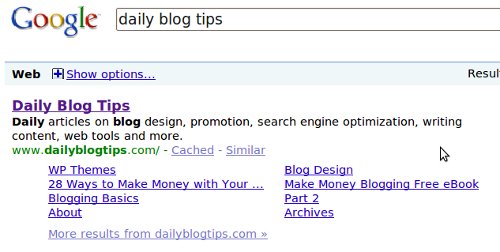 One could say that the sitelinks are nothing more than shortcuts in the search results to help users navigate to a website more efficiently.
The next question is how you can get sitelinks for your website or blog. Unfortunately there is no switch that you need to turn on to enable sitelinks for your site. Google handles sitelinks automatically through an algorithm, and usually you get sitelinks when your website is perceived as an authority. Practically speaking, this means that your website needs to have a good amount of backlinks, people searching for its name on Google and so on.
Personally I have never worried too much about sitelinks on my new websites. If you keep publishing quality content and promoting it, eventually you will get the sitelinks.
The last question is: what are the benefits of having Google sitelinks? I believe there are two, one tangible and one intangible. The tangible benefit is an increase in traffic for your website, because the sitelinks will give you more exposure in the search results, increasing the CTR you will get on search queries.
The intangible benefit is the credibility that you get from having sitelinks. Only established and authority sites have sitelinks, so when users come across them after searching for the name of your website or blog they will get a reassurance from Google itself that your content or products must be good.
Browse all articles on the Q & A category
33 Responses to "How To Get Google Sitelinks"
M chaaban

There must be some sort of guide line on how to get sitelinks. In my opinion, some sites need it from the begining of it's presense on search engines. Hope my site get sitelinks soon, cause I think that might help on getting more traffic to the website.

Pallab

My blog has 3 site links, but the benefits have been intangible for me.

Atul

I dont know when i eud be getting sitelinks. Mine blogs PR is 3 but still no sitelinks. Doesnt sitelinks have any concerns with PR as PR increases only if u have gud backlinks??

Blogger Ingusan

Google Sitelink is so far of my mind cause I'm just a new blogger right now.. I know Kang Yudiono, he's a great blogger 🙂

Caleb – The MarketSecrets Blogger

"Credibily" is the main thing here. Even if you do have great content selling the best product known to man -without credibility, you're a NOBODY and who wants to deal with a nobody?

This is why I've noticed in the hard core genre of the music business some go so far as to deliberately get themselves locked up in jail just to have hard core credibility or "street cred" as it is sometimes called. Strangely yet usually, that artists' music starts topping charts as a result.

Rajesh Kanuri

these days i am working hard to be indexed and be top in google

Lia Qistina

I love this word: "keep publishing quality content and promoting it".

Thanks Daniel.

-Lia Qistina-

munawar am

My Blog got to,

Congratulation Kang Yudiono for getting Google Sitelinks
I hope you will get more benefit from it

Phaoloo

IMHO, only big enough sites have sitelinks and it makes searcher pay attention to your site.

SaurabhStar

No doubt! Your blog is a real authority even if the google sitelinks didn't appear for your website. A blogger has to be a subscriber of DBT. I am simply amazed by the quality and content that I find on DBT. Keep it up. Wish u all the best!

Thomas

My blog has just recieved site links and the traffic has increased by 22%. The increase in traffic is not attributed to these site links, but to hard work.

Site links give me a warm feeling of authority within my niche and gives me reassurance that I'm on the right track. hats about it.

temi

Interesting post but the post title says "how to get sitelinks" but does not answer that question.

Web Design Sheffield

What sort of monthly page views are needed for Google to consider sitelinks?

Web Marketing Tips

Sitelinks means extra weight which google is giving you. Visitors who are looking for your website through search engine now can easily trace your website or blog and they do not have to click on other website that means you will get direct traffic without any interuption and that is good point for you.

Bloggeri @ Blog Handbook

The best thing about sitelinks nowadays is that you can configure the sitelinks that are shown by using google webmaster tools. It is a great way to highlight yourself some great pages on your site.

Kang Yudiono from Blogodolar

Hi Daniel,

Thanks for answering my question at Friday Q&A section. After read this article, I really know what are the benefits having of Google sitelinks.

Best regard from Indonesia.

Dana @ Online Knowledge

Great info, i always wonder how to get sitelink from google and i understand it now. Thanks.

SinghVineet

Nested sitelinks are provided for only one website and are given to the website on the top position in the SERP for a particular keyword, generally through website's brand names you will see the sitelinks.

On April 2009 Google launched new version of sitelinks i.e one-line sitelinks. This is not limited to only for one website and for the top result. But this can be seen for many websites and can even be found on second or third SERP.

Generally Google display top visiting URLs in the sitelinks. So if you want to get sitelinks do your general SEO practice and promote your important pages and make an effort to make it in the top organic search result. Try to maintain your ranking and by doing this you may get sitelink for your website in around 4-5 months.

samantha

I'm still a noobie and most of my sites are far from authority sites but it would be nice to get site links some day.

Any ways thanks for the post. I didn't know that they were called site links as well.

Deineshd

I lost my blog a better threaded sitelinks in just a day and still unable to get it after i transferred my blog from Blogger host to wordpress self host.What should I do to regain my old position in Google?

My blog: Bloganol.com

Google search of Bloganol See on Goolge

David Walker

I have to agree with Daniel on not worrying too much about the sitelinks and concentrating on publishing quality content, which will get you authority and thus the links, traffic, readers, subscriptions and hopefully many more clicks. I know there are people who publish keyword rich content but at the expense of the quality of the post. Not a good way to go, right?

Keith Davis

I managed to get sitelinks on one of my sites… but then they disappeared!

The site had lots of links but I think that Google made some sort of change in how it counted links, the number of links was reduced and the sitelinks disappeared.

Not to worry… I was happy for a few weeks.

Eric C

This is a new goal I'll have to keep in mind, getitng site links!

V.C

My site've been 6 month old and I got Google sitelinks after Google PageRank Update these days.
I had a look at some of my friends site and I saw that they got Google SiteLinks too.
That means there are many sites got Google SiteLinks after the Google PageRank Update because the Google PageRank Update was delayed for quite a long time.

Tommy

Kind of a misleading article title, but good information nonetheless.

Sarb – College Admissions

I agree that site links increase your exposure as you get a wider area of the SERPS and more deep links leading to your most popular articles.

Site links is something that you can not control. The best thing you can do to your blog is to write good content . ALWAYS!!

Wallace

My web directory recently got 3 sitelinks from the latest SERPs updated, and one point i need to add is that you need to have a brandable domain, it will help your site get sitelinks more easily.

Gabe | freebloghelp.com

Ummm…sitelinks. It's one of those things that people don't really think about much but would love to have.

Like everything else in the Google vault, we'll just strive to create great blogs and the good stuff is supposed to just fall into place.

Aaron B. Hockley

I've found it's interesting what Google will choose. For my site they've identified a few of my static pages, but there's also a sitelink that leads to one of my most popular blog posts.

Oscar – freestyle mind

I didn't know they were named sitelinks. For now I only have a nested result under my homepage. I assume it's only a matter of time before I'll get sitelinks.
Comments are closed.