How To Compare The Loading Time of Two Sites In Real Time
I was browsing my RSS reader this morning and I came across an interesting post from my buddy John Chow, titled How To Make Your WordPress Blog Load Faster.
The post has some practical tips regarding how you can make your WordPress site loads faster, but what caught my attention was a video he embed at the bottom, with a tool comparing the load time of his site and Problogger.net in real time.
John didn't mention what tool he used, but I after researching a bit I found it's called WhichLoadsFaster.com. Once you start playing with, it gets a bit addictive, and so far I can't find a blog inside the blogging/Internet marketing niche that is a match for Daily Blog Tips! Here are some of the results I got: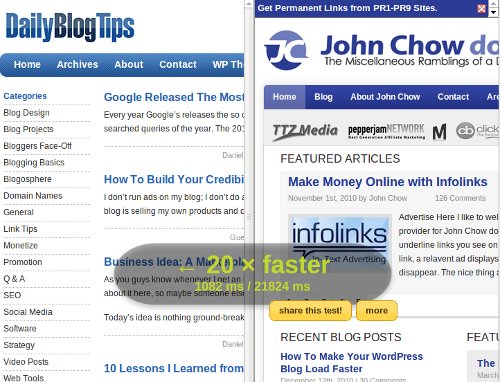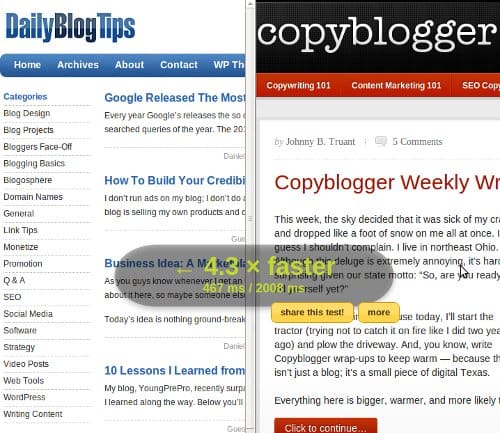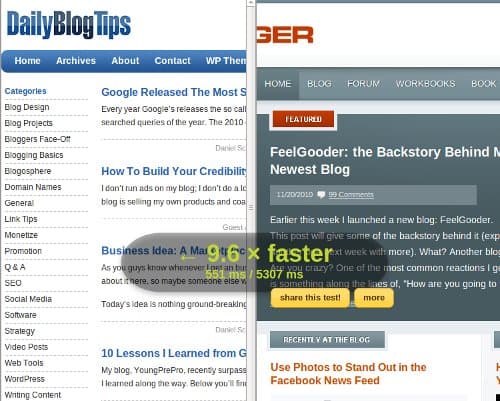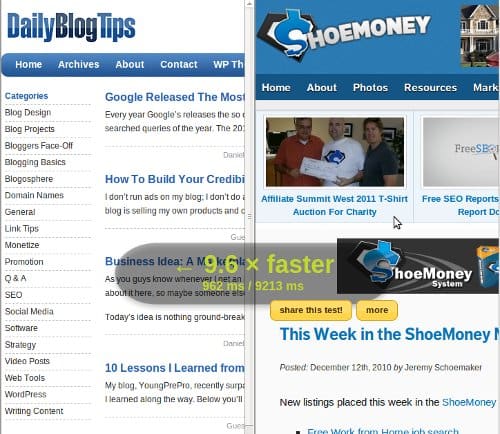 So yeah, they have the best content, but at least my site loads faster!
Jokes apart, try this little tool out. I am not sure how accurate it is in measuring the load times (i.e., would need to test it a bit more to get an idea) but it's certainly fun to play with.
Browse all articles on the Web Tools category
30 Responses to "How To Compare The Loading Time of Two Sites In Real Time"
Web Marketing Tips

your signature is making you different from other people.

Web Marketing Tips

amazing isn't ?

Its fun and along with that time consuming.

But you can't resist to compare whenever new website strike in your mind.

John McNally

Your right, this blog loads faster than any other I visit. 8) Thanks for the comparism link, I will be checking my sites with it. I know that images and videos all slow up loading, but I like having them on my blog. It's a dilemma, and everyones solution will be different.

John

Winning Ideas

This is cool.
I checked my website with Daniel's blog and found that Daniel's Blog is faster 5 Times. Actually DBT is loading faster than any website that I checked 🙂 Daniel, please share this secret in your next post.

Anyways, a great tool. Thanks for sharing.

Daniel Scocco

I'll try to write a post in this topic in the coming weeks.

Melvin

Heheh. If you make this blog look like a Nascar like those sites are, then maybe you can increase your loading time as well. =p

jason

Very cool. Kind of lo-fi execution that high tech can't beat.

Vlatko

It employs Yslow and Google Page Speed through their interface.

Just made 10 tests and all of them are dramatically different ranging from 1.5 to 15 seconds which is quite inaccurate.

Hans Henrik Appel

You made my day… Rated between 18% and 45% faster than DBT on this one… I certainly didn't expect that, as I don't use any cache plugins or anything. I've just slightly optimized the code. 🙂

Daniel Scocco

That is weird. I got DBT loading faster than yours 9 out of 10 times I tried. I guess it depends on the current load of each site.

But yeah your site loads pretty quick too.

Hans Henrik Appel

Thanks – It's apparently running as a javascript on the client side, so it all depends where you are compared to where your server is. I'm in Denmark – and my server is located in the southern part of Germany. So it's not really as far as going all the way from Copenhagen to Chicago to hook up with DBT.
So this will probably learn us another great lesson (in case we had forgotten it)… "Location matters" 🙂

zaki alakhdar

I test it, but the results is changning in each time I repeat the test, its sometimes very huge difference for my site!!

Daniel Scocco

That is because the results gets influence by external factors, like how many other people/bots are trying to access your site at the same time and so on.

Web Marketing Tips

so that means we will get an idea not perfect answer.

Will try it and we see what in reports they will show.

Ishan

Hmm, Interesting tool. I am checking it right now and it is really addicting!
Your simple theme is definitely a contributing factor! I just tried it on my blog vs DBT and still, you are 2.4 times faster! But this also means that my blog is faster than all other above mentioned blog! Yeppie!

Web Marketing Tips

so you have checked them all ?

Interesting. So you invested good time …

Ryan Biddulph

It's definitely worth toying around with for a while, thanks for sharing Daniel.

In an age of instant information some people select convenience over value so even if you don't have both – which of course YOU do – quick load time can separate you from the competition.

Have a powerful day!

RB

Web Marketing Tips

after the announce,ent from google regarding speed, bloggers start taking speed factor seriously.

Swamykant

Hi Daniel

Congrats for winning the race. Problogger and other dons are next to you in the race of loading time.

You have really simple and elegant. I love the design as well as the content of this content.

Thanks for sharing the link.

Web Marketing Tips

DONS … Love the way you call them don.

Web Business Plan

One good suggestion JC made was to collapse multiple CSS files into a single file.

It does work and shaves a few seconds off the speed.

Plugins are another hog, esp the MyblogLog widget.

Web Marketing Tips

yes many people are taking off these kind of plugin.

Google announced preference to high speed and bloggers started to remove their widgets.

Jason

Awesome. Care to share how your site loads so fast? What VPS/CDN are you using?

Daniel Scocco

Much of it comes from the fact that my design is very minimalist (i.e., few images, script calls and what not).

Other than just I just rent a dedicated server on HostGator.

Web Marketing Tips

yes hostgator is playing huge role.

We noticed this on john chow.

kiks

I tried the test and my site did pretty good. Your right it can get addictive.

Web Marketing Tips

yes that's why i am trying to avoid it.

Time killing application …. Lollzzz

Rison Simon

Funny thing, I just read JohnChow post before coming to dailyblogtips. Good stuff!

Web Marketing Tips

yes he moved his blog from amazon to hostgator.

Magic of black friday i think.

But yes now his blog is loading faster.

Rojish

Yes, that tool is too addictive and it was fun comparing speeds of websites.

DailyBlogTips uses a super simple theme and do not have clutter of ads and images. I think this is an important factor for your excellant page loading speed.
Comments are closed.