How To Check If The Other Person Opened Your Email
There are situations where you might want to know whether or not the other person will open your email message, right? Maybe you sent a proposal to a business partner, maybe an invite to the girl you are flirting with….
Regardless of the reason, there is a little tool you can use for this purpose called SpyPig.com. You just need to insert your email address and the subject of the message you wanna track. After that you'll activate a tracking image, copy and paste it into the body of your email message. It can be an invisible image too, so it won't clutter your message.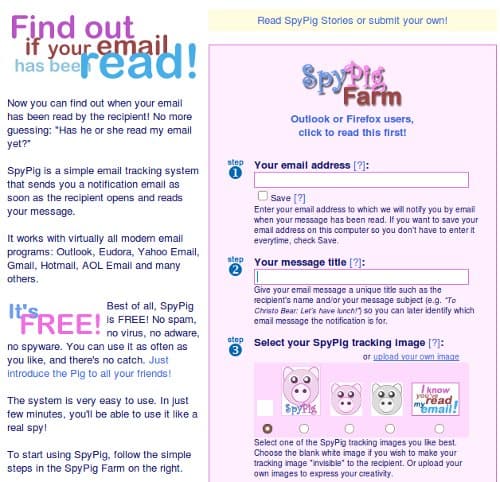 Once you send the message SpyPig will start monitoring that image. If the other person opens your email, SpyPig will see the image was loaded, and it will send you a notification.
Cool right?
There are a couple of limitations. For example, the other person must be able to receive HTML messages, and it must not be blocking images. But this shouldn't be an issue for most people.
Browse all articles on the Web Tools category
24 Responses to "How To Check If The Other Person Opened Your Email"
Virtual Agent

If I leave this tracking code/mail inside my email, won't this be like leaving all the info in the mails be known by someone or from spypig?

Tom | Oral Answers

No, Spypig will only know when the recipient's computer makes a request to the Spypig servers to retrieve the tracking image.

This code wouldn't allow Spypig to be able to view the email's content in any way.

Eran

This is too funny as I have been doing this for years. I host my signature graphic on my web server and would check the log on the graphic. When I really wanted to know exactly I would create a unique one.

Eran

Nimwey @ Online Jobs

It's actually a cool tool for email tracking. I have been finding ways to track my email and I'm glad that you've posted this. I will try it now and let us see what happens.

harly

Yes it is useful when we send some personal and important mails, i will try this thanks for sharing it with us.

Web Marketing Tips

Boy this one is really tricky but I would love to know how many people is going to use it …

Jodith

I read almost all of my e-mails in the preview pane in Outlook, and I have the images blocked by default. Honestly, if someone sent me a basic e-mail message and I saw that there was a picture blocked, I'd wonder about it. If I figured out they're using something like this, I'd likely blacklist them. I almost never allow send receipts through. I consider it an invasion of privacy.

That's just me though. I'm kind of a privacy nut…which is funny when you consider I'm a blogger *laughs*.

Robert @ Techinfo-4u.com

That's a handy little tool, and people think they're safe by hitting the "mark as unread" button

Kok Siong

This is an interesting tool. I can use SpyPig.com to detect whether my business partner read my email or not. Thanks for your sharing Daniel.

Dev – Technshare.com

Hey Daniel,

Nice Share man. I never heard about Spypig before. Going to check it out.

Thanks for sharing.

~Dev

Ritournelle

Thank you, that's exactly what I was looking for! I have 2 gmail accounts and unlike the one I had at university, there is no way to make sure the person opened your mail, so that should solve the problem.

Alex Dumitru

This seems to be really helpful especially when you have the feeling the other person tries to ignore you

Rison Simon

Gmail automatically blocks images, by default. So will it work with gmail?

Daniel Scocco

Good question. I am not sure if when opening a message in Gmail Google will load the image or not (even if it is not displayed to the user).

Tom | Oral Answers

Rison, since GMail automatically blocks images by default, and since the people will not expect any images in your email, then they most likely won't click on the "Display Images in the Email Below" link.

The fact that the "Display Images in the Email Below" link even appears will make most moderately-computer-literate users a little wary of your email and they may think it is spam.

Nabeel | Create Your First Website

lol cool tool Daniel!

You know I was wondering about this. I thought there had to be a tool like this. I will try this out.

Aweber also tell us whether an email was opened or not. Microsoft Outlook can also tell, but only if the receiver selects 'the sender requested a read receipt' option.

But this tool can be used for all other email services like Gmail, live etc. (Right?).

Kindest,
Nabeel

Daniel Scocco

Yes this tool can be used with any email client.

Josh Garcia

That is a pretty cool tool.

Have a great weekend…
Josh

Ka Damar

Okay ,i'll try it

Nice share . .

(Backtweet[dot]com, How To Check If The Other Person tweet Your post )

Saki

What about antispam filters? Message will not get flagged as spam because of this image?

Daniel Scocco

It is just an image, so I doubt. Many people include image in signatures, like company logos and what not.

Newspaper Opinion

Hi….

It 's very important to us when we will sent various email..; I will try it.. Thank's very much for your information….

Dinesh

Yes, It's cool and still worth trying for free email providers.

MS Outlook got built in feature for ' Read receipt' or 'Delivery receipt' but I didn't find anything for free and we based emails till read this post.

Thanks for the share Daniel.

Daniel Scocco

The MS Outlook feature does not work for most people, as the recipient can disable it, and some email clients won't even support it.
Comments are closed.