How I Gained 3,323 Subscribers in 3 Months
This is a guest post by Celestine Chua. If you want to guest post on this blog, check out the guidelines here.
In the past few months, I have been working extremely hard at growing my blog The Personal Excellence Blog. The net result is a 3,323 subscribers growth in the past 3 months which I'm very excited about. In today's post, I'll share with you the key steps on how I achieved this and hope you'll learn something for yourself.
How I Got Started
Even though I started The Personal Excellence Blog in Dec '08, I did not concentrate on its growth up until April this year. Before April '10, my subscriber count (via RSS/email) was 1,790. For a blog that was less than 1.5 years old, it was a decent subscriber base, but it wasn't big.
So in April, I got serious about growing the blog. I set specific goals, created clear plans and got down to work. Today, it's the start of July 2010 and 3 months have passed. Below are the results:
Feedburner Stats (Dec '08 – Jul '10)

Feedburner count for The Personal Excellence Blog since it started in Dec '08. The growth in '09 was gradual as I did not do anything specific in traffic building. I was writing my best content but did not market much. As you can see, the subscriber base grew rapidly in the past few months (the spike started from April '10 onwards).
Subscriber Breakdown Week by Week (Apr '10 – Jul '10)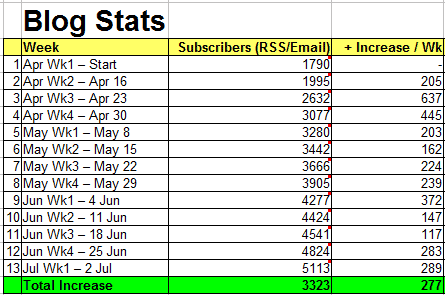 A week by week breakdown of my subscriber count from 1st week of April. From Apr '10 to start of Jul '10, my subscribers has grown from 1,790 to 5,113 subscribers, a difference of 3,323 subscribers. The average increase is 277 subscribers per week. While it may seem small for big blogs like Problogger and Daily Blog Tips, this is very sizable growth from a blog with an original base of 1,790 subscribers only.
6 Biggest Steps That Helped Me Achieve The Results
I'm sure some of you are curious on what I did to achieve this result and I'm more than happy to share with you here. There are no gimmicky tricks here – these are all real strategies which all of us can apply right now.
1. Set clear goals and plans
You got to have clear goals. It's good that you want to grow your blog, but by how much and by when? After all, getting just 1 more subscriber can also be seen as growing your blog. Is that all what you want or do you want more?
I had very clear goals when I started. I used subscriber count (via RSS or email) as the key performance metric (You can use other metrics if you want. I feel subscriber count is the most ubiquitous and robust measurement for blogs). I laid month-by-month subscriber goals, then broke them into weekly goals. Before the start of each week, I would design an action plan with clear steps on what to do (guest posting, free ebooks, etc – refer to steps #2-#6) to achieve the target of the week. Then at the end of the week, I would review to see what worked and what didn't work as I design my plan for next week.
Goal setting and planning are critically important – Unfortunately, many bloggers grow their blog through a very random approach and it gives them random results. It was proper goal-setting and planning that served as the backbone for the results. If you're interested in the goal setting framework I use, I wrote about it in detail in ESPER: 5-Step Successful Goal Achievement Framework (7-part series). This is an extremely robust goal achievement framework I use to achieve my personal goals as well as in my 1-1 coaching with my clients.
2. Do Massive Guest Posting
Guest posting was easily the largest contributor to my increased traffic in the past 3 months. Besides writing at The Personal Excellence Blog, I was doing massive guest posting on other personal development blogs – large ones like LifeHack.org and DumbLittleMan, to the smaller blogs. Here is my guest post count in the past 3 months:
April 2010 – 7 published guest posts
May 2010 – 8 published guest posts
June 2010 – 5 published guest posts (some sites I submitted to in June have a longer publishing lead time, so some of them will be posted in July instead)
Note that the guest posts weren't random short posts – each post took a considerable amount of time and was on average 2,000 words/long (the longest ones were over 3,000 words). This guest post you are reading is about 2,300 words.
There were important lessons I learned on how to maximize your traffic through guest posting:
Guest post at larger blogs. In general (assuming all other factors remain the same), the larger the host site, the more traffic it'll bring you. If you're going to take the effort to write a guest article, you want to get the maximum exposure possible. Generally host sites with >10k subscribers would be a good, though writing at a blog with 5k subscribers will definitely be helpful if your reader base is small at the moment.
Choose sites similar in theme with yours. If you have a blog for pet lovers and you guest post at LifeHack.org (a personal development site), it's not going to bring you many readers. Be targeted in your approach. Look for sites in your niche to guest post at. Since The Personal Excellence Blog is about personal development and peak performance, I chose similar sites to guest post at. Currently, the 2 key sites I guest post at are Lifehack.org (85k subscribers) and Dumb Little Man (65k subscribers).
Put your top value in your guest post. Just because it's a guest post doesn't mean you should put lesser effort into it. Writing your best content and ensuring it does well in your host's site is both beneficial for your host as well as for you. If it gets high traffic, it'll also lead to higher clickthroughs to your site. For example, my guest post 42 Practical Ways To Improve Yourself at LifeHack.org did very well – it had over 1,300 retweets and facebook shares (average post on LifeHack gets is 150+) and is the #1 pick on Lifehack.org out of the hundreds of articles posted this year. Subsequently, it brought the most traffic to my blog out of other guest posts. The time and effort you put into your (guest) posts show – put in the due diligence and readers will visit your blog for more (and possibly subscribe) if they like what they read.
Cover a topic that matches both the host's blog and your blog. On one hand, you'll cater to the maximum number of readers at the host site. At the same time, it'll attract readers who will be potentially interested in what you have to say in your blog.
Use linkbacks in the guest post. If the host allows linkbacks to your blog, use them wisely. Be sure to check if the host has any limit on number of links and keep within the limit.
Put a subscription link in your author bio. Make it easy for readers to subscribe by putting your RSS and email subscription link in your bio. Some blogs have limitations on the author write-up and may request you only have 1-2 lines. If so, prioritize what you want to put. If you look at my author bio in this guest post, you'll see I included both my RSS link and free subscription for my newsletter.
3. Offer an incentive for subscribing
If you want to grow your subscription count, you have to give readers an incentive to subscribe, preferably via email/newsletter. If you are a regular reader of Problogger, you would know about the importance of having your own email list, which is crucial for your product/service marketing/launches. I recommend using free ebooks / information products as incentive as it's convenient and highly relevant for blog readers.
Up until April this year, I never had any sign-up incentive for readers. After seeing my article 101 Things To Do Before You Die is the 2nd most popular article on my blog (it also landed me an interview with CNN regarding the topic of bucket lists), I turned it into a pdf ebook with the same title and gave it away as a sign-up gift for those who subscribe to the free newsletter (feel free to sign up for my free newsletter via my author bio below to get the ebook) . I also prominently displayed this ebook incentive in my sidebar (see image below):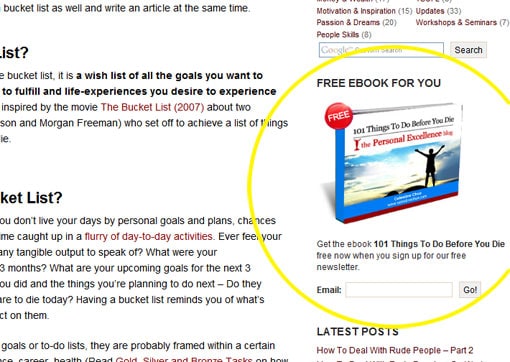 In the week I launched the free ebook (Apr Week 3), I had over 600 new subscribers (much higher than the average weekly growth of 200 subscribers), a large part driven by the free ebook. I believe many of these new subscribers were readers who bookmarked my site, consistently read my articles but just didn't subscribe as there wasn't a reason. Today, the 101 Things To Do Before You Die ebook remains important in generating sign-ups for my newsletter.
Some notes about your sign-up incentive:
It should be related to what your blog has to offer. Otherwise your readers just going to sign-up and unsubscribe later on when they realize your blog is about other stuff. In my example, people who are interested in creating bucket lists are generally also interested in personal growth/development and hence will appreciate what I write about (daily reflections/tips on living our best life)
It should be elevant to your readers' needs. "101 Things To Do Before You Die" is a catchy topic and very relevant since everyone will have a list of things they want to accomplish in his/her life before he/she die. A good way is to see what are the top articles on your blog and use them to spark ideas for your sign-up incentive.
4. Offer free ebooks with top content
In April '10, I created a Free Ebooks section and converted my most popular series and articles into free pdf ebooks. While it took time to put together the articles, format them nicely and design the ebook covers, it definitely paid off. My ebooks section became wildly popular – to date, I have 8 free personal development ebooks covering key personal growth topics (how to discover your purpose, successful goal achievement, book of 300+ inspiring quotes, how to overcome procrastination, dealing with disappointment, etc) and over 15,000 downloads in total. The ebooks section itself has nearly 20k views on Stumble Upon.
It seems that even though the same articles are available on the blog, having them in ebook format has its own value as readers can access them easily on their computer and read when they're offline. Not only that, new readers can easily scan and see your top content there, rather than weed through all the articles. It's also a great way for them to distribute to their friends/family, which serves as positive WOM.
My ebook tips for you:
Look at the most popular articles / series at your blog and turn them into ebooks
You can use My Ecover Maker to make your covers for free. I scoured the whole internet for an ebook cover maker and this was hands down the best.
Include a personal foreword in the ebook, as it's possible someone new ends up reading it. It should introduce them to your blog and interest them enough to surf over and read more.
5. Place your subscription link in a prominent spot
Your RSS /newsletter sign-up link should be prominent and easily accessible. It always puzzles me why some bloggers put their RSS link in hard to find places. In a highly cluttered internet environment where people have low attention span, you want to make it very easy for readers to subscribe.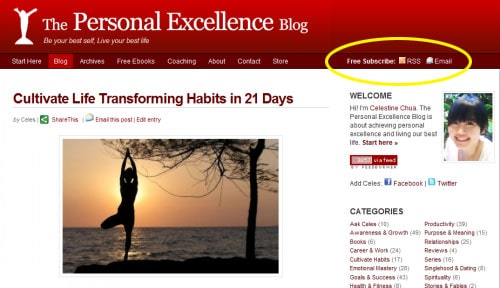 I checked out numerous blogs and found out the top right hand corner is the most common spot to place subscription icons. If you look at the screenshot above of The Personal Excellence Blog, I place my RSS / Email links in the top right hand corner.
6. Practice the 8 habits of highly excellent bloggers
Last, but definitely not the least. There are 8 habits common across highly excellent bloggers which I've identified. They are:
Deliver their best value in every article
Work harder than anyone else
Practice what they preach
Don't write to please
Keep things real
Not afraid to be vulnerable
Keep upgrading themselves
Transform lives with their writing
Each habit has been equally important for me in gaining readership and will bring you blogging results if you practice them duly. I've written them in detail in 8 Habits of Highly Excellent Bloggers (my guestpost at Problogger) with specific examples of each habit and how to apply them as a blogger, so be sure to check them out.
Moving Forward
I'm definitely not stopping here of course – I'm working even harder now to increase my readership base in the next few months (and years) and look forward to the growth ahead. If you have been enjoying my articles, be sure to subscribe to my feed and newsletter (links in my author bio) for more great high value content.
Are there any traffic building / subscriber building tips which work great for you? Feel free to share in the comments area so we can all learn together 🙂
About the Author: I'm Celestine Chua and I write at The Personal Excellence Blog on how to achieve your highest potential and live your best life. Get my free ebook guide 101 Things To Do Before You Die now by signing up for my newsletter (100% free, unsubscribe whenever you want). Please connect with me on Twitter @celestinechua too.

Browse all articles on the Promotion category
31 Responses to "How I Gained 3,323 Subscribers in 3 Months"
Li-Or

Thank you for all the fantastic details Celestine. I have read an article by M Farouk Radwan also stating the importance of marketing your site with ebooks and guest posts – so your article has backed this up to motivate me to get my skates on with these! : ) One thing I'd add about the guest blogging is to check out the PR of the site you're about to post for, to make sure it's at least PR3 or 4 or above to make it worth your while. The highest the PR the better. Thanks again for a great post!

Barbara

Nicely done Celestine. Although I have been 'online' for about 20years now, I never really considered 'working' to grow my subscribers list. For me, all those years were primarily just working my hobby, genealogy. I discovered recently, however, that I had a very large following of articles I was posting both at my site and on other genealogy sites.

Now that I have joined the ranks of the unemployed, I decided to go back to something I love. Writing. But, the need to have an income has now entered into the picture.

Pack in the day it was much simpler to get traffic to your site so I am learning all about these various methods of driving traffic and building a subscriber list. I have even succumbed to getting a face-book account and I now have started a blog.

Your details are very helpful and clear. I thank you for your insight and your frankness about HOW you actually build your subscriber list. I know I am not the only one who will be utilizing your suggestions and following your example.

Now my genealogy is at a stalemate since I have exhausted every avenue available to me to discover my family history. Your article forced me to see that I need to work on what I love, genealogy. I admit, I had fallen into the 'affiliate marketing' trap and while I realize it can be lucrative, and I am sure I will not 'delete' all my efforts but continue with it, I believe I will fair much better if I follow what I know and love.

So, I would suggest to all those out there who are in a similar boat, to look back at what your really love and use that and the knowledge you have already gained pursuing your hobby, to build your portfolio of articles and blog posts.

Remember, the man (or woman) who finds a way to do what they love doing will never have to work a day.

Keep blogging!

Katie @ SM Workshop

Wow! That is a lot of subscribers! These are some great tips, I'm definitely going to have to give this a shot.
Thanks for sharing!

Dave

Now here's some ideas I can use. This is an excellent post and I'm going to check out your own site as well. Thanks for all the great information.

Mary Sayler

Great tips! Encouraging too. I've been trying to help poets and writers become their own best editors and, with a rather random approach, wound up focusing on new people. Since they're just beginning to write, they're still wobbly when it comes to editing and revising so are seldom ready for that level of professionalism. With your word about goal-setting, however, I realized I need to seek out people who have been writing a while and are already starting to publish. Thanks for giving me a clearer vision of my website and blogs.

Alex Wilson

The base tenet for a quality post is to have something worthwhile to say with a useful takeaway for the reader. Your post is the gold standard for how to do it right. Useful guidance with useful specifics. Huzzah!

Jeff

Some extremely good points in this post. Thanks for sharing!

Adesoji Adegbulu@MakeMoneyOnlineNg

Excellent! Excellent!! Excellent!!!

This is what I need for my latest project. I'm in dire need of subscribers. I will put what you said into practice.

One method I use presently is to paste my email subscription URL everywhere. It has brought me a little increase is subscriber base.

In Sept, I will guest post more often and give out free e-books too. This will definitely increase my subscribers and page rank.

Thanks love

Virtual Agent

Wow that is great! I wish I have the same situation as yours. I think I should be taking those tips into consideration and study if I get the same results.

Grow With Stacy

This is a really great guide! I've just created my first ebook. My next step is to use it as an opt-in for signing up for my newsletter.

I keep hearing more and more about the benefits of guest posting, this is something that I need to start looking into.

I couldn't agree more about the RSS feed subscription needing to be somewhere easy to find. I don't like searching through a blog to find it.

Mike

Truly amazing case studies post 🙂 Thank you very much for the tips, I will try to apply it in my case to improve the number of RSS Subscriber on my blog.

Web Marketing Tips

I think point No 3 and guest posting played vital role in this.

Peter J

I think i will have to initiate ultimate guest posting. xD – 7 to 10 posts a month at 3000 words, that is amazing; true devotion 😛

Sajith Anandan

Fabulous points. Free ebook page idea is the best method to increase the subscriber count.

In the same way, offer an incentive as guide, tutorial and news letter also helps to increase the sign up for subscription. These detailed points are an effective and result oriented. Thx for this helpful info.

Marko — Calm Growth

Hi Celestine

Since I often research self-help material, and I followed your blog before you began to grow rapidly, I noticed your greater involvement, especially at larger sites. I knew it was only a matter of time before you'll drastically increase the number of subscribers, and I just want to congratulate you… hard work paid off 🙂

Diane

Hi Celes
I just tried to follow this link ESPER: 5-Step Successful Goal Achievement Framework, but it's not working.
Cheers
Diane

Celestine Chua

Hi Diane, the link has been corrected in the post. Please try again! 😀

Diane

Hi Celestine

I'm just starting out with my first blog and this is great, because I've been in touch with my first guest who has written a book. So now I will go back through and make sure that when I introduce other guests, they too know what is expected of them.

Your tips are a fantastic help, especially putting in the RSS feeds and newsletter subscription, and also your free book idea, I really like this. I remember liking one blog site a lot and enjoyed reading their articles, but I couldn't find where to subscribe to it and I couldn't leave comments!! Needless to say I had to leave that site without signing up, and I was really disappointed.

When you say about the number of words in your article, is that excluding your graphs and pics? Do you always include pics in your blog articles? (I haven't been to your site yet, but I will after leaving my comments). Do you ever include videos?

I'm also looking forward to checking out your Goal setting Plan.
Thanks Celestine for this practical and helpful information, which I look forward to using.

Vijay

thanks Daniel for introducing the great person!!
She is a great inspiration for blogosphere.

Keith Davis

Hi Celestine
Lots of great info here.
Couple of things that grab my attention…

"Place your subscription link in a prominent spot" – mine is not very prominent so I need to take a look at that.

"Offer an incentive for subscribing" – got to get that eBook up and running.

Thanks for putting this post together, I'll check out your site.

Robert @ Techinfo-4u.com

A great post and lots of great advice. I agree with you on the guest post side of things, I managed to increase my twitter subscribers by over 100 hundred when a posted a guest post on this very site!

It takes the most time to do, but it works

Sheila Atwood

This is a really nice blueprint for getting more subscribers. It is one that anybody can put into action today.

You ebook page is a fabulous idea. Thanks for ebook cover generator.

You have done exactly what you teach about giving value in your guest posts.

Thank you

Lye Kuek Hin

Hi Celes,

As a fellow Singaporean, i am very proud of the achievements that you have with your blog. That really inspires me a lot to work hard on my blog.

The tips are practical and detailed. Guest posting is one that i will be focusing on for now. Thanks for sharing your experience.

John Hoff

Excellent article Celestine, and congrats on seeing all your hard work pay off.

Article marketing is definitely a powerful tool in driving traffic and subscribers to your site.

And thanks so much for the link to the free ebook cover maker. I've been looking all over online and haven't found one yet I like. I'll check this one out.

Onibalusi Bamidele

Really great post Celestine,

This post is spot on and so detailed and informative. One thing I also want to be doing effectively is guest posting. I have submitted over 210 guest posts this year, mostly to small blogs, and I have decided to stop guest posting on small blogs for now and give the big blogs a trial.

Setting goals is really very important and it is a good motivator that keeps me going and going right.

I also love your eight points about highly excelent bloggers and I will be making effective use of them from now on.

Thanks a lot for the great post,
-Onibalusi

jason

From what I can see guest posting is where it's at. I'm glad that you have an article that focuses on how to properly submit guest posts on your site.

Nima Heydarian

Which other websites did you write guest posts on?

Joel Libava

Celeste, Thank you for your fantastic tips. Question; I use Aweber for my enewsletters. Love it. I also have a feedburner op-in box. Is there a way to get Feedburner folks on my Aweber list? Love to do both, while still being able to track the feedburner subs. Thanks, The Franchise King, Joel Libava

Basant | Techno-Pulse

Detailed yet to the point. I never cared to grow my subscribers base but reading this story inspired me to go forward for it.

Jens P. Berget

This is an awesome story. I have only written one guest post and it was a few months ago. It was a very interesting experience, since I received a lot of comments and I received a lot of traffic from it (a lot more than usual).

But it was also a scary experience, well kind of. I knew that I had to write my best, and I didn't know what to expect. It was on a blog with fairly high traffic and all the other blog posts received at least 10 comments, what would happen to mine? What if I didn't receive any comments? I was thinking a lot about this before it got published.

I didn't think much about what to do with the traffic, but I had the incentive for them to sign up to my newsletter. That worked, although I didn't have the rss icon anywhere.

Web Marketing Tips

Well … if you are not having rss icon than believe me you are leaving money on the table.
Comments are closed.