How Do I Get a Domain Indexed?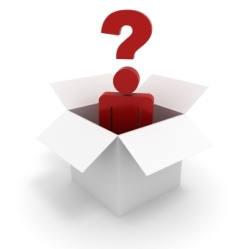 John asks:
I have some unused domains that I added to Google Adsense for Domains for parking, but I'm wondering how one gets indexed when all you have is a park page like that. For small sites is it better to put a custom park page with some content to get indexed?
First of all making sure that your unused domains get indexed by Google is a good idea indeed. Why? Because indexed domains are like wine, they get better as they get older. Basically the longer your domain has been included in Google's index (without getting penalized obviously), the higher the trust that Google will have on it.
Should you decide to create a website on that domain in the future, it will be easier to get good search rankings. Similarly, if you decide to sell the domain in the future, you will probably be able to charge a bonus for the age of the domain.
Now back to the central question: how do I get a domain indexed?
It is very simple: you just need to 1) put some content there, and 2) let Google know about it.
You don't need any special type of content to get your domain indexed. Even a simple message stating that your domain is for sale would be enough.
The second part is about letting Google know about your domain (which is now practically a website). How does Google discovers websites? By crawling the links on the web. If you want to get your site discovered and subsequently indexed, therefore, all you need is a backlink from a site that is routinely crawled by Google.
Here are some ideas to get that backlink:
link to it from your established website
post a comment on a do-follow blog
use forum signatures
submit an article to a directory
get the domain listed on a marketplace
That is it. Once you are done, wait a couple of days and search in Google for your domain name with its extension (e.g., yourdomain.org). You should be able to find it in the first page of results.
Browse all articles on the Q & A category
28 Responses to "How Do I Get a Domain Indexed?"
Turbo

Mixture of profile links in your link portfolio will also do a lot good in PR of your site.

Eryaman hali yikama

Very nice sharing. Thank you…

Aram

I have purchased a few domains, but didnt know what to do with them. I thought of selling them when I find buyers who liked the domain/s. Is it possible to sell them without indexing? I am a newbie and have no idea what I could do. Please shed some light here.

Many thanks,
Aram

Feroze

Hi ,
Does anyone know if i can submit my adsense for domain to the directories? Is it ok according to googles TOS or will i get banned?

Please reply if anyone knows right answer. Thanks!

Cijo

I will wait for a few days. Hope my domain gets indexed soon. Thanks for the great suggestions.

medyum

Thank You
Nice Article…

Pradeep Singh

One thing i think, also important is letting google know about your site by submitting to it. It will crawl and include your page if it has not done till then.

Topeljungle

Nice post! very interesting topic. keep on posting.

Harsh Agrawal

@Hesham best way is select a kyword and spend some 50$ by hiring any article writer to write article based on your keyword and make sure it should be SEO optimized…

Schedule your post 1/week.
And then let some backlinks come to your blog using Digg, delicious and few traffic from SU.

Use intrenal linking…
You have to make sure Google index all of your content, if it works…I'm sure…You can easily sell link at good price after some time…:)

paul

nice tips….how would a site which has not been indexed for a long time be indexed?

A static site which has some 40 articles and not been updated has been removed by google from their index? how to re index that site? Any idea? The site does not have backlinks.

KFS

Hi there,
Nice tips!
That's really help me as newbie in blogging.
Reply to your question: how to get domain indexed?
Indexing domain that means the domain will be shown or listed in Search Engine like Google,Yahoo,MSN…
So I think to get a domain to be shown, the domain owner need to add their domain URL to those search engine resources.
It's just my small comment,please edit me if i'm wrong!
Thanks for your great post!

KFS-KhFreeSoft

Damilik

This is for indexing a domain. How do you get a page indexed?

My blog is not that friendly with Google as dailyblogtips blog. Google indexes your blog post the same day. Google hasn't indexed some of my old blog post.

Phamen

I put just create a page or two for your domain then submit it to Google, it will be better than parking it with Adsense for domain.

If you park your domain with Adsense for domain, it will not be indexed even you search exactly your domain.

Mohamed Beshr

thanks for you

joe comp

its depend for the content.but its good to be true

Steve Hall

I think it would be of some advantage to get the domains indexed.
I have found the most effective way to do this is to put up some content in an article directory, a do follow blog or a forum, with a link back to the domain.
I would definitely put some content on the domain prior to doing this.
I would also create a sitemap and submit it to Google.
I have a few different domains and I have got them indexed within a few days by following this procedure.
Who knows what you might want to do with them down the track, and if Google already knows about them then you are a bit further along the way.

bloggeronline.net

nice tips for me

Tom | Easy Googler

Is it better to just do Adsense for Domains or to create a page or two of related content? What do you guys think?

Also, when I used Namedrive, I could search for my domain name in Google and it would show up without any backlinks… However, for all of my "Adsense for Domains" names, even searching the exact domain name with the extension doesn't yield my domain in the results.

Do any of you with Adsense for Domains have your names indexed in Google?

ramiro

great post

Jada

I have a couple of questions: How do you submit an article to a directory, and how do you get a domain listed on a marketplace?

Star Wars Book Reviews

@Daniel- Thanks for following up on that… perhaps I will have to look into using Adsense for Domains now.

Daniel Scocco

@Star Wars, still "AdSense for Domains" will put some content there. After that you just need to follow step 2.

Star Wars Book Reviews

Thanks for reply Daniel. Yes, I understand that, but John said he was using "Adsense for Domains" which I thought took away your ability to edit the content of the page… i haven't parked any domains with them, so I don't know for sure.

Daniel Scocco

@Hesham, it is not easy to earn from unused domains without putting some work in them.

Unless you have very good domains that will receive type-in traffic.

Daniel Scocco

@Star Wards, parking a domain is just a way of putting some content (with third party ads) on the domain.

puslapiu kurimas

All these variations is enough for indexing your domain, but this is not helping for high ranking.

Hesham

I have a few unused domains, I was lazy to think about them some how because no plans! but after your post I will think seriously about it!

getting my domains indexed is quite easy for me because I can link back using any of my working domains, but the question is do you think this way can help me earn money from those domains?

I mean.. this kind of domains needs traffic, so.. with out traffic how can I earn from unused domains if I will not welling to spend more time and effort working on enhancement?

Star Wars Book Reviews

Daniel,
I am not sure that answered his original question, which was for a "parked domain". Or am I missing something here…
Comments are closed.