Hierarchy of Successful Bloggers
When you started blogging you probably felt like the "new kid on the block," right? Even if you have years of experience on a certain field, you are just "another blogger" until people actually start reading your stuff, linking to it and talking about it.
Where do you go from there? Ideally, upwards!
Recently I came across a post titled "Hierarchy of the Successfully Self-Employed" (outstanding blog, by the way) where Tony Clark lays down 4 levels for self-employed people. The levels are: freelancer, contractor, expert and guru.
Often times, bloggers are also self-employed, therefore I decided to adapt his hierarchy slightly. Below you will find the 4 levels of the "Hierarchy of Successful Bloggers." Bear in mind that it applies mostly to blogs that focus on timeless content (advice, how-tos, tutorials), and not to technology-humor-celebrity blogs like TechCrunch or PerezHilton.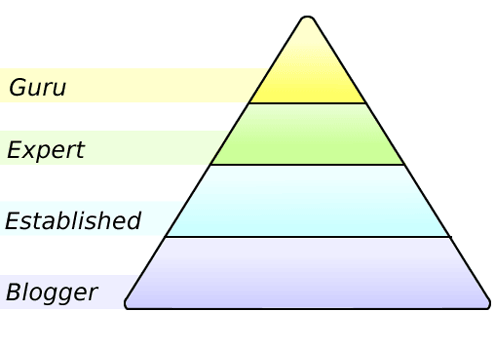 Blogger. People that are just getting started, or that have been blogging for a while as a hobby and have no particular interest of making it a more serious gig. They make little or no money from their blogs. Examples include most bloggers using free-hosted platforms.
Established Blogger. People with a good exposure around the blogosphere. At this level bloggers start to earn some money (over $1000) and to attract more readers. Examples of established bloggers: Maki and John Wesley
Expert. Bloggers that lead a niche and make a solid monthly income from it. Their opinion is highly influential, and their blogs have very active communities. Examples of experts: Brian Clark and Loren Baker
Guru. This type of blogger has a huge audience. Gurus usually reach other media like conferences and mainstream newspapers. Money is not a problem anymore. Examples of gurus: Aaron Wall, Shoemoney and Darren Rowse.
This hierarchy is obviously transitional. Many established bloggers will become experts in the future, just like experts could become gurus.
What about you, where are you located in the hierarchy? More importantly, are you moving in the right direction?
Browse all articles on the Blogosphere category
31 Responses to "Hierarchy of Successful Bloggers"
Kang Asep

I still a new blogger…and i want to learn more from above me

Nesskamma

Snx for you job!
It has very much helped me!

David Airey :: Graphic Designer

I read Tony's great article, and thought I'd comment on yours too.

I'm still just a newbie when it comes to blogging (started last October), but I've seen a steady growth and have hooked up with some great people along the way.

It's all about the relationships for me, and of that they are many many great ones to be had.

Ciao for now, Daniel.

William Profet :: OneJobTwoSalaries.com

I am still just a Blogger. I have started my blog on 22nd of June and this Sunday my experience will become one month total. :))

Joe

I'm all four.

Guru. I never fail to outwardly scream my guru status to everyone and anyone.

Expert. Yes, I'm that too. And in most fields of expertise.

Established. Yes, I'm very established, but I honestly feel that I'M MUCH MORE OF A GURU!

Blogger. Well when it comes to the more trivial things like the traffic, the money, the web technicals, the writing skills, the free template, the sparse posts, the number of subscribers, etc., I suppose I could sort of be classified as such.

Just kidding of course. Actually, if you look hard enough at the diagram, you'll see that I am the tiny squash-shaped object separated off to the side labeled "Vain Sarcastic Idiots that Don't Try".

Number of websites annoyed by me in the comment section: 002937 and counting.

GoddessCarlie

Right now I'd consider myself just a blogger as my blog is fairly new. I think I'm going in the right direction, however. One day guru I hope!

Community Building Blog

I guess I would be right at the bottom of your pyramid. The fact I have no advertising on my blog certainly wont help me break through to your next level with its $1000 a month revenue stipulation!

– Martin Reed

Rich Minx

I have left my Blogspot days well behind me but I have yet to soar to the heights of PickTheBrain.

Perhaps, using flight terms, I am in Economy Plus, between Economy and Business Class. I have slightly more legroom but no one serves me champagne.

Daniel

Majo, the money part does not refer to direct income exclusively.

Seth Godin is probably another good example of guru, and he makes no money with his blog.

MajoTajo

I don't know but I somehow disagree and agree. Who made up professional blogger word? Or even Expert or Guru ? Yes we can put those people in those categories but those categories can't really have limit. People still can be professional bloggers yet gurus but make $500 from blog, that depends on how their blog is monetized.

Anways according to your hierarchy I am between Established and Expert LoL. I feel flattered.

Check my blog if you get time, I also posted "something about professional bloggers"

V. Neely

Hmmm, I guess I still rate as a regular ol' blogger…

Daniel

Amanda, yeah I agree that some of these fancy terms are clichés, but I also believe that if you want to have success as a blogger you must somehow become an expert on a field or niche. That was the point of the post.

Maki

Thanks for the mention, Daniel!

Amanda

I dont know where I'd be located I guess its my own thing :\ I hate cliques.. I feel like these things are all cliques

Articler.com – Free Articles Directory

I hate the guru word. But they are gurus. Nice Blog Daniel.. congrats!!;)

Jamaipanese

I'm somewhere between blogger and established.

my blog is a mixture of personal and professional, it is monetized buy my earnings are not up to established level as yet.

Rishi

@Arpit Jacob, Maybe Hotlink protection thing.

Arpit Jacob

I guess I have long way to go :). P.S. for some reason that picture didnt show up in my RSS.

OneYearGoal.com – Make Money Online

I'm on my way to Guru. Join me 🙂

Celebrienne

I have a celebrity blog. Does that mean I can't be a guru now? 🙁 Damn it! I'm going to make another blog and call myself a guru. I soooo rule. 😀

Rhys

I'd like to think I'm established really. I'm semi personal/semi news/semi tutorials on my blog, but I earn a bit of money.

However, at 5 years, I have been blogging longer than most of the Gurus 🙂

vijay

hmm. Daniel I will rank myself as Guru.. 😉
There is no point ranking by yourself. When someone other ranks you then its the true ranking! Like you ranked Darren, Aron as Gurus..

Why I am more satisfied is that I am climbing the ladder in right direction in right time as what you mentioned in your last sentense..

Daniel

Yeah I was not sure about Brian. I placed him as an "expert" because I have not seen him in conferences or magazines. But he is very close to a Guru that is for sure.

Steve Pavlina probably is a guru also.

Ramkarthik

Daniel, I can surely say that I belong to the blogger group because it is the least. Maybe it will take few days to become established blogger. I thought you will come in expert and Brian will come in Guru. And what about Steve Pavlina(one of my favorites)?

Rishi

Daily Blog Tips ranks 7 when searched for BLOG TIPS whereas Copyblogger is nowhere on the frontpage, so DBT is a Guru blog!

Daniel

I don't consider myself even an expert, let alone a guru haha.

I think I am on the "Established Blogger" category, and probably so do you Rishi.

Rishi

Another example to be added in GURU category – Daniel Scocco 😛 !

I don't know where I am on the pyramid, I earn $250 to $500 from my blog … can anyone tell where I am? 😀

Daniel

Todd, that is not a problem. Just make sure that you are making improvements daily and you will become an established blogger in no time :).

Todd

My blogs only a few weeks old so still at the bottom of that pyramid 🙁
Comments are closed.