When you started blogging you probably felt like the "new kid on the block," right? Even if you have years of experience on a certain field, you are just "another blogger" until people actually start reading your stuff, linking to it and talking about it.
Where do you go from there? Ideally, upwards!
Recently I came across a post titled "Hierarchy of the Successfully Self-Employed" (outstanding blog, by the way) where Tony Clark lays down 4 levels for self-employed people. The levels are: freelancer, contractor, expert and guru.
Often times, bloggers are also self-employed, therefore I decided to adapt his hierarchy slightly. Below you will find the 4 levels of the "Hierarchy of Successful Bloggers." Bear in mind that it applies mostly to blogs that focus on timeless content (advice, how-tos, tutorials), and not to technology-humor-celebrity blogs like TechCrunch or PerezHilton.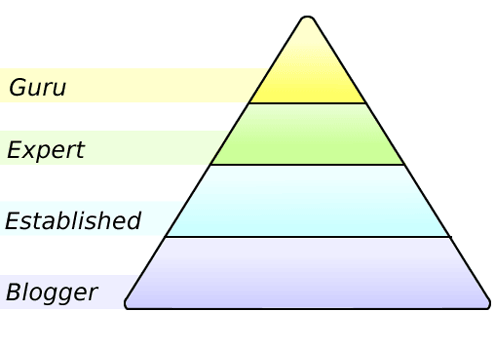 Blogger. People that are just getting started, or that have been blogging for a while as a hobby and have no particular interest of making it a more serious gig. They make little or no money from their blogs. Examples include most bloggers using free-hosted platforms.
Established Blogger. People with a good exposure around the blogosphere. At this level bloggers start to earn some money (over $1000) and to attract more readers. Examples of established bloggers: Maki and John Wesley
Expert. Bloggers that lead a niche and make a solid monthly income from it. Their opinion is highly influential, and their blogs have very active communities. Examples of experts: Brian Clark and Loren Baker
Guru. This type of blogger has a huge audience. Gurus usually reach other media like conferences and mainstream newspapers. Money is not a problem anymore. Examples of gurus: Aaron Wall, Shoemoney and Darren Rowse.
This hierarchy is obviously transitional. Many established bloggers will become experts in the future, just like experts could become gurus.
What about you, where are you located in the hierarchy? More importantly, are you moving in the right direction?