Help to Set A World Record: Download Firefox 3
A couple of weeks ago we run a poll, asking the readers what was their favorite browser. Here are the results: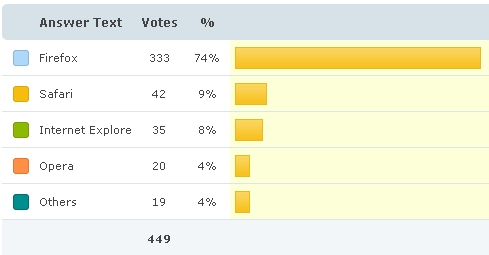 As you can see the vast majority prefers Firefox, but other browsers still had a good number of fans each.

Anyway, if you are not using Firefox yet and want to discover what the fuzz is all about, today you can do that and help to set a world record at the same time.

Today is the official launch date for Firefox 3, and the Mozilla foundation is trying to set a Guinness world record for the software with the largest number of downloads in a single day.

If you never user Firefox, I am sure you will love, and the version 3 is the fastest browser I have ever seen!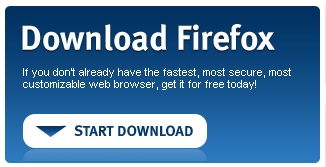 Browse all articles on the Software category
37 Responses to "Help to Set A World Record: Download Firefox 3"
karthik sridharan

Firefox is extreme safer one. I am using version 3 for the past one month. Then and there you have to update some addons and plugins which will make our browsing more comfortable.

Transcriptionist

And the alt tag for the download image here is "downloadfirefox1" ?

BloggerNewbie

Well, I've never even heard of FireFox but I'll give it a try! How long has this browser been hangin around? I'm probably afraid of the answer – it may show that I live under a rock 🙂 I have been with IE for "100" years so…

Daniel Scocco

@myBrainfart, I find FFox faster than those, and it has a collection of plugins and addons that is priceless.

TechnoDiary.com

It is the very first attempt for setting such a world record. No matter what the volume of downloads would be, the record is gonna be there in guinness.

~Sahil

Melvin

So how can I set a record then? 😉 I'm a firefox user since birth…

Ari Herzog

Is it me, or are these comments more reminiscent of a Twitter exchange than a blog?

myBrainfart

Why is firefox so much better than the others? It's obvious why it's better than IE, but what about Safari and Opera?

David Herbert

I did my part. I downloaded the new web browser a couple hours ago.

Matt

If download is proving difficult you can get if from download.com

Sridhar Katakam

Gmail feels much zippier now in Firefox 3.

Dan Cole

This reminds me of roller coaster rides… The line is a mile and a half long!

SEO Genius

You can download firefox now! its all go!

Juraj

Sorry, I didn't know it would start at 17:00 UTC 🙂 Now the Firefox 3 is already alive!

team ray

thanks for the heads up

Juraj

I'm a big fan of Firefox and I have also added one of the download day buttons on my homepage to help manage the world record and spread this wonderful browser.

Now I'm sad that the Firefox 3 is still not available on the download day. If they were not sure it would be ready till today, they could (should) set the release date a few days later (especially since they wanted as many users to download it on one particular day as possible). I think it's a shame.

Sridhar Katakam

For add-ons that don't work w/ the latest version, you can try

Supermance

can't wait for firefox 3 !, but i have to re-install my add ons again later 🙁

Anthony

The Firefox 3 attempt at the record does not begin before 18.00 British Summer Time, 17.00 GMT. Don't download before then and do it within the next 24 hours.

Glen Allsopp

Most of mine are working

The ones that aren't include:

– Delicious (I'm sure they'll update this)
– Digg this button
– Smart Digg button

richard

BE AWARE!!

I have been using the beta version of ff3 and downgraded to version 2 after a month or so. This was about a month ago.

Reason: a lot of addons were not working under ff3beta

I have no idea if this is solved, but I doubt it.

Richard

Glen Allsopp

They haven't shown it yet but you can use this link:

Vishal

I am ready to download it as soon as it hits the internet. I have even pledged to download it. As far as your poll is concerned I wasn't able to vote for it, don't know why.

Anyways, we gotta set a record.

Tony

Firefox is the absolute greatest browser, hands down.

Anil Gupta

Firefox is my favorite browsing client. And I'm hoping that Firefox 3 will be more fast than its current versions

Daniel Scocco

@SEO Genius, for plugins I don't know, but I am sure Firefox 3 will be much better than FF 2.

SEO Genius

Well i already use firefox 2.0 so i may as well go to 3.0 hopefully it will be as nice and smooth as 2.0.

Do you know if all the plug ins work ok with 3.0 for example seo quake?

_ITALIA_

Firefox3's pledge-board already has more than 1,559,696 people that have downloaded or will download FF3 today! Looks like a record-breaker to me <=

Daniel Scocco

Hmm for me also. I guess it is a matter of hours before the download becomes available.

Glen Allsopp

Hmm as soon as I click on download it offers me to download version 2
Comments are closed.