Let's put this straight: having an opinion can be the secret sauce for a popular blog.
I am not saying that this is an essential factor. There are several styles that work online. Some of them are more neutral, where the author drops his personal views only occasionally, and overall he keeps a balanced tone and asks the perspective of other people often. That is more or less what Darren uses on Problogger, and the one I aim to as well.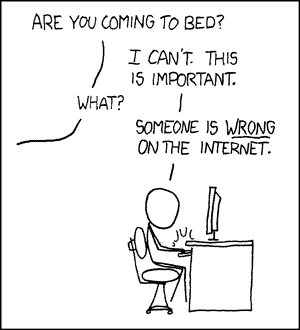 Having a clear and strong opinion about things, and expressing it on your blog, however, can be equally (if not more) effective for generating traffic and buzz. Yet very few people use this style. I wonder why.
Here are two examples that illustrate my point: Loren Feldman and Victor Franqui.
Loren Feldman is the guy behind 2023media, a video blog that cover all sorts of Web 2.0 topics, often in a satirical manner. Loren does not have a problem if he needs to kick things (to avoid saying something else) around. If he does not like something or someone, he will spill it out as raw as he can. Through out his videos he generates a great deal of controversy, and he might also gain some haters along the way, but as a result he is becoming one of the most popular video bloggers around the web.
You probably remember the discussion about the A-list sometime ago right? Check out what Loren thinks about it:
Victor Franqui, also known as Vic, is the author of Blogger Unleashed. Although he started that blog only some months ago, he already has 2,400 RSS subscribers, and it is not rare to see some of his video posts with over 100 comments. The reason? Vic is very straight forward about his opinions.
Here is a video post where he discusses why people subscribe to RSS feeds:
I am not saying that I agree with all of their opinions (in fact I disagree strongly with some), but I can't deny that they have cojones for expressing them so clearly and so strongly.
Of course such a strong opinionated style is not for everyone. You must have it inside you, else it would just be evident that you are faking it. The problem is that many times people that do have strong opinions refrain from expressing them because they are afraid of what other people might think.
Another point to notice is that perhaps it is easier to communicate opinions over video than it is with writing, so video bloggers might have an advantage here.
What do you think about it?
Image by http://xkcd.com/