Guide to Building Useful Web Applications
The HTML5Rocks site recently published a guide to building web applications that is quite useful for anyone interested in building websites and online projects. It's called Field Guide to Web Applications.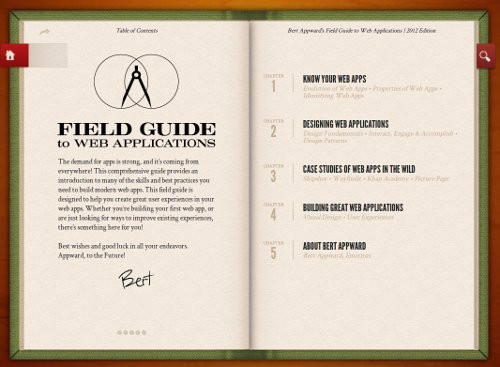 The guide isn't about the technical aspects but rather about the best practices and usability guidelines that you should follow. There are some real case studies covered, though. Here's a quote:
Critics of the web app are quick to point out one of the main drawbacks – web application users must have an internet connection to get stuff done. Given that the web is not accessible all the time and everywhere, users cannot be fully reliant on web applications to do their work. Or at least, that has been the assumption.

The future of web apps is about flexibility – having all the benefits of performing tasks over the web, while also being able to perform those tasks offline. Offline support is already possible – HTML5 offers features like application cache and client-side storage (e.g., local storage, indexed databases) so that your application can run even without a network connection.
The guide itself is also an interesting example of what can be achieved today with HTML, CSS and some JavaScript, so check it out.
Browse all articles on the Web Tools category
5 Responses to "Guide to Building Useful Web Applications"
Sohel

I like your post. It's very helpful. Thank you for your shearing.

Bill

I like the HTML version. To spice up your web applications, i think you should add some frills and fancy stuff such as javascript, image-based buttons and DHTML.

Tim

I think its a great example of previously flat content (pdf) being presented in a more dynamic form. (The guide has animation, is provides live google results when searching).

Very reminiscent of the iCloud site. I think the opportunities of html5 will herald a whole new realm of niche content – nano-niche's, as such. Chris Coyier is a great one for such content: quotesondesign.com..

I'm inspired! Ta for the heads up 🙂

Melvin

The page itself where the guide is located looks cool (HTML 5ish). Although I'd still prefer a downloadable PDF version for this so I can still read even when I'm not connected to the internet.

Meraj Khattak

Thanks for sharing this. This is a very helpful and good resource.
Comments are closed.