Google Trends for Websites: I Like It
If you have been following the tech news lately you probably know that Google decided to extend its Google Trends to website traffic as well. That is, you can now use the tool to gather traffic data about any website on the web.
The search community was divided regarding the accuracy and usefulness of yet another tool for this purpose.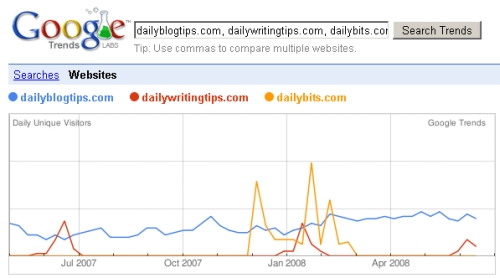 Personally I am liking it. As you can see from the image above, it even captured the Digg spikes that we had on DailyBits. The traffic for DailyWritingTips should be about half of what DailyBlogTips gets, but overall it looks like as accurate as Alexa or Compete would get.
There are also good chances that over the time Google Trends for websites will become even more accurate. No other company, after all, disposes of the assets that Google does.
Have you tested the tool? What do you think about it?
Browse all articles on the Web Tools category
20 Responses to "Google Trends for Websites: I Like It"
medyum

Don't care for it. Google Trends can't calculate the info on my site. Guess it's still too small. Perhaps after I win Blogging Idol my site will register, but until then I stlck with Alexa.

dimaks

Great tool.. but they forgot to put the figure scale on the Y axis 🙂

Grant

I like it. Gives me a nice, simple, and hopefully accurate view of how my site has steadily grown over the past two years.

moserw

I am all for Google. It will be very useful too. Just that all blogs and sites are not yet featured. Wish it was all encompassing to make it perfect.

Hendry Lee

At least for one of my quite popular site, Google only picked up the data earlier this month. The traffic has been stable for a year.

Grace

I can't wait to check it out! I'll be over there in a few seconds. 🙂 Thanks for sharing!

TechnoDiary.com
Todd Andrews

Its a nice little service, but nothing too revolutionary. I am concerned a little about the privacy, but I suppose anything on the web is fair game.

SEO Genius

Grr i cant edit my post, sorry for another post just been searching for websites in the same niche as mine and i see that it shows the top searched words on google for finding that website. I am guessing thats what the right column is for?

Thats great if it is, it means i can try and target the high traffic words using this data as well as other tools. Hopefully making my overall choice more accurate.

SEO Genius

Thats great news, well i will definitely be using this in the future. I have just tried my website and there are no trends as of yet 🙁

Daniel Scocco

@Everyone, hmm, I thought they would be reporting data for most sites. Daily Bits is not that big after all.

Now I know though, thanks for the feedback.

Mike Edwards

I've been blogging for about 4 months, and it is a labor of love. I get about 30 to 40 hits a day, which is pretty cool.

I love this site for blogging tips. I am trying to build traffic and this site is extremely helpful.

My blog provides career advice and even has a forum, but it is soooo tough to get readers.

Thanks!!

Mike

Winning Startups

Don't care for it. Google Trends can't calculate the info on my site. Guess it's still too small. Perhaps after I win Blogging Idol my site will register, but until then I stlck with Alexa.

Rajaie AlKorani

Still no data available for my site, but I'm working on changing that 🙂

Mushfiqur Rahman

If Google could tap into the countless Analytics users out there, Trends might become the next big thing. Alexa is next to inaccurate. So, lets wait and see what the Big G is up to.

Sad, but my site isn't there yet. I use Analytics and would happily share my data. 😛

David Shaw

I dont have any trends…

Hopefully that will change soon!

Sweepstakes

Neither is mine, although we get a good amount of traffic. I wonder how they decide to include some sites and not others.

Transcriptionist

Mine is not yet in on Trend!
Comments are closed.