Google Now Lists the Top 1,000 Websites On The Web
Curious to know what are the largest websites on the web? While there are some lists around, none of them was regarded as accurate, and Google apparently wants to fix this. It just released its own Top 1000 Websites list.
As you can see below, the list shows the category of the website, its number of monthly unique visitors, page views, and whether or not the website accepts advertising.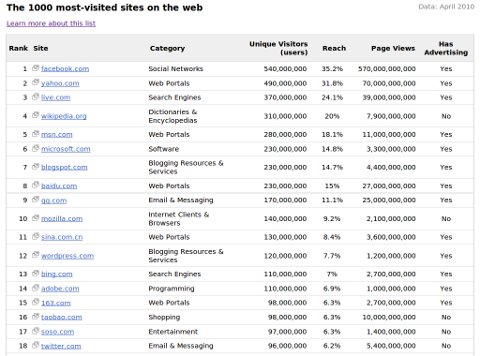 The announcement was made on the official AdWords blog. In fact this list was developed to help advertisers target big websites that accept ads.
According to Google itself "the list excludes adult sites, ad networks, domains that don't have publicly visible content or don't load properly, and certain Google sites," so keep this in mind.
Here are the blogs I spotted on the list:
#246 – The Huffington Post – 12 million Uniques
#434 – Engadget – 8,1 Million Uniques
#540 – Gizmodo – 6.7 Million Uniques
#696 – Mashable – 5.6 Million Uniques
#850 – TechCrunch – 4.7 Million Uniques
If these numbers are accurate they reveal some very interesting data. For example, Mashable is as big as PCWorld, one of the oldest and most established tech publications. Similarly, Engadget is as big as the Washington Post (on the web only, obviously). And The Huffington Post as big as Digg (counting uniques only, not page views).
I was hoping to see Daily Blog Tips around the last positions, but no luck…!
Update: Here is where Google says the numbers are coming from:
Traffic statistics are estimated by combining sample user data from various Google products and services and opt-in direct-measured site-centric data. In addition, site owners may opt-in direct measured Google Analytics traffic statistics to provide a more accurate measure of their site traffic. Sites that have opted-in direct measured Google Analytics data are indicated through the footnote "Google Analytics data shared by publisher".
Browse all articles on the SEO category
32 Responses to "Google Now Lists the Top 1,000 Websites On The Web"
Siju George

Very interesting. I though only Alexa was the source to find biggest websites.

John Paul

No wonder facebook make to the number 1 .Hope see my own here soon .

Deena

Oh, and regarding you not being there, well, you just might make it… It is a couple of weeks ago that I started receiving your emails and also those of another blog expert. Today I unsubscribed from the other one and chose to continue receiving yours. Because yours is not annoying, not sales-pitchy, just interesting and informative. Keep at it! Thanks!

Deena

So interesting! Thanks for sharing this with us.

Scolex

WOw! Those top 1000 are indeed earning a lot of money from unique visitors and page views. I also foresee this blog to become one in the list of 1000 maybe in the next release of top 1000.

Still continue giving more valuable tips and you will rock the entire web sooner or later!

Damian Smith

Nice find! Really is interesting to see the stats of all the top sites. I'm sure dailyblogs.com was in at no. 1001!

Its surprising when looking at some of the results, seeing some fairly unknown companies near the top then some really massive ones low down. Im suprised Google excluded themselves from this as well. Im going to hazard a guess that they would have been no.1 far a large margin. Also quite impressed how high up bing is, seems to have caught up with the big engines quickly.

Alex

Google is very hard to understand, I am still not sure on which bases Google give rank to the sites. I am searching answer for this question around the months now + I post my question on many forums, no one able to answer. :S

Julius

I think the technology-related blogs and sites still dominate the list. Just my opinion.

Very interesting share.

Aditya Kane

Mashable is as big as PCWorld is truly an eye opener for me. Do you think the older approach to publishing is being phased out? Apparently even Newspapers are suffering.

junthit lee

Wow.. How they did without all in one seo pack plugin, hehe.. 😆

Web Marketing Tips

But I think there are lacks on Google list …

As it simply coming from Google or brand name of Google are added to it does not make it full proof.

Umesh

They don't have Google and Youtube?? To bad. LOL

Web Marketing Tips

When they are going to update this list again … on quarterly basis or any time frame.

Any idea ??

Tom | SEO Services

Those are some massive numbers! The thing I noticed is that almost all of the websites on that list give their visitors a reason to come back on a regular basis.

Web Marketing Tips

Yes that is the THUMB RULE my friend of internet world.

Mike Roosa

No luck for me either! 🙂 Did they say how they came up with these numbers?

Daniel Scocco

I posted an update regarding to this.

Eric C

How does this compare to alexa?

Daniel Scocco

Considering it is coming from Google I would guess the top 1000 list is more accurate than the one you'll find on Alexa.

As for sites above the 1000 position, you only have Alexa as far as rankings go. For traffic estimations you can try Compete and Quantcast.

Roshan Ahmed

Oh, that's cool! Now I guess there would be tough competition between websites to get into that list and also the websites which are already listed would try to get on top! But where is Google in this list?

I can't believe FaceBook is at the top, higher than Yahoo or other sites. Can recent privacy issues bring them a little down?

Angel

Daniel,

You have an Alexa rank of 4852 so, maybe you can enter on that list before you think.

You have 350k Unique visitors so you only need to multiply this by more than ten times 🙂

Debojyoti

Alexa ranks are much inflated and biased towards Internet related sites. Never go by Alexa ranks.

DBT is big but not huge enough still. But I am sure the way Daniel is dedicated to DBT, it will reach the charts sooner or later.

Sujith

Hi, Daniel My thought was also same as of you. I was searching DBT but .. Hope will be in the next update.

Daniel Scocco

You got be kidding :)?

Roshan Ahmed

C'mon you've got high rankings on Alexa! If you could be in top 5,000 then you can be in 1000 by next time.

Web Marketing Tips

Yes we can make it Daniel … yes we will.

BloggerDaily

Wow.. easier for me to find big sites as resources. This is awesome. And thanks Daniel for telling this.

Work hard and DBT might be listed later on =)

Web Marketing Tips

Yes we all wish for that …

Angel

Mine is not either in that list. :):):)

I don't understand why Google sites are not listed. Google likes mysteries.

And thanks, just waiting for 10 million list to see if I am there.

Roshan Ahmed

I'll be there if it lists 12 million. I beat you 🙂

Josh Garcia

Hey Daniel,

There are some wild numbers on that list. Thanks for posting it!

Have a great weekend!
Josh

Dev | Technshare

Hey Daniel,

Mashable = 5.6 million uniques. That's really awesome stats.

Hop your blog will get in the list ..~~ next time.

Thanks for sharing this top 1000 websites ;).
Comments are closed.