Google Now Displays Complete Backlink Data For Your Website
There is a big change in the Google Webmaster Tools. Historically Google only showed a sample of your backlinks (i.e., 10% or less), so webmasters had no way to know how many backlinks their websites had according to Google.
People argued that this was a measure to prevent people from trying to reverse engineer Google's search algorithm.
I was reading Search Engine Journal yesterday, however, and I discovered that Google just changed this feature. If you log into your Webmaster Tools account now, under the "Site Analysis" and "Links to your site" section you'll find the complete backlink data for your website.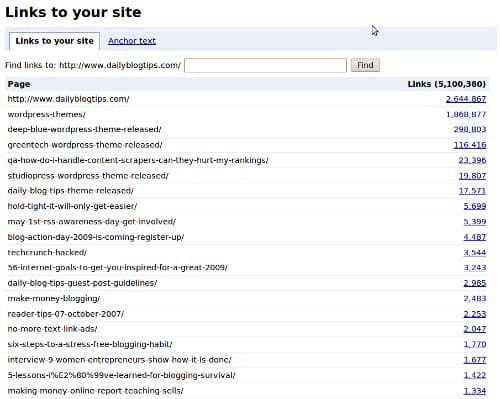 I remember that before this change Google was reporting around 500,000 backlinks for DailyBlogTips.com, and now it reports over 5 million (as you can see in the screenshot above). You can also see which pages are getting more links, and even export the whole thing as a spreadsheet.
I think this is an important change for two reasons. First of all it will help webmasters understand where their backlinks are coming from, and how they affect the search rankings of each page. Secondly, this change also signs that Google is becoming more transparent regarding how it indexes and crawls the web.
Browse all articles on the SEO category
44 Responses to "Google Now Displays Complete Backlink Data For Your Website"
Moyo

Can someone help me with this…is it worth paying for backlinks? I paid for some backlinks, and I don't seem to get any notice that my site has been linked to. What's wrong here?

If I may ask humbly, will anyone be interested in giving me a back link and a site review? I have tried different things to create exposure for my site, but it doesn't seem productive. I just think I should just bluntly ask for anyone's help!

Thanks in advance

David

It looks like Google has once again changed. In my Google Webmaster Tools account, the "Links to your site" page does not look like the image in this article. In fact, only the top 101 domains are shown.

Diving Philippines

Wow awesome bunch of backlinks ,could you just donate some to my site LOL .

Congratulations Daniel your hard work are worth it .Thanks for sharing this info anway .

Sudip Das

Ok so the big daddy have changed something in the link section, but I still don't get it – number of links shown on links page is far more greater than you could using link:domain.com search on Google. If by some miracle those links were actual backlinks I would have wrote Google a love letter or something

Anybody ? Seo masters or webmasters can you please clear my doubt

Sudip

trandung

Did you write this post just so you could show off how many links you have? hahaha Great tip on using Google Webmaster Tools, it is about time they changed the info that they returned so we can stop using scripts that keep screwing up!

Voeding

Yes, i like this way. It show any link do Follow or No Follow means this is good for me. We can analyze for better result.

Jason Davies

It's about time to have the full information straight from the source and not have to guess about it anymore!!
Thanks for this update! i've wondering about this for a while.
Comments are closed.