Google Now Displays Complete Backlink Data For Your Website
There is a big change in the Google Webmaster Tools. Historically Google only showed a sample of your backlinks (i.e., 10% or less), so webmasters had no way to know how many backlinks their websites had according to Google.
People argued that this was a measure to prevent people from trying to reverse engineer Google's search algorithm.
I was reading Search Engine Journal yesterday, however, and I discovered that Google just changed this feature. If you log into your Webmaster Tools account now, under the "Site Analysis" and "Links to your site" section you'll find the complete backlink data for your website.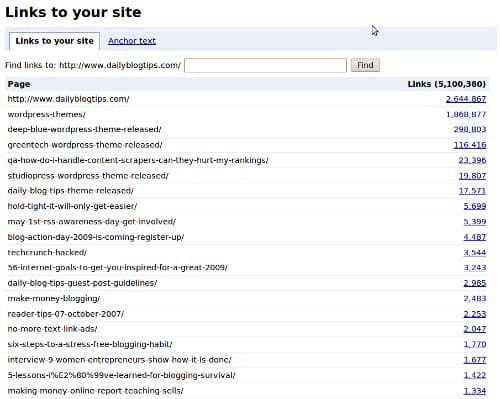 I remember that before this change Google was reporting around 500,000 backlinks for DailyBlogTips.com, and now it reports over 5 million (as you can see in the screenshot above). You can also see which pages are getting more links, and even export the whole thing as a spreadsheet.
I think this is an important change for two reasons. First of all it will help webmasters understand where their backlinks are coming from, and how they affect the search rankings of each page. Secondly, this change also signs that Google is becoming more transparent regarding how it indexes and crawls the web.
Browse all articles on the SEO category
44 Responses to "Google Now Displays Complete Backlink Data For Your Website"
Web Marketing Tips

Now we will have all the details and this one is more reliable.

This one includes all links whether this one is no follow or do follow.

Brad

Did you write this post just so you could show off how many links you have? hahaha Great tip on using Google Webmaster Tools, it is about time they changed the info that they returned so we can stop using scripts that keep screwing up!

wptidbits

My site does not have not much difference anyway. Since last week i updated adding new posts, but still backlinks are like that. Maybe they needed time to update the value of backlinks. Then i will wait and hope they'll increase in another week. Thanks for the info.

Shawnsey

Nice now I can see if some of my thousands of readers are actually talking about my blog. They never seem to comment but just read what I have to say. Im hoping this can show if they tweet about it though!

Gunther

I am not entirely sure of the situation as a whole. For the last weeks I worked on a redesign of my website, so I didn't pay attention to the backlinks. When I logged in yesterday I saw a massive increase in backlinks (now ranging in the almost 30,000s). Yet when I downloaded the 'whole' data as a excel sheet, I only get up to several hundreds backlinks. the chart doesn't even reach the 1,000 mark. So, where are the tens of thousands of links coming from?

Steve

I don't see the change either. I still only see 130 of 11,130 external links for one of my sites. Too bad link:mysite.com doesn't return them all.

Eric C

My google webtools now reads: No data available.

This of course goes against both google analytics, and my webtools stats from a few months ago. Maybe still bugs in the system?

Keith Davis

Hi Daniel
Key words here are green and envy.
5 million!
I thought that I was doing well with 5 thousand.
It's a great feature in Webmaster tools.

Dean Saliba

I still can't see it. :/

Nabeel | Create Your First Website

Yeah I think this is a very welcome step. Although we could see our backlinks with site explorer, but now we can see it through Google Webmaster too.

Kindest,
Nabeel

House of Onika

Hi Daniel,

Should the site be verified first before we get to use the full feature of the webmaster tool? We realized ours is not yet verified. We can't seem to find the "Links to your site" feature.

All the best.

Grow With Stacy

Thank you so much for sharing this! I really have so much to learn about google analytics.

thebloggingrobot

Thanks for pointing this out. I just got webmaster tools recently, and this will be very useful. Thanks.

Brandi Belle

I don't get it.

Can't we just use yahoo site explorer or any software to find backlinks to our own site?

If this could find backlinks on competitors I see how important this is but on our own site?

Tia

I'm surprised – I didn't know I had as many back links as I do have. I wonder why there is such a significant difference in these and the ones reported with siteexplorer on Yahoo!.

In webmasters, it shows 26,000 links to my site, and Yahoo!'s site explorer shows less than 10% of that.

Seshu

Um, I am not seeing this. I get to "Links To Your Site" and don't see any options to view backlinks. Does a site have to have a minimum number of backlinks before it will show them on the page?

Dev – Technshare.com

Thanks for sharing the great news daniel.

and 5 millions links, that is awesome !!

~Dev

Web Marketing Tips

That is the result of his sheer hard work and strategy.

TODHD

I have noticed this as well by logging into my Google Webmaster account

Kelli @ 3 Boys and a Dog

Thanks so much for this. Now if I can just figure out what it all means and why yahoo shows TONS more links in than google does, then I would really get a feel for my blog presence.

David Corman

This is not entirely positive. As the article on Search Engine Journal notes, Google Webmaster Tools now provides both a smaller, often lower quality sample of specific links to a given site:

"The bad news is that when drilling down into specific backlinks (not overall counts), Google is showing an even smaller sample than before. Worse, the sample may be lower quality than ever, since you will likely find hundreds of spammy sites that have simply scraped your URL off Google SERPs."

It is still a great addition but just be careful of these issues when viewing your backlinks…

Josh Garcia

Hey Daniel,

Thanks for noticing this. It is important to know where the links are coming from and how many. That is awesome 5 million links…Wow!

Chat with you later…
Josh

Kiks

Thanks for sharing this important info

Keisha

Daniel,

This update to Google Webmaster Tools will cut down on bloggers spinning their wheels. My motto is to market and measure. Now it will be easier to do and this is free! Also I appreciate your transparency with your backlinks. Got some ideas for topics to cover.

Thanks,
Keisha

Saki

Impressive number of backlinks you have 🙂

Antoony

Follow his great link building method. Just create some great WP themes like Daniel and you will get impressive number of backlinks like him. Really awesome 🙂

mohsin

Since how long you have noticed this change? Because I have noticed an increase in GW backlinks count since caffeine update, but I thought it to be one of Google's tactics to dodge webmasters. Also the number of links in yahoo site explorer is still higher, at least for my sites.
So there is definitely something "creepy" in this change 😉

Daniel Scocco

I only noticed it yesterday, so not sure if this is connected with the Caffeine update or not (but I don't think so).

As for Yahoo!, it nows reports fewer backlinks than Google to me.

Web Marketing Tips

Now things changed … lollzz

But they have valid point for not showing backlinks to public at large.

Martin

Good news 😉

Damar

good news daniel 🙂

Sam Osborne

This is fantastic news, no longer will I have to use linkscape and / or majestic to identify my own complete backlink portfoio.

Pennies make pounds afterall.

Nima

I just checked mine. It seems that it is still not all the links but much better than before/

Daniel Scocco

I think all backlinks are being reported now, yes.

Angel

Thanks for the tip.

I never understand why Googlehas to be so obscure to such things.

Kamal Hasa

Well if they did not then People will break in the code of how Google works 😉

Web Marketing Tips

Now we exactly knows from where links are coming.

Although Yahoo explorer was there but this one give us a whole list our links of our all URLs.

Really nice move.
Comments are closed.