Good Keywords
Having a clear idea about what people are searching for is always useful. While you should not write articles exclusively to meet the most searched terms it is often possible to optimize the choice of words without affecting the content quality.
Suppose you are writing a post about a really funny image that you found on a website. Should you title this post "Check out this funny image" or "Check out this funny picture"? Probably the latter since the term "funny picture" is 39 times more searched than "funny image".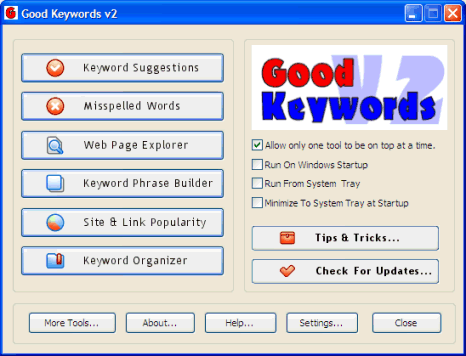 How do you find the most searched terms? There are many ways to do that, one of the easiest ones though is to download a free software called Good Keywords V2. The software will report the most searched terms around specific keywords using the data from Yahoo!, Ask and Overture (Yahoo's Search Marketing program).
Apart from keyword research you can also use Good Keywords V2 to investigate misspelled words and link popularity for particular sites.
Browse all articles on the Software category
22 Responses to "Good Keywords"
Steve

Looks like a really good tool. I tend for use Google Insights for Search myself. Seems to provide some really good keyword ideals and data.

Peter

Good Keywords V2 is a great little package – and even better is that it's FREE.

Now comes the hard work of putting into practice what you find out!

Web Designer VA

Thanks for the info — will check it out. Anything negative that you found about the software?

Bang Kritikus

Thanks for your info, it's helpful for me

SEO, Search Engine Optimizer

Much good stuff here. I believe that haveing more than one tool is useful. The Google AdWords keyword tool is good if you have an account.

SEO Genius

Very nice tool thanks for this.

kdays

Good Keywords V2 is a great little package – and even better is that it's FREE.

Now comes the hard work of putting into practice what you find out!

matt

Great Article! Here is another one bout keyword suggestion

Muhammad Hanif

A/A
I have been trying to learn and writing english for the last years but could not gain sufficient success. I am much found of learning englihs and in this regard I have searched various books but in vain.
Now I writing yo, anyone read it, kindly tell me mechanisum to write and learning english to me by my e-mail i.e. mhanif66@hotmail.com. I shall highly thankful for this act of kindness.

Thilak

Thanks for sharing a great tool. Good Keywords + SEO = Great Traffic 😛

Hey, one more suggestion: Please place the subscribe to comment check box about "Say it" button or keep it checked by default. I'm one of your regular commentator who uses keyboard shortcuts for everything. I skip forms using tab key.

Shankar Ganesh

That was a good tool!

Nick Ellis

David, I'm really impressed by your comment. People make spelling errors everywhere, in newspapers, magazines, and more, I'm sure I can find typos even in your own blog.

It seems to me that if you took the time to improve your own blog instead of leaving awful comments such as this maybe your rank in Alexa would be higher… 600,000 for a blog with 3 years is a really low number. My blog is written in portuguese and even so has a ranking of 176,090.

Daily Blog Tips has been with us for only three months, and it's already at 27,949.

Daniel

Just corrected that David, thanks for pointing out. I have a big sign written on my white board that says "Proof read twice!". But when the work load is high you just think that everything is correct and publish it straight hehe.

Quite a harsh comment though :). If you had said "Hey Daniel check out you misspelled a word" I would have corrected that the same and you would have earned my respect at the same time.

Anyway, thanks for the comment and good luck with your blog.

David Andrew Taylor

Found your site the other day, and added it to my aggregator. I'm always looking for good ideas to improve my own blog. But, I think it might be ironic that I'd ultimately be taking advice on improving my blog from someone who doesn't even proof read their own.

"what people is searching for"

Mike Panic

Thanks!

Daniel

Yeah I was used to check the overture site also, but the software has more options (even if it consults that same database).

Amos Tebear

Nice tool – thanks. I had always resorted to using the overture.com one here – this download is much better.

Amos

Marshall Middle

I believe the world mortgage was the most popular search word for last year.
Comments are closed.