GoCodes: URL Redirection Plugin for WordPress
People tend to redirect URLs for several reasons. Sometimes you need to have a short and user friendly URL to pass to your friends over IM or to use it on your podcast. Other times you might want to create a redirection to hide your affiliate links (notice that I don't encourage this practice, but many affiliate marketers do it).
Regardless of why you are doing it, though, there is a WordPress plugin that can transform your blog into a URL redirection central. GoCodes enables you to create custom URLs inside your domain that will redirect the user to any website or page on the Internet.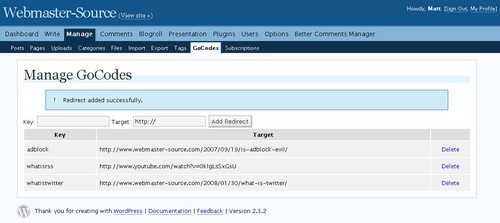 Suppose you are a podcaster and you want to point your listeners to some cool pictures on the Internet. Unfortunate the URL for the pictures is something long and complex, say http://www.domain.com/folder/zr/?pic&3.html. Instead of using that URL, therefore, you could use the plugin to create a redirection on your blog, say http://www.myblog.com/go/pictures/.
Browse all articles on the WordPress category
28 Responses to "GoCodes: URL Redirection Plugin for WordPress"
tiffany

there's nothing wrong with using it to hide affiliate links, since surprisingly many people who would otherwise click a link decide not to simply because someone is making money off of their purchase if they do. It's sad, really, that in the current economy more people have such an aversion to helping others make money, even when it costs them nothing to do so. People, it seems, are greedy, even when they stand to gain nothing from forcing someone else to do without.

Andrew

I have installed the GoCodes plugin but am now confused over using it.

Is the KEY field what I want to call the link and is the URL field the affiliate link I have been given?

Thanks for any assistance in this matter.

Jay

Sorry to double post but over_cloud9, in answer to your quesetion I think you need to just copy the gocodes directory into your plugins folder, do not do any renaming or complicating the dir structure and you will be fine – I had the same problem

Jay

This looks like its exactly what I need but I am having some problems.

Everything seems to be set up okay and the redirects are even showing up as I would expect in the "Manage Gocodes" table with the URL I am redirecting on the left and the URL of the site I want to go to on the right. I am trying standard sites like google for the purpose of testing.

When I visit my URL shown on the left of the table I am taken to a standard 404 page.

The plugin is definitely active too.

Can anyone give me any guidance on this?

over_cloud9

I'd been hunting for a good redirection plugin and my serach ends here.However when I try to add a redirect,it says "you don't have sufficient permissions to use this".please help me fix it.

Naruto Bay

Thanks a lot for this plugin. I searched in Google for wordpress url redirect and found this 🙂 It's better than editing .htaccess to redirect an url to another one 😉

Armand

I'm looking for a similar plug-in for my blog. I'm not sure which one to pick up, but thanks for the information.

Tanvir Morshed

Thanks for the information.
I will use it in my web site, which I'm currently working on. The site will list tutorials from other web sites. So a redirect plugin would be a must for me.

Thanks again

Brad Blogging.com – Personal Blog Tips And Blog Help

I'm looking through my .htaccess file and do not see the #Start WordPress..

Any help?

Rick Lim

Thanks for this wonderful plugin for wordpress. I had been searching this for age!

Susan

This is an AWESOME plugin – I don't know what I what do without it…well, actually I was usually php redirect, but this plugin is actually a little easier on my database.

palpalani

Very interesting plug in! Let me try it today!

redwall_hp

Erin, you didn't rename the plugin file did you? This tends to cause problems with a lot of plugins…including GoCodes. Also, check to make sure that it's in the /wp-content/plugins/ directory, and not in a subdirectory like /wp-content/plugins/gocodes/.

Erin

When I try to submit a link for redirection, I get a "cannot load gocodes.php" – any idea why this is happening?

Thanks!

Michael Aulia

I've been using a plugin called "Hidden Affiliate Links"..it doesn't really work sometimes, so I'll give this a go

Bored King

I use php redirection for my affiliates. I think is better.

Emma

Thanks, I'm glad I'm subscribed to this blog. I almost paid 97$ for a program that did this plus some other features. Thanks for the tip.

TheBloggerTips

Great plugin, Thanks!

bhavesh

wow, its great plugin, we can use it when we need to delete old post and redirect old URL to any new related post. Thanks Daniel for this plugin.

Missy

I've been looking for a free WP affiliate plugin, let's see if this is it. Thanxs for the heads up on it.

Jordan

Does this work differently than the Redirection plugin from Urban Giraffe?

Erin

This is a great tool — I was just looking for something like this. Thanks a lot for the heads' up!

David Bradley

Interesting plugin. Simpler than messing around with .htaccess too.

I wrote about how to hack your own site for simpler searches recently, I'll have to investigate whether or not this plugin allows you to do things like that too.

db

redwall_hp

Thanks for covering my plugin, Daniel.

Daniel

Yeah I think most people will use it for that purpose in fact.

Ben

This would be good for affiliate links as well. I like – thanks for the tip

Marketing Blog

Looks like an intersting plugin and one i might have to try out.
Comments are closed.