Gmail Tip: How To Browse Only the Unread Messages
If you are anything like me, you probably have dozens of unread messages sitting on your Gmail account. I try to keep my inbox zeroed through out the week, but sometimes you just can't handle the amount of incoming messages.
Other times you leave some messages unread on purpose, because you know that you are only going to need them in the future (that happens when you run a contest or a competition, for example).
Now when I first started using Gmail, I would run through all the previous pages in order to find those unread messages. Needless to say it was a boring and time consuming task. Then one day I thought: "hmm, there must be a better way to do this."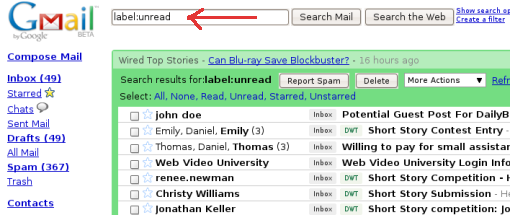 There was, and it was pretty simple. All you need to do it is to search for "label:unread" on the Gmail search box. This will filter only the unread messages.
What other Gmail tricks do you use frequently?
Browse all articles on the Web Tools category
38 Responses to "Gmail Tip: How To Browse Only the Unread Messages"
Dee

Wow, this is great! I'm terrible at responding to emails where I want to spend some effort doing so, so I always RE-mark them as unread. This is so useful for me to be able to do this without clicking Next Page over and over and over again. Thanks again!

Rowan Pettett

This is a great tool, but there's one frustration issue – the returned search results ignore my "Show 50 conversations per page" setting and display only 20 per page. What's with that?

The Taz

Here is an approach that saves some time:1) Go to Settings, Labs, and enable "Quick Links" which is near the top.2) Follow the steps in the eHow article above, then select "Add a Quick Link" in the new box that has appeared on your left panel. 3) Save the Quick Link as "Unread" and you will have one click access to all unread mail.4) Repeat the process for "Label:Read" and you will have one click access to all read mail.

ssk sorgulama

Being able to select all unread messages is a major reason behind me moving all of my accounts to GMail. I have no idea why all online email providers don't do this.

medyum

I did not know that. Thank you.
Comments are closed.