Gmail Tip: How To Browse Only the Unread Messages
If you are anything like me, you probably have dozens of unread messages sitting on your Gmail account. I try to keep my inbox zeroed through out the week, but sometimes you just can't handle the amount of incoming messages.
Other times you leave some messages unread on purpose, because you know that you are only going to need them in the future (that happens when you run a contest or a competition, for example).
Now when I first started using Gmail, I would run through all the previous pages in order to find those unread messages. Needless to say it was a boring and time consuming task. Then one day I thought: "hmm, there must be a better way to do this."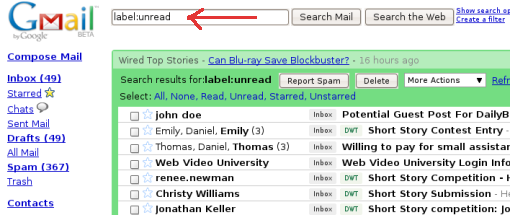 There was, and it was pretty simple. All you need to do it is to search for "label:unread" on the Gmail search box. This will filter only the unread messages.
What other Gmail tricks do you use frequently?
Browse all articles on the Web Tools category
34 Responses to "Gmail Tip: How To Browse Only the Unread Messages"
medyum

I did not know that. Thank you.

gux

Nice one! I was looking exactly how to do this.

Do you mind if I translate it to Spanish in my blog? (of course, referencing the source)

Cheers,
Gux

Gustavo

Great!!!
This is just what I've been wondering since a while but never googled it.

Add to this tip: If you want to search unread messages in a particular label just add that query.

ie. if you put "label:unread" it gives you all of your unread messages. but if you want only your inbox messages type "label:unread label:inbox"

Gustavo

rangan

The technique can be better implemented as follows:

label:label name is:unread

Stefan Wurz

Very good tip! Thank you for this short post.

Paula

Excellent..I needed that tip. I missed a really important message last week because it was 'hidden' amongst all of my messages. I have a very bad habit of not clearing out my Gmail mail. I am getting better though.

Geek Samrat

Hey thank you very much for the tip. Accidentally I came across your site. Actually I was searching for this tip some time back. Good explanation. Thank you. please do write some simple tips like this….

Tomer

I was using is:unread for the same thing.

SBA

I use the "starred" flag, but then I don't have hundreds to come back to! Also create a label for storing certain emails under , e.g. "DailyBT" or "Post Reference".. etc. Then search for that label name later.

Nick Stamoulis

Great tip although our Gmail has been down for over an hour now so these tips would be great if we could access our email! LOL

SomeAudioGuy

This is PERFECT!
I've been trying to figure out how to do this since I signed up for Google.
Why it's not a button already is beyond me…

stetoscope

That's what I call a tip !

Jef

I wonder how many other tips and tricks about gmail that I don't know yet? Thanks!

Arjen

Good tip! Gmail seems to be full of 'hidden' useful features 😉

Ulla Hennig

Nice tip – I didn't know it up to now.

Need_knowledge

Hey good tip man, i'm using gmail this is good tips. Keep on going for good tips.
Happy blogging

sailor

Neat trick. One that is worth remembering. Thanks.

Mohd Hafifi

thank you so much..

aaron

Being able to select all unread messages is a major reason behind me moving all of my accounts to GMail. I have no idea why all online email providers don't do this.

keith w.

thanks, was just racking my brain the other day trying to figure out a way to do this!

raitocorleone

I'm sorry but i want to say what you post is an unnecessary move.

You can input "read" only.

and here is a lot of other word:

From,to,In:trash,Has:attachment ,Subject,Filename

Kevin

You can also do "is: unread".

Michael Sync

Nice Tip! Thanks..

Writer Dad

I did not know that. Thank you.

Eli

Dozens? I have 690 unread at the moment and that's after I removed about 600 topic reply notification emails the other day. I'm trying to get it back under control though 🙂

Thanks for the tip, I needed this one.

Ramiro

Very good tip. I did not konw It is so easy. Thank you for this short post.

Abhijeet from Jeet Blog

label:unread would display all the unread messages in your mail. However if you are a heavy user of Gmail filters and labels then you can search unread messages in a specific label by typing this – "label:label name label:unread"

For example you just want to see the unread messages in Inbox then you can type – label:inbox label:unread . Similarly for all other labels.

Muhammad Siyab

I use a filter automatically mark mail such as blog backups and such read and sent to the trash. And my inbox stays neat and clean 🙂

Ben

Great tip !!! Just tried it out and it does make life a lot easier email-wise.

Technotip.org

Excellent find Daniel…I was badly in need of this trick.
Comments are closed.