Global Success Club Review
I haven't spent money on Internet marketing ebooks or membership sites for a long time (if I remember well the last one was Aaron Wall's SEO Book!), but this month I forked out $97 to get access to a site. I am also planning to renew my subscription, so I figured some of our readers could be interested as well. But here's is the whole story.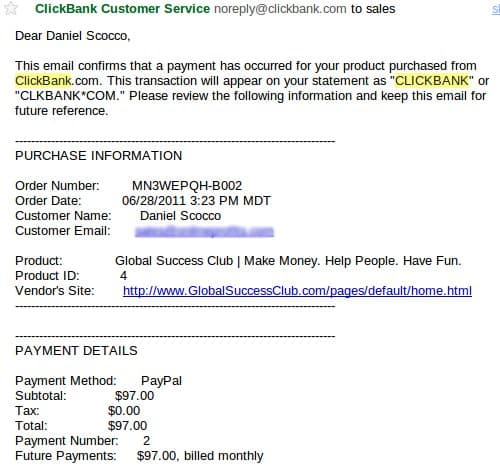 A couple of weeks ago a person approached me via email asking what advertising options I had available on my site. I told him I work mostly with banners, but that I was sold out at the time. Nevertheless I asked what product or service he wanted to advertise, so that I could see if it was a good fit. He replied saying it was a membership site called Global Success Club, and he sent me a guest account so that I could check it out.
I had seen that name around (even on some high profile sites like John Chow and Shoemoney), so I decided to check it out.
What I Didn't Like
At first I wasn't impressed at all.
The sales page looked like all those "get rich quick" and "work from home" products you have out there. On top of that there was a lot of hype in the sales copy. Things like "Make Six Figures In The Next 90 Days!" and "Absolutely Guaranteed!". This is a big turn off for anyone who has been online for more than six months…
I had a free guest account, though, so I decided to login to the members area to understand what was going on inside. Here's the screenshot of the Dashboard: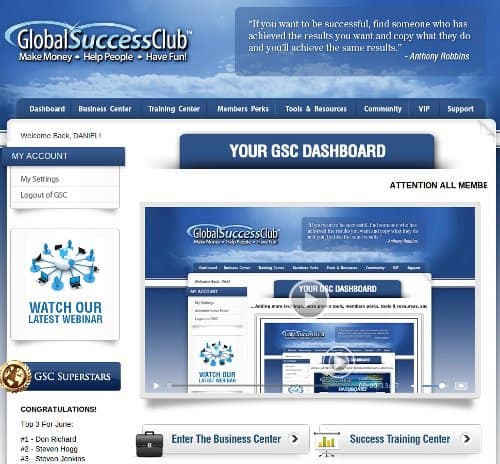 As you can see the first menu item is called "Business Center". Inside it you'll basically find material to become an affiliate of the program, so that you can refer others and earn a commission by doing it. That is pretty much how the "money marking" part of the program works.
I am not a fan of such programs, but there was one thing useful there if you are just getting started with Internet marketing. It's called "90 Days to $100k Per Year Program". It's a step-by-step program, where every day you'll have a set of actions and tasks to perform.
I checked the tasks for the first few days, and it seems that if you follow all the 90 days you'll leave a good foundation for how to promote things online (they focus on promoting their own program, but you can use it for anything else you like). But then again, nothing revolutionary here, so if you have been working online for some time you won't find this very useful.
What I Liked A Lot
So far nothing special, and if this was everything available for members I sure wouldn't recommend it for anyone else, especially because it costs $97 per month. But then I went on to check the second menu item, called "Training Center".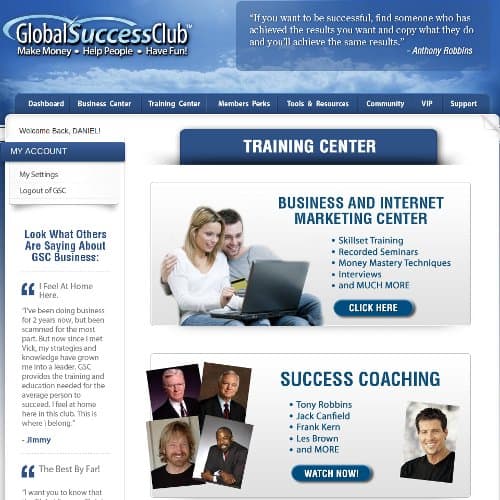 Inside it I found two pretty valuable sections. One is called "Business and Internet Marketing Center", where you'll find a bunch of Internet marketing videos (e.g., Email Marketing, Facebook Traffic, PPC Traffic), interviews with successful Internet marketers (e.g., Frank Kern, Chris Brogan, Eben Pagan, John Reese, Jeff Walker), and a couple of complete Internet marketing seminars, including one from Mike Filsaime that had a cost of $5000 when he run it a couple of years ago.
Things were getting better, and at this point I already thought the site was worth the $97 just for the training material you would get.
The second section inside the "Training Center" was called "Success Coaching", and there you'll find two complete programs with Tony Robbins (a very famous motivational speaker), and a section called "Top Speakers", with seminars from a dozen more motivational and success speakers.
I went straight to the "Top Speakers" section, and I was blown away by the first video, from a guy called Les Brown. The video is about living your life fully and reaching your goals. While I was never a fan of "The Secret" type of stuff, this time around it made a lot of sense to me, and in fact I ended up watching the video twice. I liked it so much that I asked a manager of the site if I could give this video as a freebie to my readers, and he agreed. Here's the link for you to watch it (no strings attached, not even an email address is required. Just click and watch).
After that I started watching the other videos inside that section. It became a habit to wake up and start watching one of them as I had breakfast. Then one day I was getting ready to start my morning ritual when my login didn't work. My guest account had expired…
That's when I went to the homepage again and I signed-up for a normal account. They offer a free trial for seven days, and after that you start paying $97 per month if you want to retain access to the site. My free trial expired and I paid the $97 gladly to keep watching the videos. I am halfway through them right now, so I think I'll pay for another month.
What Else Is Included?
The other stuff included in the membership site I just glanced over. There's a forum where members can ask questions, there are occasional contests with prizes for members who refer more people to the site, and there are some live webinars as well from what I understood. I was mainly interested in the training videos, though, so I didn't pay much attention to those other sections.
Global Success Club: Worth it?
Here's my take on the program: the hype they use to sell the program and the "money making" part didn't impress me that much. As I said above it's basically a referral program where you earn commissions by referring new members.
The videos inside the "Training Center", however, make the site well worth the money in my opinion. I went to research online and I found another website offering those seminars and videos, and the cost was $97 per seminar. Inside Global Success Club you'll get over 20 of them for the same price.
As I said there's a 7-day trial for $1, so you can check it out and decide for yourself. Here's the link to sign-up for the free trial.
If you have questions about the program let me know in a comment below and I'll address them.
Browse all articles on the Monetize category
12 Responses to "Global Success Club Review"
Jonathon

Had to agree 110% with your ""I am not a fan of such programs"" statement. As a newcomer I've seen too many of those over-hyped IM products including this one and other similar continuity programs so your analysis provided food for thought.

Having spent quite a few years in direct marketing (offline commission sales) I have a well tuned BS antenna so that coupled with inherent skepticism steers me away from the IM Guru "rags to riches" – "six clicks" – "magic beans" sales copy.

Sites like imreportcard.com can provide useful reviews but aren't totally infallible. At the end of the day it's up to the individual to do their due diligence and research the product online before parting with the credit card.

There is ample "how to" information available for free online if you take the time to search for it. This site here is a good example.

Melvin

I even thought that club is kind of like in the same line as the reverse funnel system. I agree with the things that you dislike about the way its marketed. In fact I was surprised that you were reviewing this product (I read this first in your email ) until I completely read this entry.

I don't know, I feel Im done with buying stuff but maybe if I have some spare money I would give it a try.

GratefulAl

I'll stick with Zig Ziglar and his Success 2.0 monthly membership. $1 for 30 days full access – $170 worth of substantial bonuses – and only $37 month afterwards.

None better IMHO.

Daniel Scocco

@E, it's your opinion and I respect it. To be honest I am also not a fan of those Internet gurus, but the info I found on that site is quite good. As you mentioned, Tony Robbins' stuff is quite good, and there's a lot of it inside.

jorge jacobo

I try to stay away from memberships because many times they operate on recruiting people, and the whole business is about the money, where people don't even care for the products.

I just cancelled my membership at Lynda because of time. I don't think I can watch 1 hour long videos.

Thanks for the info anyways.
(I might contradict myself but..) I've been thinking about creating my own membership site, would be in Spanish though.

E

Please stay away from these F list so called coaches – mike filsaime, frank kern, john reese… For tony robbins his books and materials from his personal site is much more better. Global success club is, I hate to say it, its a complete BS to me. Sorry Dan, thats how my mind sees it.

steve

Life is a fight for territory and once you stop fighting for what you want, what you don't want will automatically take over! It's true!

kailaschozhan

It is really interesting to know about to know about video training to improve our knowledge and I will join with this program soon and thanks.

Daniel Scocco

@Jibran, if you are just getting started I think you'll find the "90 Days to $100k Program" useful.

The other training videos I mentioned should be useful to anyone, cause they are not about the technical side of things but rather about the mindset and attitude you should have.

jibran

is it good for beginners like me ?
i simply work with adsense so far and no experience of other money making methods

Daniel Scocco

@Kevin, yeah there are two complete programs from Tony Robbins available in the program. There are 12 videos in total from him alone.

Kevin

So there are training videos with Tony Robbins as part of this membership?
Can you elaborate on what Tony is bringing to this global success club. He is quite a powerful motivational speaker.
Thanks
Kevin in Chicago
Comments are closed.