Friday Blogroll: bLaugh
This Friday I want to present the bLaugh blog, also known as the (Un)Official Comic of the Blogosphere! I have been subscribed to their RSS feed for a couple of weeks now, and those cartoons are really funny.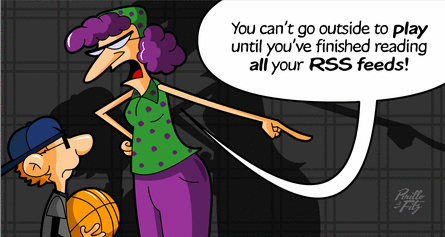 Authored by Brad Fitzpatric and Chris Pirillo, here is how they define the blog:
We love to laugh – so now we're preparing the world to bLaugh! This is the (un)Official comic of the blogosphere – colorful, satirical, and comical. Expect parodies of "A-List" bloggers all the way down to the meme of the day – no holds barred.
They also have a big archive where you can find comics about almost any topic that appeared on the blogosphere. Check it out.
Browse all articles on the General category
5 Responses to "Friday Blogroll: bLaugh"
Daniel

I was not familiar with that one Mark, thanks!

Mark Alves

Another good comic that's (usually) about the blogosphere is

engtech

I finally cleaned out my RSS feeds (I started unsubscribing like mad to the ones I didn't read).

Now I just "read all" and hit "J". If I want to save something to read later I put it on my shared items.

RSS utopia!
Comments are closed.