Five Types of Image to Use on Your Blog
Does your blog need a bit of visual sprucing up?
It's a safe bet that you know images on blogs are generally a good idea: they add visual interest, create white space, break up the text, and may even offer useful information.
But have you thought through all the different types of image you can use?
#1: Photos
This is what many bloggers think of first: an eye-catching photo, often sourced from Flickr under a Creative Commons license.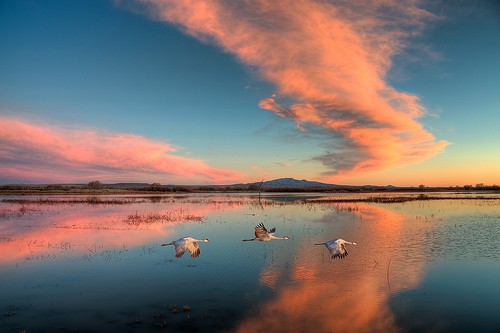 There's no denying these work well and can draw the reader into a post. If you want help finding photos you can use for free, this post has great pointers.
#2: Screenshots

If you're describing something technical, a screenshot can make it much easier for readers to understand the process. We used the one above in yesterday's post on WordPress's Screen Options.
Screenshots can also be useful when linking to other blogger's posts: instead of a straightforward link, you could take a screenshot of the post title and use that, as Tim Soulo does in 29 Brilliant Posts You Have to Read Before I Call You an Internet Marketer.
#3: Advertising Banners
This might seem an odd one to include, but advertising banners are a form of image too – and they can help add colour and interest to your site.
If you're reading this on the Daily Blog Tips site rather than in your email, glance to the left; the sponsors' banners jazz up the sidebar. We also use Google ads at the start of posts.
#4: Logos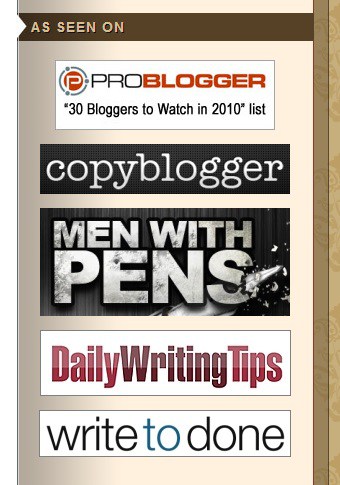 Using the logos (or headers) of sites you've appeared on or conferences you've spoken at can be a great way to showcase your credentials. This is how I do it in my sidebar on my site Aliventures:
You can also use logos when you write a round-up post or link to other bloggers' sites; it's a nice way to add visual interest.
#5: Product Images
If you're writing a review, it's often useful to include an image (even if it's just of an ebook's virtual "cover"). For instance, if we reviewed ProBlogger's ebook 31 Days to Build a Better Blog (aff), we'd use this:
Many manufacturers and sellers will have product images on their sites, and it's usually OK to use these in your review – though do ask them if you're unsure.
What types of image do you use on your blog? Have we missed out any important categories? Add your thoughts in the comments below.
Browse all articles on the Blog Design category
13 Responses to "Five Types of Image to Use on Your Blog"
faisal

Nowadays video is in, pictures are out.

kathy

Thanks for providing the different types of image to use on blog. They may be really useful to us. You do great job by sharing all this information.

Ali Luke

@Shawn — I decided to leave infographics out since they're usually pieces of content in their own right (and they involve a fair bit of text). Obviously they can be a great way to add to a post.

@Adjith — thanks for that bonus tip!

Johnwill

Great advice. All 5 of these tips are things that anyone involved in blog should be watching.

smith

I prefer screenshots as they do not have any problem with copyright infringement.

Jack W.

Thanks for the great info. most of my images are PNG format

Shawn Gossman

How about infographics? Can we still consider them images or are those more like content all in itself? Thanks for the post!

Meavoo

Thanks for the great info. i'm trying for HD Screen shots ..!!

Ajith Edassery

Bonus tip – For logos and ad banners, use PNG and for other images, use 'progressive jpeg' without fail. As per the SEO ranking/speed check tools, sites with progressive jpeg seems to be ranking very high 😉

Pakde Cholik

Mostly I use all of them but depends on the article I wrote.
Thank you

dojo

I am using images, thumbnails and sometimes banners, depending on the things I advertise on the site. I do provide screenshots, too, they're pretty important especially when I'm trying to provide a technical article and these would help my readers understand my advice easier.

Richie Richardson

I prefer screenshots as they do not have any problem with copyright infringement. However, thanks for the link on how to use images that do not infringe any copyright issues.

Susan Anna Sarandon

eye-catching images always important to attract the visitors to click their ads am i right, many bloggers they place ads underneath images or near by, relevant images always important to a post

many blogs are not caring visual presentation for tutorials related posts, it is very difficult to understand in those

thanks for the post
Comments are closed.