DBT is research-focused. When you buy through links on our site, we may earn an affiliate commission. Learn more
After researching First Aid Beauty's Face Cleanser and feedback from other users, we took away the most significant selling points and drawbacks of the product.
Did you know that one of the more common skin irritants in face lotions and cleansers is fragrance?
People with acne, redness, rosacea, eczema, and other skin troubles can have flare-ups from scents in their skincare, along with other agitating ingredients.
Lilli Gordon started First Aid Beauty (FAB) after dealing with sensitive skin and eczema herself.
The company refuses to use over one thousand ingredients that can cause allergies, irritation, drying, or acne.
This mission to create such clean products (before that was a buzz word) caught out attention.
Whether you need a non-drying wash for the early signs of aging, a face cleanser with acne-prone areas or you have super sensitive skin; First Aid Beauty touts this as a cover-all cleanser for various issues.
This product piqued our interest, so we dove in for a full First Aid Beauty Face Cleanser review.
What is First Aid Beauty Cleanser?
First Aid Beauty prides itself on creating products with no unnecessary ingredients or potential irritants.
This face wash is a gentle yet effective cleanser that is fragrance-free. You can remove dirt, oil, and even makeup with this facial cleanser.
Of all of the skincare we've tested, this face cleanser is one of the few that genuinely feels like it is suitable for almost everyone's skin.
The product comes out of the tube with a somewhat whipped texture but foams lightly into a cream that works well in removing the day from your face.
Key Ingredients
As we mentioned, First Aid Beauty (FAB) is strict about what they will not put in their products.
Some of these "no-no" items that you will not find in their face wash include artificial dyes or fragrances, sulfates, mineral oil, petrolatum, propylene glycol, parabens, and phthalates.
The full ingredients listed for this cleanser:
FAB adds licorice root, white tea extract, and Feverfew to this wash.
Licorice root shows benefits in healing skin, while Feverfew can help repair skin's DNA and helps protect from environmental factors.
White tea extract shows promise with antimicrobial potential, possibly helping to keep skin clear of acne.
This cleanser is pH-balanced for the skin to prevent dryness and flaking.
First Aid Beauty also crafts all of its products to be cruelty-free and, therefore, vegan-friendly.
How Much Does it Cost?
Domestic orders over $50 get free standard shipping. Returns through their website are only eligible in the initial 30 days, along with a receipt.
If you purchase the face wash through another retailer, you must check with that store's return policies.
How to Use First Aid Beauty Face Cleanser?
One of the fantastic things about this face wash is that it's straightforward to use, whether you have a whole regimen of skincare that follows, or you only want to cleanse your face, pat on lotion, and be done.
Step one: wet the skin.
Step two: apply a dime-size amount to your fingers and lather together.
Step three: massage the creamy foam all over your face, paying attention to remove makeup and cleanse the especially-oily areas.

Step four: rinse thoroughly.
You will notice that the creamy texture of the facial cleanser turns into a soft lather, even though it's soap-free.
FAQ's
Below you will find answers to some of the most frequently asked questions concerning FAB Face Cleanser.
For the vast majority of users, yes, First Aid Beauty's Face Cleanser is a win.
Out of Amazon's 1,023 reviews from those who purchased the product, 82 percent gave it five stars, and nine percent gave it four stars.
On Ulta's review page, 92 percent of those who review the product would recommend it to a friend, and 422 out of 536 people gave it five stars.
Our impression is that this facial cleanser is best for those who need their skin balanced, have combination, or especially oily skin. We love that it's a "clean" product without harsh ingredients.
You can use FAB's Face Cleanser twice daily, or once a day if you prefer. Always wash your makeup or sunscreen off before bed.
If you prefer to use this face wash in combination with another cleanser, you can utilize one in the morning and one in the evening.
The ingredients are gentle enough to use it twice a day as your go-to face wash.
Regardless of the type of skin you have, looking for a cleanser that is free of artificial fragrances, harsh sulfates, parabens, and dyes is a smart idea.
These ingredients can irritate the skin. We also like face wash that has humectants in it but is non-comedogenic (won't clog pores).
Yes, to keep your skin free of breakouts or prevent irritation from makeup, you should cleanse your skin daily.
For most people, washing twice a day is ideal. Even if you prefer just to rinse your face with water in the morning, you should always cleanse makeup and sunscreens off your skin at night.
Final Thoughts
If you're looking for a clean product that can remove makeup or that you can use as a standard daily cleanser, we're a fan of First Aid Beauty's Face Cleanser.
We always like a cruelty-free product, but the added benefits of gentle ingredients like licorice root, white tea extract, and Feverfew make it even better.
Natural compounds that both soothe the skin and also prevent environmental damage are fantastic in our book, so we think this cleanser is worth a shot.
If you're interested in a face wash that will balance your skin and tosses out all the unnecessary, frou-frou fragrances and dyes, give FAB's Face Cleanser a try!
A fragrance-free, gentle cleanser that effectively removes makeup, dirt and grime, leaving skin soft and supple.
---
First Aid Beauty Cleanser vs. Alternatives
---
First Aid Beauty Cleanser Reviews
There are no reviews yet. Be the first one to write one.
First Aid Beauty Face Cleanse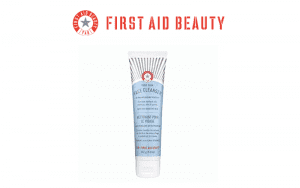 First Aid Beauty Face Cleanser is a gentle cleanser that contains no fragrance and only uses clean ingredients.
Product Brand: First Aid Beauty
Product In-Stock: InStock