Find Brandable Domain Names with Wordoid.com
If you are trying to find a name/domain for your website or company, you probably know how annoying the process can be, right? It seems like all the brandable domains are already gone.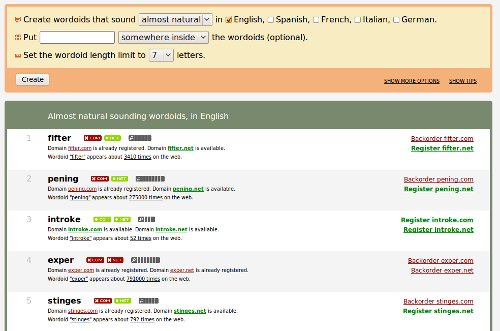 Luckily there are some tools you can use to help your research, and a cool one that I found recently is called Wordoid.com. A wordoid, as defined on their website, is a made-up word that that sounds like natural words. That is why they make good domain names, because people can spell and remember them easily.
Here are some examples of available domain names generated with the tool:
processful.com
easted.com
explans.com
inevital.com
exchangely.com
ruggest.com
varietely.com
ladded.com
externor.com
misteps.com
reasis.com
Not bad huh? It is definitely a tool worth trying when you are researching for new domains.
Browse all articles on the Domain Names category
11 Responses to "Find Brandable Domain Names with Wordoid.com"
MiniCab London

fabulous. Awesome. Brilliant tool.Thanks for the post.

Prisqua

Thank you for the info. I came across a similar site many years ago and wished I still knew the name of it. I played on that site with a few different words and I think some of the domain names generated were pretty cool.

Samuel

Yo intresting ima give it a try!

Lakhyajyoti saikia

Awesome and interesting tool.Thanks for the post.

Harsh Agrawal

Just tried this tool and it seems very useful another one which I suggest is bustaname.

Himanshu Chanda

This didnt attract me at the first shot. But once I went ahead giving it a try (as it comes from Daniel 😉 ) I pretty much liked it. Tried some very common words appending no more than 2 more letters and the results were great. Thanks for sharing

Trevor

Great tool and interesting article, wish i had read this before i recently bought my domains

Deelip Khanal

Great tool and the names you generated Daniel.
I almost registered reasis.com 😉

Chester

Yes. The lesser letters, the better and the more it can be remembered.

Julius

Interesting concept of a wordoid. I agree that good domains are those which are easy to remember and spell

JackNguyen.com

These are great domains and very marketable. I agree getting a domain name for your niche that makes it easy to remember and spell easily is important. Thanks for the site!
Comments are closed.