DBT is research-focused. When you buy through links on our site, we may earn an affiliate commission. Learn more
Have you ever felt sluggish or tired and couldn't figure out why?
Do you ever wish there could be an instant solution to boost your energy?
Enter Equip Micro Greens, a green powder with over a dozen servings of fruits and vegetables.
If you've been lacking a balanced diet, the blend might be just what you need.
But how does the powder help balance your diet?
Is it better than a traditional multi-vitamin?
Keep reading this Equip Micro Greens review to find out how you can benefit from taking Equip Micro Greens.
What is Equip Micro Greens?
Equip Micro Greens is a micronutrient blend that contains superfoods, such as berries and greens.
The powder only contains whole foods, which means you don't have to worry about artificial chemicals.
They cold process the vegetables in the Micro Greens blend, which helps give you the nutrition you need.
You can put the powder into a smoothie or another drink so that you can easily get the fruits and vegetables that you need each day.
The blend is vegan, soy-free and gluten-free. It doesn't contain hormones or preservatives, but it does contain more than enough servings of whole foods.
Equip Micro Greens Ingredients & Nutrition Facts
The lack of artificial chemicals means that Equip Micro Greens is all-natural. You get 14 servings of 22 different fruits and vegetables within a single scoop.
They include 4.5 grams of organic, raw berries and other fruits to add more phytonutrients than other powders.
One scoop of the powder is about 11 grams, and it contains 25 calories and 1 gram of fat, which includes 0.5 grams of saturated fat.
There are 3 grams of total carbohydrates, with dietary fiber accounting for 2 grams and sugars being less than 1 gram.
You also get 1 gram of protein in a scoop, and about 70 percent of your daily Vitamin A needs.
A serving contains 60 percent of your Vitamin C needs and 40 percent of your B12 needs.
The nutrition facts also include at least some of many more vitamins and minerals, including Vitamin D, calcium and zinc.
Other micronutrients include iron, magnesium and iodine, all in different quantities.
Nutrition Facts
Per serving (scoop), Equip Micro Greens contains
Calories: 25
Dietary Fiber: 2g
Sugars: 1g
Protein: 1g
Calcium: 78mg
Iron: 2mg
Carbs: 3g
How Much Does it Cost?
A bag costs $50 to $60, depending on if you buy it once or subscribe to get a bag each month.
If you take one serving per day, you can wait a month between bags, so you can use Equip Micro Greens as an alternative to other supplements.
What Does Equip Micro Greens Taste Like?
Because Equip doesn't include any artificial flavors in the Micro Greens blend, it does taste somewhat bitter.
However, that taste is a sign that the product uses whole foods rather than chemicals.
If you're concerned about the taste, you can add Equip Micro Greens to a smoothie or another drink.
You can use the flavors in a drink to cover up the powder's bitterness, but it's not necessary.
FAQ's
When deciding if you should enjoy Equip Micro Greens, you may have some questions.
Whether you don't like the taste of vegetables or want something to help while traveling, you can benefit from a green powder.
Equip Micro Greens contains ingredients that help you digest the powder, and the ingredients can help you absorb the nutrients more easily.
Because of this, you can take it at any time, and you don't need food with it.
The powder works just as well as traditional supplements, and the whole foods add something that you won't find elsewhere.
It's an excellent way to get the vegetables that you need, especially if you don't like the taste of many greens.
You can put the powder in a smoothie, or you can bake it into baked goods.
Then, you don't have to take it as a pill like you would with other supplements.
Many things make Equip Micro Greens an excellent choice, including the lack of common allergens.
Whether you're lactose intolerant or have to be gluten-free, you can enjoy the nutrient blend.
The blend also contains liver support and digestive enzymes, so your body can absorb the various nutrients.
Micro Greens contains about three times more organic plant matter compared to the competition, which can help boost the health and nutrients overall.
You can take Equip Micro Greens whenever it works best for you. Some people may enjoy it in a smoothie as part of their breakfast, while others will prefer it later in the day.
It doesn't matter if you take it with or without food, thanks to the digestive enzymes.
As long as you take one serving a day, you should be good to go. However, if you ever feel sick or like you have inflammation, you can take two servings in a day.
Luckily, you don't have to worry about taking it at the same time each day. But you should consult with your doctor to make sure the nutrients, like calcium, won't react with any of your medications.
Green powders typically contain a wide variety of chlorophyll-rich vegetables, grasses, and herbs.
Some of the most common vegetables include:
Broccoli

Spinach

Kale

Tomatoes

Beets

Collards
Green powders may also contain probiotics, seed or tea extracts, and antioxidant-rich fruits.
Yes, absolutely. Greens powders that contain antioxidant-rich superfoods are an excellent way to boost immunity.
Final Thoughts
Equip Micro Greens offers many benefits, whether you need to supplement your diet while traveling or if you just have a hard time getting the nutrients of superfoods.
Either way, you can take the powder when it makes sense for you.
You don't have to worry about taking it with an entire meal, and it can be a great supplement for anyone who has trouble taking pills.
The powder works well in smoothies and even baked goods, so you can find some way to enjoy it.
If you enjoyed this Equip Micro Greens review, check out the powder for yourself!
---
Equip Micro Greens vs. Alternatives
---
Equip Micro Greens Reviews
There are no reviews yet. Be the first one to write one.
Equip Micro Greens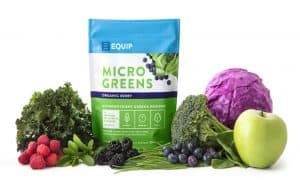 Equip Micro Greens is an excellent way to supplement with superfoods at home or on the go.
Product Brand: Equip
Product In-Stock: InStock