Engadget Has Been Redesigned
It is always interesting to see the redesign of famous blogs, and this time it is Engadget's turn. The old design was really cramped and narrow, so it was about time.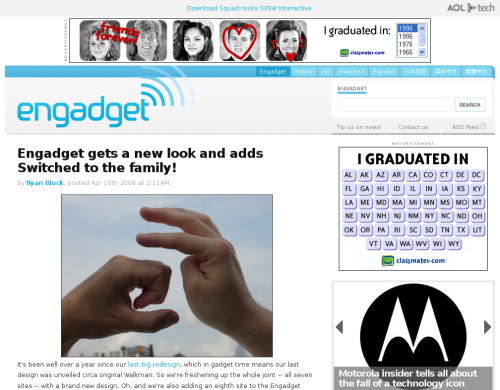 The new design is more minimalistic, with a simple header featuring navigation links, a big column for the content, and a sidebar with ads and links to featured articles.
I like minimalistic concepts, but the opinions regarding this new design are divide. If you check the comments (over 130 of them) you will see that many people did not like it. Some were even calling April Fools….
A couple of points that caught my attention: it's a semi-fluid design, meaning that the design adapts to the screen resolution, up to a certain threshold where it becomes fixed in width.
Secondly, they did not incorporate any social bookmarking icons or links (not like they need to get more Diggs, I know).
Finally, they are using both tags and categories to file articles. I don't think that is an efficient structure. Personally I like to use either categories or tags, so you don't end up confusing the reader on the easier way to find the information he is looking for.
Browse all articles on the Blog Design category
9 Responses to "Engadget Has Been Redesigned"
gendut

thanks for nice posting……I will visit the link

Software Reviews

The new design is wider. It works fine with my NoteBook (1280×800) & Desktop PC (1024×768).

Dan Hughes

Talked about this on my site earlier today. I think most people love the minimalism but it's the inefficient use of space that ruins it. Uncrate nails the appealing aesthetic and functional layout; this redesign doesn't.

James

I don't see much different with the previous design. One thing that is remain the same is the minimalist design. But personally i don't really like the design since looks like not properly arranged and takes more time to load..:)

Aaron at FullTiltBlogging.com

Thanks for the answer.

I use a category list as well as a tag cloud. I haven't looked at my analytics enough to see which–if either–gets clicked.

I think some of the tags "stick out" more on the page because they are larger, but it's hard to say. I also wonder at what point one has too many categories/tags to make either of them a good navigation tool for users.

Anyway, thanks for the info.

Daniel Scocco

Aaron, that is my definition as well. The problem is that if you use both you offer too many choices for the visitor, often times just confusing him.

For example, should I want to find some older articles on Engadget I would not be sure if I should start with categories or tags.

Aaron at FullTiltBlogging.com

While I understand in SEO terms Categories and Tags are pretty much the same thing, I have heard most people view Categories as the "main divisions" for the posts on a site while tags were more granular.

I use both, with Categories being main phrases I am targeting and Tags being secondary phrases.

I'd be interested if you think this is a good, bad or indifferent strategy?
Comments are closed.