How to Quickly and Easily Create Plenty of Blog Post Ideas
Do you ever sit down to create a blog post … and spend ages trying to decide what to write?
One solution is to write when you're inspired. But sometimes, days might go by without an idea coming to mind – yet you want to keep up a steady flow of content on your blog.
There's an easy fix: instead of waiting for those ideas to come to you, go after them: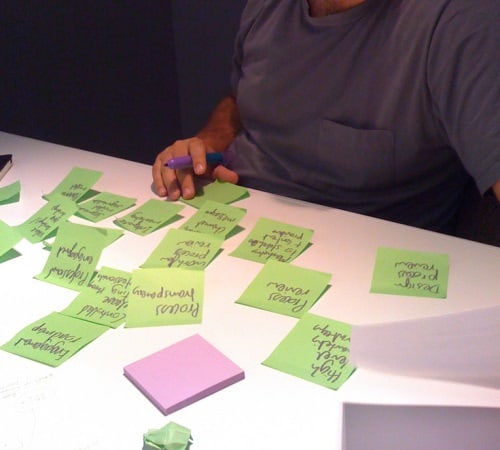 Image from Flickr by Phillie Casablanca
#1: Make Time for Idea Generation
It's easy to make the mistake of rushing the idea stage because you want to get on with writing (I know I've been guilty of this far more times than I'd like!)
So your ideas get the time they deserve, block out 20 or 30 minutes on your calendar once a week. When it comes to idea-generation time, set a timer (like Tick Tock Timer or Tomato Timer if you're into the Pomodoro technique) – that way, you're less likely to get distracted by Facebook part way through.
#2: Have an Easy Place to Store Ideas
Are your ideas usually jotted on Post It notes, scraps of paper, the backs of envelopes, old business cards, or whatever's to hand? That's OK once in a while … but you really want a more secure long-term solution for storing your ideas.
Your idea store could be almost anything that works for you: over the years, I've used physical notebooks, Word documents on my computer, spreadsheets on Google docs, and The Journal (which is where I record my daily to-do lists and any meetings and appointments).
#3: Learn From the Best
One easy source of great ideas (and, often, ready-made titles) is your inbox or RSS reader. It's a safe bet that the blogs that you read daily are interesting and engaging – and their post titles might spark an idea for you.
Here's an easy exercise:
Head to the Daily Blog Tips site (if you're reading this as an email or in your RSS reader).
Look at the list of Popular Articles in the right-hand sidebar.
Choose one of these and switch a few words to turn it into a title for your own site: for instance, for a hobby blogger, "28 Ways to Make Money with Your Website" could become "25 Ways to Make Money from Your Crafts."
(If you give this a go, let us know what you come up with in the comments!)
#4: Don't Judge Your Ideas
When you're coming up with ideas, the key thing is to jot down as many as you can, without worrying about whether or not they're any good.
Sure, some of your ideas will be ones that just won't work, or that have been overdone – but these can often start a train of thought that leads you to much better ones. Don't waste time editing or deleting them, just keep moving forward and getting more and more ideas down.
#5: Use Past Posts for Inspiration
Still stuck? Maybe it seems like you've already written about every idea you'll ever have. Don't despair: instead, turn to your archives and uncover some hidden ideas.
Let's say you write about web design and last month, your post on "The 10 Worst Blog Logo Designs EVER" got a rush of traffic. How could you build on this post? Maybe you could write "What Logo Designers Often Get Wrong … and How You Can Get it Right."
If your idea well is running dry, make sure you set aside time as soon as possible to refill it. If you're struggling, pop a comment below and let us know how we can help!
Browse all articles on the Writing Content category
18 Responses to "How to Quickly and Easily Create Plenty of Blog Post Ideas"
Sam

Read read and read some more, I find reading whenever I can, anything really… be it a book, a newspaper or something online it all keeps the brain firing and the ideas flowing.

Yaso

First and Most important "Make Time for Idea Generation",

I visit your website regularly, but really i impressed a lot. No doubt that you are a good and successful blogger. Your all post are good,

Your article is very information,
Thanks for sharing,
Keep it up !!

Remont Kiev

Another blogging idea – read a book and summarize or discuss the ideas from it. Very simple and useful.

Rahul Pahal

well, its very important to take ourselves out from blogger's block. I personally feel a lot of problems when i sit to write. having a plenty of ideas keeps our blog getting updated which is always highly important. thanks for sharing this post.

David

Hi, great insights there! It's true that it's important to jot down ideas as soon as they cross your mind. Writers are often found battling the initial lax of penning down ideas initially. But it works perfectly for me. As soon as I start documenting a ray of thought I end up writing at least two three pages before I stop!

Sugam Kumar

Hello Ali,

I am first time on this blog and worth to read this awesome post. I always confused about to choose the topics for post but you have shared nice idea. Thanks for this nice post.

Ali Luke

@August — good luck with blogging for your company! I'll be posting more about writing content over the next few weeks, so do stick around. 🙂 And if you have any specific questions / problems you'd like me to address, just let me know.

@Jane — sounds like you're doing everything right! I hope setting aside a bit of time to generate ideas will help you go even further.

@jawad — thanks for adding your tips, and I'm glad you liked mine. 🙂

@Jamie — that's a really good suggestion; I've come across the idea before but I've not heard it called the "Skyscraper" method, great name.

@Mary — hurrah! I hope you get some great ideas through your RSS feeds.

Mary Kirkpatrick

I just spent this morning working on blog ideas and could only come up with a handful. It never occurred to me to watch RSS feeds for ideas. This is great and will be something I can use immediately.

Jamie Anderson

Number 3 alone should give any blogger enough ideas.

I like the "Skyscraper" content method I read about recently. Basically looking at what other bloggers have written on a subject and then creating an ultimate post on that topic yourself, ensuring it is the number 1 source of information in your niche on that subject.

jawad

As much as it get difficult sometimes to get fresh idea for blog post, it is easy if you would follow few steps. When you are stuck and couldn't think of any nice idea, just go out may be long drive and keenly observe your surroundings. You will definitely find something that will lead you to some nice and fresh blog post.
Secondly, always keep your option of digital note pad (cell phones) in your mind and whenever you hit idea for blog post, write it down. Next time when you get stuck and want to post some different yet interesting topic for post, open your note pad and write a post.
This two tips always worked for me.

And the ideas which are mentioned in this article is pretty good as well.

Jane

Generating ideas on a regular basis is highly important for bloggers since we produce content on a regular basis as well. I like the idea of setting up a specific time every week to generate ideas.

I capture ideas as and when they pop in head and then maintain a list of those ideas in one place so that I can further develop on it.

I will try out your idea of setting aside weekly time for idea generation!

August

As someone who is about to take on the job of writing blog posts for our company, reading this post now is a blessing. Thank you.

Ali Luke

Thanks all!

@Underemployed1 — commutes (and, in my experience, boring meetings…) can be great places for ideas.

@Shawn — I love those two tips, thanks for adding them. Addressing readers issues and problems is a great way to come up with new posts that other readers are likely to find very useful too.

@Juan Castillo — "Power brainstorm" sounds a great way to describe it. Let us know how you get on!

@Metz — Thanks for the "kingging", much appreciated!

Metz

Reading different blogs on the internet can contribute to create plenty of blog post ideas. By reading, you will know what are the trending topics and what readers love.

As long as your content is powerful and has good quality, just like the article I've read recently, yours will be brilliant. But all your tips here are helpful. Thanks for this informative post! 🙂

I found this post shared on Kingged.com, the Internet marketing social networking site, and I "kingged" it and left this comment.

Juan Castillo

Great tips! I especially like the one where you set time apart with a timer! It's almost like power brainstorm! I am going to definitely give that a go. Thank you for the tips 🙂

Shawn Gossman

You can often use two major components of blogging to gain new ideas for new posts on your own blog. 1. Focus on other blogs and actually read what they have to say, become inspired by it and use that inspiration with your passion for the niche to find new topics to write about. 2. Pay attention to comments on other blogs like yours, looking for issues and problems from other readers. Then find a solution for those issues and problems and present it in a new post on your blog. All of the above are wonderful suggestions! 🙂 Thanks for sharing this with us, DBT!

Gina

Very informative, i am looking for some creativeness to create content for my blog but it seems i am not just as creative as many others… Any suggestions?

Underemployed1

These are all great ideas. Having had a very bad writing day recently, totally abandoned by the muse, this is just what I needed to read. My best ideas used to come during my commute – there's just something about the combination of a train ride and a martini – so it's a good thing that I'm returning to my place of underemployment next week. If for no other reason than the inspiration.
Comments are closed.