Here Is How To Easily Build an Email List on WordPress
Building your email list (opt-in email list, that is) is one of the most important things you could do as an online entrepreneur. Why? Because email is the most intimate and responsive communication channel available today, and you must leverage it.
That is why I agreed to promote the Squeeze Theme when Nate Whitehill contacted me about it. Because I know that people buying it will be doing themselves a favor.
Cutting to the chase, what is the Squeeze Theme? It is a squeeze page creation tool for WordPress. Squeeze pages are those long pages you see with a bunch of information, with the single goal of squeezing the email address of the visitor or closing a sale. You might not like how those pages look, but it has been proven time and again that they convert much better than anything else.
In other words, if you setup a simple landing page with just a headline, an opening paragraph and an email subscription form, you will probably get a conversion rate below 0,5%. That is, for every 1,000 visitors that you send to that page 5 will subscribe to your newsletter.
If you use a properly crafted squeeze page, on the other hand, your conversion rate could easily reach 3%, meaning that for every 1,000 visitors coming to the page 30 would sign-up for the newsletter. Quite a difference huh?
Nate created the Squeeze Theme with the goal of letting WordPress users with zero coding knowledge to create and customize their own squeeze pages. In other words, you will be able to customize the whole thing without touching a line of code. You do all that through the options page of the theme. Here is a screenshot of it: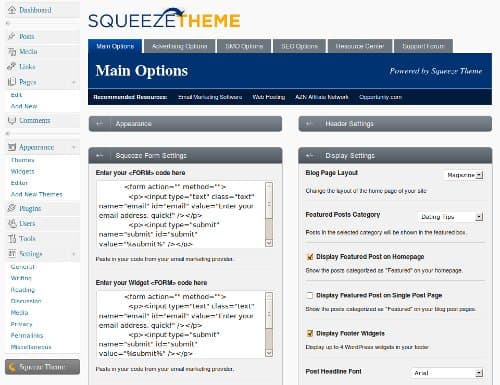 The theme also allows you to integrate images, videos, test with different layouts and so on. If you run into any problems using it you will be able to use the Member Resource Center and the support forum. As you can see, it is a complete solution for people who plan to build squeeze pages and email lists.
If you are interested click here to get the details or purchase it, as they are currently offering a discount of 34% on the theme (the offer runs until December 1st only). By the way, the sales page itself was built using the Squeeze Theme, so check it out to see what you will be able to do with it.
Browse all articles on the WordPress category
26 Responses to "Here Is How To Easily Build an Email List on WordPress"
Chip

Good idea, but I don't like being forced to give my email address. That's why I have a special email address for this kind of stuff. No offense, but there's too much noise on the web to filter it all. I just want to read the book.

It's like picking up a hooker and she forces you to give your address and name and everything. I just wanna have fun.

Matej

@ Daniel

Either you don't understand what I wanted to say or I don't understand your answer 🙂

If " auto responders " are Feedburner email notifications – then TechCrunch have that, not email lists ( at least I can't find it ).

Anyway, I think that email lists are greaaat if you have something to promote ( like affiliate stuff ), but if you just send latest post updates – there can be some more popular/engaging options at the moment in the entertainment crowd like I said

… so I think it's better to focus my attentions to that rather then collecting people's email addresses. You can't focus on everything and get the same effect like you get when you focus on just one thing.

Michel

I hope it will create more than just 3 percent opt-in rate 🙂 I let it run on an existing website, where the rate was around 24 percent so far. We'll see how good the squeeze theme is squeezing 🙂

Vivek

I hate the way these "squeeze" pages look…they look quite spammy and scammers seem to employ it!

Franck Silvestre

I started building my list from day one, and I confirm. To make money, you need a list. I don't say that you can't make money without a list (you can!), but having a list will make you a lot more.

Franck

Fatin Pauzi

Wow, the design is so clean. So, I don't need to use with any website builder to adjust it, just using WP as a platform. That's cool. I just new about it. Suitable for me because I don't familiar enough with any coding. I will look forward to own it. Thanks for the information! 🙂

TheiPodKid

I think i will purchase it.. but later 🙂

Daniel Scocco

@Eric, click on the link to the "Squeeze Theme" sales page. That is actually a squeeze page.

Eric C

I think i'm still confused what a "squeeze" page is. I don't think I'm aware of this terminology.

I think i've said this before but on emails and newsletters, my website is sort of in a horse before the cart situation. I want my website to make money before I start a newsletter, but I need a newsletter to make money. Hmm.

I've looked at aweber, and they seem good, but I still don't want to shell out the cash, yet.

Polymath

Sorry. My last comment does not read right..I should say same subject topic sometimes. Suggesting the top products

Polymath

Nice stuff. I like how I subscribe to a few blog webmasters and get the same emails.

Daniel Scocco

@Matej, I believe you are equating "email lists" with "auto responders".

You can have an email list to send your most current content, too.

In fact most major online publishers do this, TechCrunch included.

Matej

@Daniel

Of course it's good, but is it more important, definitely worth of any ones time? I don't know but I have opinion.

Emails in my niche are like newspapers – you read yesterday's news and I sure don't want to focus on building list just because I can sell couple more new DVDs on summer.

With Facebook or Twitter I can earn money, bring conversation, build authority … Not to mention that cast/actors and very active on there which lures more targeted audience ( potential visitors ) I want on there also.

I don't want to say it's bad, just that other methods may work better for that niche.

Imagine TechCrunch sending you 'old news ' every day via email. It all depends on type of site – how much can you benefit from lists in comparison to other options.

Daniel Scocco

@Matej, any niche is a good niche for an email list 🙂

Matej
Daniel Scocco

@Liane, that is right.

Hesham @ FamousBloggers

It looks great to me, I love clean themes with lots of integration options like Squeeze! Thank you for the good review Danial.

Liane YoungBlogger

Nate Whitehill as in the guy behind UniqueBloggingDesigns? This theme looks sweet to me. The kind of thing I know those guys at UBD could only think of. Really really cool.

BloggerDaily

Wow! The technique becomes more easier and easier! I'll looking forward to give a try and increase my list. Thanks for introducing it =)

Daniel Scocco

@Vishal, you certainly need to have an incentive for people to subscribe, but even with that you need a landing page right? That is where squeeze pages help.

Vishal Sanjay

I agree with you Daniel, but i really don't know if squeeze pages will increase email subscribers, but i do know that they can definitely increase sales. For building your email list i think its advisable to give something for free like an ebook.

Chris Peterson

Daniel,
Thanks for your tips, Nate's theme looks really good, I will check it. What I think Daniel, to improve online business we should need a list of prospects and customers. We should always apply tricks how visitors visit our site or blog and leave it their comment and e mail. After getting visitors names and e mail, you can able to keep on touch, build strong relationship and later we offer our product that we are promoting. If I am wrong then give your valuable suggestion.

Daniel Scocco

@Surender, the Squeeze Theme is used to create squeeze pages for your email lists.

In other words, you will use it to create a squeeze page (i.e., one offering a free ebook), and then you will insert your Aweber form there.

The goal is to help you maximize the conversion rate and increase the size of your email lists.

Let me know if it is clear now.

Surender Sharma

Hi Daniel,
I am agree with you that mailing list is much more important to bloggers or online marketers.I am using Aweber which is really awesome mailing list manager.
But I am a bit confused about WordPress mailing list theme.Could you please explain it with more liberal ?

J. Hendrix

I also agree. Checking out the theme right now. Thanks!

PV Reymond

Hi Daniel,

I couldn't agree more…

If you want to succeed you need a list of prospects and customers, I don't care what business you are in because you NEED it.

Think about all the people that visit your site or blog and leave it, chances are that they never come back.

For this reason you need to capture their names and emails, this way you can keep in touch with them, build a relationship and offer them the products you are promoting.

On the other hand, the Nate's theme looks really cool, I'll check it out.
Comments are closed.