Dress Your Blog for Success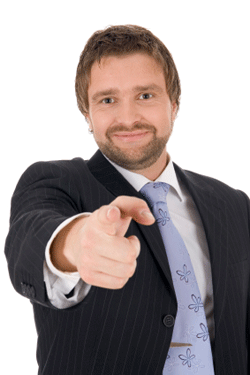 Have you ever heard the saying, "You should dress for the job you want, not for the one you have?" Obviously the point of this familiar line is that you need to prepare yourself and present yourself for the future that you want.
In a way, this saying should apply to your blog as well. Of course we're not talking about a suit and tie, but rather the appearance of your blog that visitors are presented with the moment they arrive. This first impression can help readers to see you as the successful blogger you aim to be, or it can set you back if they see an unattractive look.
Dressing appropriately for a job shows that you are aware of your appearance, that you take your job seriously, and that you're intending to go places. If you were starting a new job and your goal was to eventually be an executive of the company, you wouldn't show up to work in jeans and a t-shirt. In order for others to see you for who you want to be, you have to present yourself as if you're already there.
Go with the Flow: The Top Blogs
Take a look at some of the top blogs in your niche, and then look at some that get very little traffic and have few readers. You're almost guaranteed to see some major differences. Sure, the more successful blogs may be able to spend more money on their appearance, but that's not likely to be the most significant difference. In fact, with all of the blog themes available and resources for learning how to customize your own blog theme, money really doesn't need to be a factor.
Now, take an objective look at your own blog. Does its appearance belong in the category of a successful blog or an unsuccessful blog?
If you could improve the appearance how would it affect your level of success? Obviously, blog success is far more dependent on content than on design and appearance, but the visitor's first impression is more likely to be based on the attractiveness of your blog. Just like your ability to perform a job is determined by other factors than your appearance, but a sloppy presentation will kill your chances.
If your goal is to be among the top blogs in your niche, looking like you belong is a great start. Visitors are likely to immediately classify you according to your look. Yes, you can overcome a bad first impression with great content, but why not take advantage of the first impression? An attractive, professional-looking blog design will give you the look of a blog that's on its way to success, and visitors are more likely to want to be a part of that.
The top blogs almost always have a very clean, professional look. The design of the blog should enhance the content, not distract the visitor's attention away from it. Even the advertisements on successful blogs are chosen and placed strategically.
Free themes with no customization are rarely used by top tier blogs. Having a unique look is crucial to standing out to new visitors. The design doesn't need to jump out and grab visitors; in fact, most good blog designs are subtly stylish. But it helps if your visitors are not seeing hundreds of other blogs with the same theme.
If a visitor arrives at a new blog for the first time and their initial impression is "amateur," that blogger will have a hard time convincing the visitor that the blog itself is high quality.
So, what factors can help a blogger to create a great first impression? As most of us know by now, flashy ads that distract attention are an unwelcome sight for most readers. Harsh color combinations are also rarely used by successful blogs. Choose your ads and color combinations wisely when choosing a design.
Images and Theme Customization
Images can also be important, although many blogs don't even need the use of photos to accomplish a good look. If you're looking for free stock photos, try stock.xchng, FreePhotosBank, or FreeImages.co.uk. There are also a number of places to get very affordable, quality stock photos including Stock Xpert, iStockPhoto, and Big Stock Photo.
If you're using a free theme (particularly WordPress users), try learning about themes from the WordPress Codex and forums. You'll find plenty of information and help for making changes to a free theme. In many cases even small changes will help to make your blog more distinct.
If you're not interested in doing the coding yourself, you may be able to find help for less money than you may expect by checking places like Craigslist and Elance. These services may cost you a little bit now, but how much will a new look help you in your journey to being a more successful blogger?
Take a look at your blog and see how you might be able to "dress it" for the level of success that you want to achieve. Focus on providing a clean look that that tells your readers you're serious about your appearance and you're ready to take your blog to the next level.
Not just anyone can be an executive at a large company. Likewise, not just anyone can be a successful blogger in a crowded market. Give yourself the appearance of success and you'll be one step closer to achieving it.
Links to Other Resources
The WordPress Codex
The WordPress Forums
WordPress Theme Generator – Create your own WordPress theme quickly with no coding required.
Find the Perfect Colors for Your Website – This article contains a number of resources to help with choosing the right colors and understanding the psychology of colors.
Secrets of WP Theming from Chris J. Davis
Dissection of a WordPress Theme from Urban Giraffe
Anatomy of a WordPress Theme from boren.nu
Browse all articles on the Blog Design category
20 Responses to "Dress Your Blog for Success"
Alfa Rians

I love this blog, it gives me sources for my blog. Thank you for sharing with us!! 😀

Stefanie Hartman

Great post. This should go without saying but a successful blog is an attractive blog.

Jack Zufelt

Excellent post. Thanks for the links to the photo sites. They've come in handy.

SEO Genius

Definitely a tactic anyone should use who has a blog, look at the competition look at the professionals see what they are doing incorporate it on your own blog.

Thanks

Jan

Another thing to keep in mind when designing your blog is to be aware of how it will show up on different PC monitors. I have 2 laptops, one with a regular size screen and the other one a wide screen. Both of them show the same websites differently. Design your layouts with those different size screens in mind.

Bobby

Great tips. I like that one about dressing for the job you want. Tks

Colm

I use blogger simply because it was the first one I came across. Is WordPress a better option.

Hrvoje Livnjak

Hey man,

Great point here. If you want to be recognized as an authority in your field then start acting like it. With professional layout not only you'll have the advantage over your competition but you'll also have the "unique" look in your visitor mind.

As I always like to say, same as in the sales page mini site. Design is only 30% of success.

Without the QUALITY content you're out of the game, also like you mentioned.

DESIGN+QUALITY CONTENT= SUCCESS

Sincerely,
Hrvoje Livnjak

Daniel

By banner you mean a header image?

If so I would suggest istockphoto.com, you will need to spend a couple of bucks for the image, but they have the best looking images you will find.

Beth at Morning Glories

Where can I find an article on creating a banner for my Typepad blog? I know the Knowledge Base will provide the information from the Typepad end of it — but where do I find a free, wide graphic to use? Do I have to pay a designer to create one for me? (I don't want to use a photograph.) It may be a dumb question, but I've been stumped on this one for awhile, and I haven't seen a very basic article about it on any of the blogging sites. My banner is very simple — which I like — but it definitely needs to be customized. Thanks!

Jermayn Parker

Have been thinking of redesigning my blog so I will add it to my to do list and keep this in mind.

Mary Emma Allen

Great tips. I like that one about dressing for the job you want, not the one you have and applying it to your blog, too.

Brown Baron

I've been thinking of customizing existing themes to make it more unique, but I always keep putting it off. This is a great reminder for me to get to work.

Daniel

Paula, thanks for the nice words!

Yeah I agree that for niche sites some free themes customized for ad placed can do really well.

For authority sites, however, a unique design usually is preferred.

Paula Neal Mooney

Daniel,

May I just say that I love your blog!

You give great daily tips, and yeah, this is food for thought.

I love the AdMinded Wide Theme for my other niche sites.

Not only does it look pretty good, it pays very well.

Paula

Chris Lodge

Incredible timing – I just decided today to have a go at creating a WP theme (just to see if I can, but if it turns out ok, I might release it…) and the resource list at the end is just what I needed – thanks 🙂

I agree with the post too: If I see one more Misty theme with a Sports car header (think John Chow) I'll do something unnecessary….

Vincent Chow

I use a free WordPress theme, but changed the default plain text title to a not so good looking banner. It looks better that way and really make things stands out. A very helpful tip indeed.

Shankar Ganesh

Thanks for sharing all those great resources. Helpful ones – will come to good use if I ever make a WordPress theme 😀

Daniel

What platform are you using? Most importantly, what are your objectives?

Colm

Is there any hope for those of us not on wordpress or should we just give up now 😉
Comments are closed.