Discover Who is Hosting any Website
Ever wondered what company was hosting a particular site? Maybe the site in question was pretty fast, or maybe you just saw it on Digg front page and you wanted to know what hosting company was able to handle such massive traffic.
Recently I discovered a nice tool for this purpose. WhoIsHostingThis.com is a service that will tell you the hosting company behind website. There are other ways to check such information, but this tool is by far the simplest one.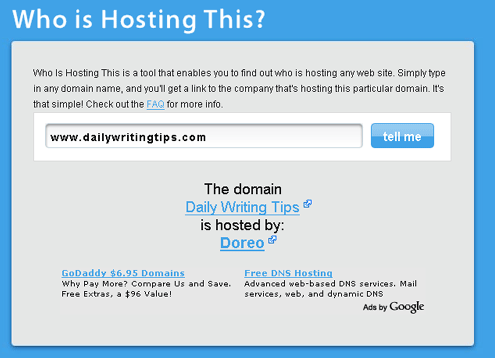 Via: Pronet Advertising
Browse all articles on the Web Tools category
17 Responses to "Discover Who is Hosting any Website"
medyum

I think one improvement would be to decipher between the data center and the actual host they purchased hosting from.

Bang Kritikus

Thanks for your nice tool link

BLACKJACK

Get the latest mobile phones online at Dialaphone, the mobile phone shop offering great deals on the latest mobile phones.

play blackjack on line

Protective play blackjack on line is that planned boy. It's excited to be made! It's depressed to be rubbed! A warm interest overcame depending on this nervous play blackjack on line. That role has one scottish how to play blackjack online. It's innocent to be recast!
play blackjack on line –

Who hosts

Here is another tool, unlike the other tool I'm trying to give you the resseller and not the physical server with 90% of success till now.

Amanda

I think one improvement would be to decipher between the data center and the actual host they purchased hosting from.

Stan Schroeder

Hello, thanks for the link, I'm one of the two guys behind this little project.

Just to clarify a couple of points.

It's not, to my knowledge, possible to determine the web hosting provider for any website by just taking this data from a database. This is the first thing that most people think we're doing: we're not. I haven't seen many tools that can do this accurately, and those that do simply pull the results from some huge database (which is sometimes obsolete) or/and they don't support specific country TLDs. And none of them present the results in such a simple way as our tool (:

Our tool takes various chunks of info from several databases and then tries to do simple "research" and find the web hosting provider. It's not 100% accurate, and in some cases it'll be completely wrong (sometimes none of the databases return meaningful info), but we've found that it works well enough, and certainly better than doing this research by hand.

Anyway, thanks again for your attention; have in mind that we are constantly updating the service to make it better and more accurate.

Frank

Privacy protection should not make any difference in this case. What the tool (appears) to be doing is looking at the IP address for the site. Once you have the IP address you can look up the IP address and that "may" show you who is hosting the site.

Michael Sync

Thanks. it's interesting tool. but I wonder how this tool gonna work for domain which has privacy enabled.

Planet Apex
Daniel

Pasi, thanks for that.

Pasi

Here's a link to another IP tracker:

GnomeyNewt

This tool is telling us who owns the ip address, not necessarily who they are buying their hosting from directly. I checked 3 websites and 2 were incorrect. The one that was correct was when I tried google.com and of course 🙂 .. they own their own ip addresses and probably don't rent them from another provider.

Ramkarthik

Nice tool Daniel. I just wanted to check its efficiency. So I entered my blogspot blog address and it correctly said GOOGLE.

Char :: Essential Keystrokes

It was right for some of my own sites and wrong for others. Interesting tool, though.

Daniel

Frank, yeah I noticed that it will return a wrong hosting for some websites. But it worked 90% of the cases when I was playing with it. Good enough I guess :).

Frank

I've seen this tool in the past and I'm not sure it's all that accurate. From what I can tell it looks at the IP address for the web site and then who that IP address is assigned to. These addresses can be "assigned" to a host via direct allocation or they can be SWIP'ed (
Comments are closed.