Digg 4 Is Here: What Has Changed
Digg launched its much expected version 4 yesterday. There are some big changes implemented, so I think they deserved a small review.
The biggest change is the introduction of social elements into Digg's platform. Think about mashing Twitter into the old Digg system. Right after logging into your account, in fact, you'll be offered a list of suggested users you can follow. If you had fans in the past, they will be your followers, and vice versa. You can follow me on digg.com/envec if you want (I'll reciprocate).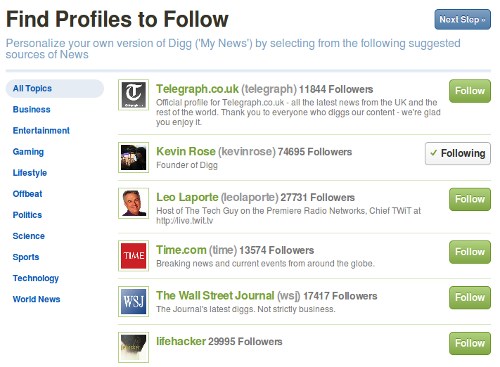 Once you visit the homepage you'll find another change. Now you'll see a list of popular stories that have been dugg by at least one of your friends (e.g., people you follow). In other words, each user sees a personalized version of the front page now. You still can get the old style front page though, where the overall most popular stories get displayed. Simply click on "Top News" on the top left corner.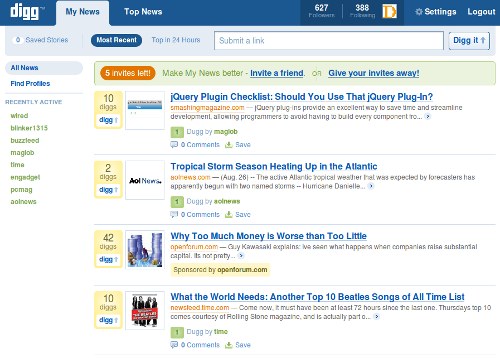 One thing I liked is that when you click on the front page stories you are now sent directly to the original website. Before the change you would be redirected to the Digg page of that story, and then you would need to click a second time to open the original website….
Another positive change is how submitting stuff to Digg works. The process became a lot easier. On every page of the site you'll notice a box saying "Digg it". If you want to submit a story you just need to paste the URL there and click the button. If no one submitted it in the past, you'll just need to write the description and bang, the story is in the system (it is also sent to all your followers).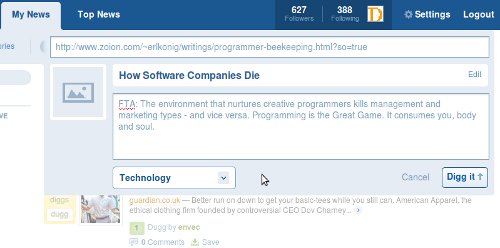 Finally, managing your profile became simpler. Just click on "Settings" and you'll see a clear menu with the options you have. Bloggers and web publishers should pay attention to the "Import Feeds" feature, which allows you to connect your RSS feed with your Digg account, auto-submitting all your latests posts. It's necessary to verify your feed by placing a snipped of code in one of your posts.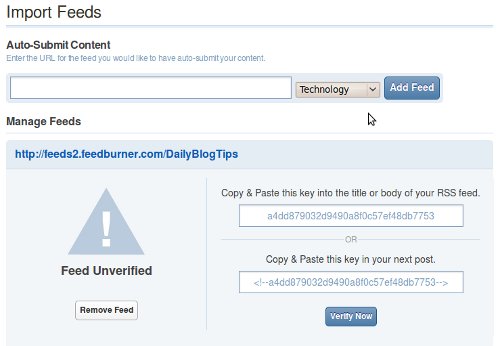 Overall I think the Digg team did a great job with version 4. They understood that Twitter is basically becoming a link sharing platform, and they modeled Digg to do a better job at that.
Will it be useful again to drive traffic to small publishers like you and me? I am not sure yet, but I'll certainly give it another shot, and I'll let you guys know how it works out.
Browse all articles on the Social Media category
20 Responses to "Digg 4 Is Here: What Has Changed"
How do you?â"¢

I think the new digg is brilliant, the new RSS feature allowing you to automate your posts to digg is a must use feature.

Just need to get a few more follows now.

Steve @ Technology

I personally do not get the move to social networks that every site wants to make. I think tying in with other popular social sites is probably more convenient for all your readers.

tuitiondb

I have been considering Digg for quite some times.. I feel that the internet users keen to share on the facebook nowadays although facebook has not build interfaces to categorize the news section…despite some minor drawback wouldn't it be better to just write, connect, play at the same one stop platform??

Customer Care Rep

Let me know if it works for traffic because I still prefer the old Digg. I agree with Vijay on the bugs, I hope they resolved them fast.

Blog Angel a.k.a. Joella

This whole process has been rather confusing for me. As they were switching over I never new which site I would end up at, the old or the new. I'm glad they've finally gone all the way, so to speak. 🙂

mohsin

The new digg interface is very better specially the import function for feeds. Now it will be easily to submit content on digg.
My digg id is "khmohsin", I will happy to connect with reader from this blog.

Dan

I like it… but does anyone else think they have abused the rounded corners ?

worldwide news provider

Digg makes us easier to use it. And with adding new feature, making user who sign in happy, it 's my oppinion

jason

Big fan of digg, but for some reason I like Reddit as well. Great post!

Steve

seems like a lot of these features are gona make using the site a whole lot easier, anything that improves usability is a step in the right direction.

Vijay

BTW.. if anyone want to follow me on Digg, my id is "shindevijaykr".
I'll definitely Digg your story 😉

Vijay

Hi Daniel,
Thanks for the detail Digg info.. You saved our time to understand new Digg.. BTW I see many bugs in new Digg system. Hopefully those will get resolved very soon by Digg team.

Regards,
Vijay

Stephen TBA

I like the new Digg. I have never had much traffic from it, but I do like it, and I will use it more in the future than I ever have in the past.

Josh Garcia

Hey Daniel,

I was wondering what happen to Digg yesterday. I notice my Digg button count was reset. The RSS feed feature is awesome!

Chat with you later…
Josh

Dallas Uptown Web Design

I used to be active in Digg. I guess it died on me.

I might give it a try again. With all the new social media and networking websites there is little time left to do what actually makes you money. lol

Basant | Techno-Pulse

I am not a fan of Dig as I was not so fortunate with the old one. In past, I had submitted a few articles to Digg but didn't get any note-worthy traffic. So, I shifted to other submissions, viz. bx.businessweek, which worked well for me.
May be I can try the new Digg…

Web Marketing Tips

Well I think you should build your network and friends.

I am sure if you have healthy network than you will be able to get more and more traffic.

Onibalusi Bamidele

Really great review Daniel,

What I love most about the new Digg is the cool design and the blazing speed – it is super fast!

Onibalusi Bamidele

BTW: I just followed you Daniel, my digg id is "youngprepro".

Tahnks so much,
-Onibalusi

Web Marketing Tips

Nice to see … and thank you very much for making us aware about the latest changes, really appreciate.

To keep the things fresh and alive we have to do the required changes.
Comments are closed.